Leslie, Jackie, Jenny, & Gina (Matt, Kristine & Ken) March 16-19
Sunday, waiting for the girls to arrive, we cleaned the boat, filled the fuel tank and walked to Peace and Plenty to await the early partiers. Garrett's family was already here and he moved in with them while the girls sailed. John and Bonnie were also at Peace and Plenty and it was fun to catch up before we would get everyone onboard, and back on anchor for an early Monday AM departure for Long Island.
Monday 8AM, we sailed to Salt Pond in Long Island (about a 5 hour sail) and arrived near low tide so we had to maneuver some shoals and coral heads along the way. Finally found a nice place to anchor off near Long Island Breeze and the city dock. Matt and the girls took the dingy in and found some food and alcohol replenishments.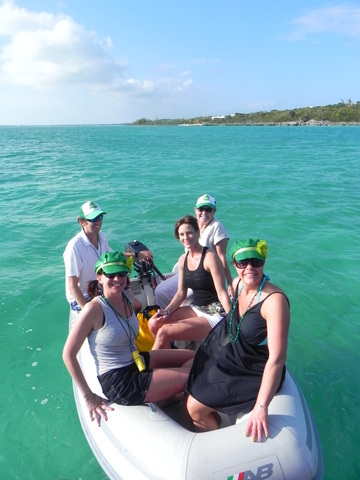 It was St. Pats Day and they were decked out in their green hats and necklaces.
They all had a good time onshore but we all agree, there wasn't much there so Tuesday we headed across to Pigeon Cay (sailed most of the way with both sails up!) to meet up with Dwight who owns La Shante Resort and Restaurant. We had met him the prior Sunday at Peace & Plenty and he invited us to come and he would cook us a lobster dinner if we called ahead. His cove was just beautiful and he was ready for us to come ashore right away mid-afternoon for our Lobster. Eating early turned out to be a blessing because the bugs came out with a vengeance as the sun was going down.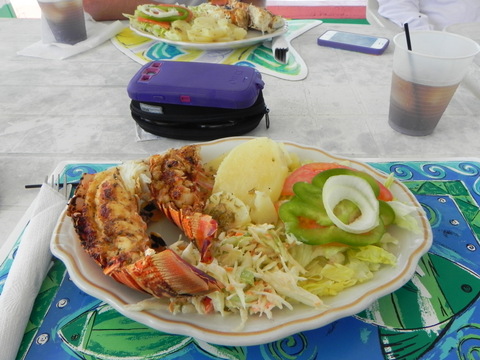 Only eventful part of the afternoon was Jackie not quite making a graceful exit from the dingy when they got to shore!!! And the required scrubbing off the suntan lotion stains off the deck! Really yellow white gel coat!
Wednesday, we left early to motor up to Georgetown Harbor back to Peace & Plenty where we anchored off of the hotel. Many coming to the party had arrived and it was fun to go ashore to meet up with them. Scott Wanless (last year's crew) was waiting and he and I picked up a rental car to help with the airport shuttles for the day. The girls gathered their boat gear and collected the rest of their luggage at Peace & Plenty and moved into their "African" Suite there.
http://gratefulred.us/wp-content/uploads/GratefulRed_FullRed-web.gif
0
0
Kristine
http://gratefulred.us/wp-content/uploads/GratefulRed_FullRed-web.gif
Kristine
2014-03-20 13:30:21
2019-05-08 20:13:56
The Girls trip, Pre-Party adventure