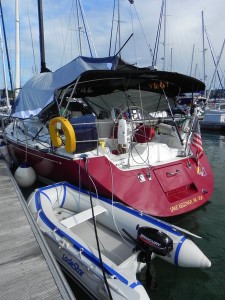 With the ARC completed in 20 days, the Grateful Red returned to the West side of the Atlantic to embark on an entirely new adventure.     From St. Lucia, the Arc's finish line in
the West Indies, Grateful red will test out its Island hopping skills.  Ken and I returned to Grateful Red to spend New Year's Eve on the boat.  We arrived Saturday, Dec 30th
and immediately started on the transformation of Ocean Cruiser to Island hopper.  Aside from instrument issues and a broken clamp on the shower pump, we still had to find a dingy for the
boat.   IGY marina has very good internet and I spent a lot of time completing the blog with its migration from our old blog site to the website.   It seems the
website is a work in progress and I have the job of updating information as needed.  This year's cruising schedule is very relaxed and there are only a handful of potential races that Ken wants to
do.
Saturday night, we put up our new sun awning and I worked on the galley cleanup.  The boys did a great job after the crossing, but you know….it is never to a cooks liking.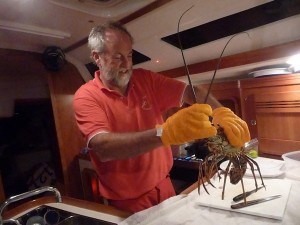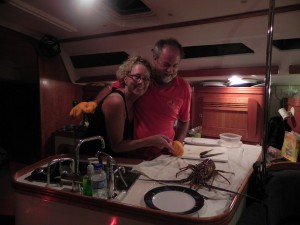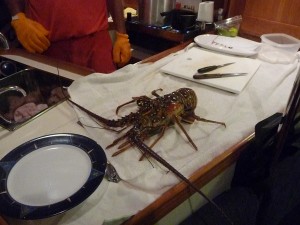 Sunday, Ken decided we needed to have lobster to celebrate New Year's Eve and went about securing one or two.  By 9PM we decided that we were not getting the said lobster so I cooked
something light.  Our lobster man assured us that Monday night would be the night.  And sure enough, by Monday afternoon, we had 2 very large lobsters in our net tied to the boat.  It was quite a
circus that evening when we got to cooking and eating one of the lobsters.  Ken named him/her "Henry".  So delicious we only needed bread and butter to complete.
Tuesday the hunt for the dingy continued and Ken had some connections with a local dingy salesperson Francis.  (Francis is English and came to St. Lucia 16 years ago and never left).   On Wednesday we moved the boat to a dock that could accommodate 110 power.  We had our converter removed that took the Mediterranean 220 power to work with our 110 boat.  Now
we will find 110 again for shore power and did not need the converter, but needed to see if the switch back worked.  Power on, Ken's happy.
The next days were full of working on the website, never ending sorting of the boat, and collapsing at night.  We had several things shipped home (the radar, and some old line and crew clothes) and that made tons more storage space for us in the boat.   I got my new wind scoop so we could draw wind into the v-berth and cool the boat naturally.  After a final deal agreement regarding the dingy we were looking at, the decision was made to seal the deal.   We were now proud owners of a Lodestar 4-person dingy with a 3.3 2-cycle motor.  3 sets of locks to lock the motor to the boat, the boat to any dock or the sailboat, and one more lock to lock the motor to the bracket on the back transom.  I immediately took the dingy to the fuel dock to fill my 1-gallon portable gas tank, and then off to the market across the bay.  Got the last bit of food provisioning and then back to Grateful red.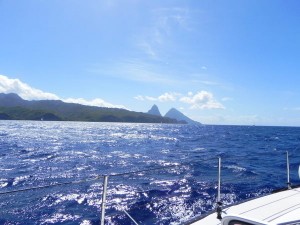 Pitons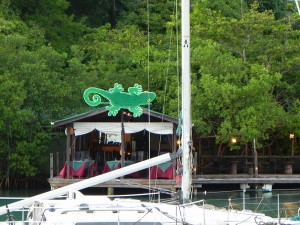 Rainforest Restaurant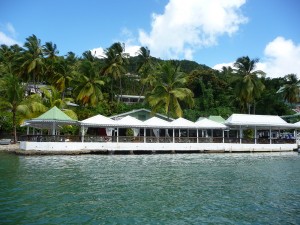 Doolittles Bar and Restaurant
Sunday, the World ARC started with 34 boats all ready to take their adventure around the world for one year.  We decided to leave after their start at noon with our day trip to only take one hour to reach Marigot Bay.  When we arrived, we were greeted by Nash and his son in the marina dingy asking if we wanted to tie up to one of the mooring balls inside the bay .  Not sure if we were going to anchor we said we wanted to check it out.  Nash stayed along side of us as we motored, contemplating whether we could find anchor spots or a free mooring.  It was quite crowded on the outside bay and the inside was the marinas, so we said ok to Nash's offer to help tie us up on the inside bay.   For $30 US each night, it ended up being a great spot.  I was able to dingy all over the place to explore the tiny bay.
Sunday night we were asleep by 9PM and Monday we woke so early, Ken had an easy 8 hours in working before lunch.   He was ready to quit so I convinced him to come with me on a dingy tour to Doolittle's.  On the way we stopped at one of the resorts dingy docks and had a drink at their bar.   We walked over to Rainforest Restaurant to check their menu and decided to make reservations for
the evening's meal.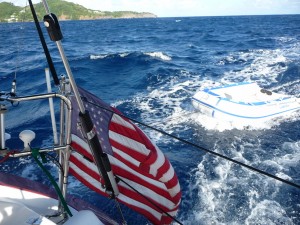 At 7PM Monday night, we took our dingy over to the Rainforest restaurant and had a very nice meal there.  On the way back to the boat, we decided to check out JJ's but it was pretty quiet so we again made a stop across the way to the Resorts dingy dock and bar. Tuesday, January 10, 2012, one more run for ice and we were   off the mooring ball by 10AM.  We planned
to stop at the Piton's, but decided to push on to Vieux Fort on the South end of St. Lucia. Found an easy anchorage south of the fishing docks in Vieux Fort and settled for the rest of the day.
It has been very windy today and we are doing a bit of swinging on the hook.  I keep watch for my shore-spot to make sure we stay hooked.  Met Andrew and Niki from "Skipping stone" an USA Boat near us also anchored.  They were fishing and stopped with their dingy as they returned to their boat.  I of course, had to ask about their fishing and got a look at my first "lizard"
fish.  The head actually looks like a lizards head.  Simple pan-fry after cleaning.  Maybe I will check it out if the wind dies down.  Later in the afternoon, before sunset, a beautiful blue sailing yacht, the Ericka VII motored in to put down anchor.  It had to be over 85ft long, complete with a large, drop-down platform along the side of the boat that gave the "guests" access to a swim platform and ladder.  We thought it was opening up in order for them to launch a small boat; instead the guests arrive, complete with their terry towel robes and went for a swim ( before dinner and cocktails).  In the morning, the crew was up on deck working out near the aft on a treadmill and step master.  We are convinced there was a hot tub also on the boat.  Very NICE!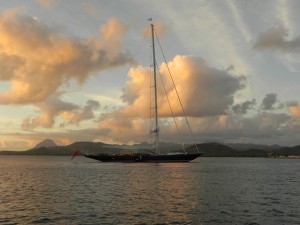 Erica VII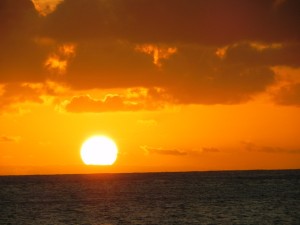 Sunset, Vieux Fort
http://gratefulred.us/wp-content/uploads/GratefulRed_FullRed-web.gif
0
0
Kristine
http://gratefulred.us/wp-content/uploads/GratefulRed_FullRed-web.gif
Kristine
2012-01-13 08:16:08
2012-01-13 08:16:08
St. Lucia, Rodney Bay, Marigot Bay & Vieux Fort