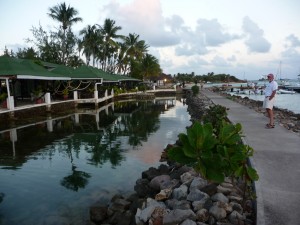 Monday,  we decided it was a seabass breakfast day before we left for our 1 hour sail to Union Island.   Great way to start the day.   We arrived  in Clifton, Union and paid our 45 EC for the
night with a thought we might stay second night, but would decide later.  Went to customs to check in/and out later the next day.  Found great internet at the Yacht club outside from our mooring and in town again at Ericka's where Ken  could use a hard-line hookup to send his documents or attachments that seem to tax the normal wifi.  Sometimes on the boat, upon the correct swing from the wind, we could get 2 bars of free wifi!  The best was to dingy to the dock and buy a drink and utilize their 5 bar wifi.    Loved Clifton.  Great little mainstreet with colorful shops and friendly people.  Had lunch at Lambi's, a restaurant I found  in the back of a  dark, empty shelved market. Lambi's special of the day (every day) was Conch Stew and if we wanted to wait more than 30 minutes, we could have something else.   We of course had the conch that was ready immediately!   (one way to push the "special of the day"!)   It was, of course wonderful.
Later in the day, back on the boat, we had 2 locals come and offer fish for sale.   We were pleased to find they had Tuna and so we talked price and purchased one Big-eye Tuna that they (using my only sharp knife) cleaned and made lovely filet's for us.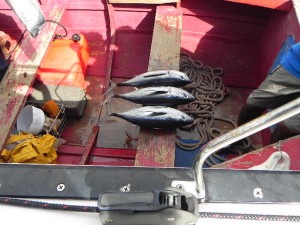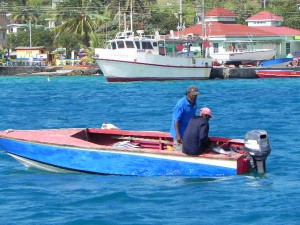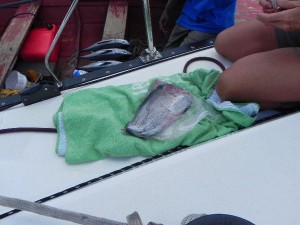 .
On one of our tours of the village, we found a supplier of blue cooking gas replacement, French cheese shop and a very unique art/gifts/bar type establishment where we found the artist would custom paint shirts for you.  We commissioned her to paint the Grateful Red on a lovely cotton campstyle shirt for ken to wear to Richie and Liza's Key West wedding!  We pick up the shirt Wednesday morning before we leave.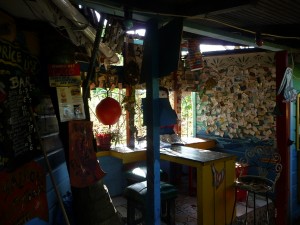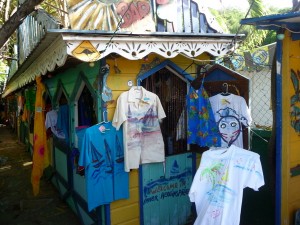 This shop was very Key West-y and we felt very much at home.  The owner was the artist and you would have stoled her blind as she really didn't spend much time watching her wares.  She was very unique!  On Wednesday, (Ken's Birthday)  at 8AM, we  went ashore to pick up the shirt and when Castello ( the artist) heard it was Ken's 60th birthday, she made us (MADE US) have a Birthday
drink.  Strange way to start the day, but it was a great way for Ken to start his birthday day!
http://gratefulred.us/wp-content/uploads/GratefulRed_FullRed-web.gif
0
0
Kristine
http://gratefulred.us/wp-content/uploads/GratefulRed_FullRed-web.gif
Kristine
2012-02-04 11:50:00
2012-02-04 11:50:00
Clifton, Union Island and the first 1/2 of Ken's 60th Birthday!