In the morning, Thursday, after Raouf went to the Bakery and I hit the market for some lunch meats and cheeses, we cast off around 9am. Cres Village, on Otok Cres is our final destination and this is the last sailing day for the crew. Alistair and Charlie sailed most of the way until we had to head up into the wind.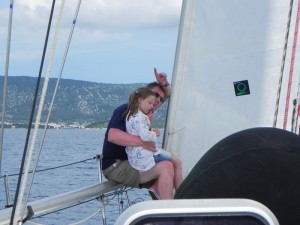 Alistar helping Isabella "study" for Captain Ken's sailing quiz.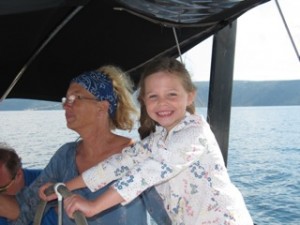 As we approached our last hour of sailing, we lost our wind and resorted to our motor. Michelle and Isabella took turns at the helm and loved having the opportunity to "steer" the boat.
Coming into Cres was a beautiful sight to see. It is a wonderful large bay with the old village in the left curve of the shoreline. Along the right side of the bay is our ACI marina where we will keep the boat until the 27th until meeting up with our next cruising crew. After checking in at the marina and finding the bathrooms, showers, and cold beer, we took up the job of boat recovery.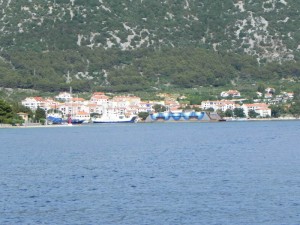 We left the job of packing the girls items to the Dad's as it looked like a insurmountable task! But in no time things were packed and ready to go. They have plans to go to the only Resort in town, Hotel Kimen. No swimming pool, but very close to the shoreline were swimming is easy.
Charlie and Alistar scrubbed the deck and sides of the boat and after a short bit the boat was gleaming! Ken and I made arrangements with the car rental company to have our car delivered from Rijeka the next morning so I could take him to the airport for his flight back to the US. Charlie got his "to-do" list of projects to be done on the boat in Ken's absence.
http://gratefulred.us/wp-content/uploads/GratefulRed_FullRed-web.gif
0
0
Kristine
http://gratefulred.us/wp-content/uploads/GratefulRed_FullRed-web.gif
Kristine
2011-06-15 20:37:53
2015-11-18 19:01:49
Cres – Week One