Day Six – Cambrai, France
April 6, 2010
I know that I will not be able to keep up with a journal type blog as Internet locations are few and far between so I won't bore you with long tales of the day. We were on the E'scaut Canal most of our past two days. And today we will depart and turn left to meet up with St Quentin Canal. This will bring us ultimately to Reims. But before we get there we will travel through several tunnels including one that we will have to be towed convoy style. Can't wait…
This morning we cast off around 7:30 heading to Cambrai, France. Sun was out and we had little canal traffic to encounter. Today we encountered our first canal lock that is manual (no attendant). This was very interesting as it has sensors to open for you, you enter the lock and then after tying up, you lift a blue rod. This closes the gate and the water starts to fill the lock. What we did not know was why the lock when filled did not open to let us out.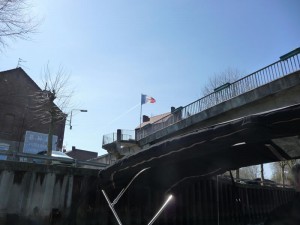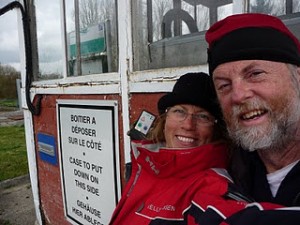 After calling on a Emergency remote phone at the gate building, we received a push button remote control through a trap door on the lock house, (like TV remote) that we take with us to open locks and such. Very clever!
We will use this for the remaining St. Quentin locks and will "deposit" the remote in a designated lock box at the end of that canal. The locks are now smaller and one or two boats our size would fit. Our second lock of this type, we hit bottom and got stuck going out. The lock keeper was there and helped us back out of the lock and enter a lock that was to the left side of this one. We learn to follow the big barges, they seem to know the deeper waters!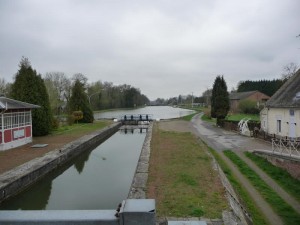 The lock keeper was surprised at the level of silt on that side of the lock. He thought we should with our draft make it without any difficulty. We maneuvered the remaining locks of the day with too much trouble. I drove most of the time into the locks and Ken would tie us up. Today we did only 7 locks, tomorrow we will have to get close to the St. Quentin's famous tunnels where we will go through 17 locks and 23 km's to get there.
We have a cute little mooring in Cambrai and after walking a fair amount, we found the Tourism office where they directed us to our Internet Café. I have done some shopping for staples and of course a bottle of wine. Ken is catching up on his never ending work and when he is done we head for dinner and back to the boat. Tomorrow, the TUNNELS of St. Quentin!!!
http://gratefulred.us/wp-content/uploads/GratefulRed_FullRed-web.gif
0
0
Kristine
http://gratefulred.us/wp-content/uploads/GratefulRed_FullRed-web.gif
Kristine
2010-04-10 21:21:14
2015-11-18 19:01:51
Day Six – Cambrai, France