Grenada, Gordy & Anna, and the second 1/2 of Ken's 60th!
Coming into St. George Harbor, Grenada
We  set sail at 9:30 and headed out for our 7 hour sail to Grenada.  15-20 kt winds at 130 degrees.  Reefed main and furled jib.    Gordy and Anna Kopke were  scheduled to be in Grenada to surprise Ken for his birthday and I kept it a secret as long as I could but Ken likes to make his own plans and when he decided we should stop somewhere else, I had to break the silence of why we HAD to get to Grenada (St. George).  Coming into Port Louis, we got a temporary tieup until the marina staff could find our slip we could have with our 110 shore power.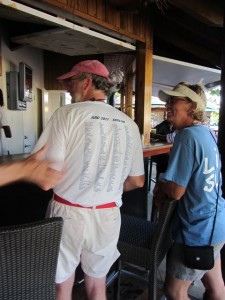 Ken and I walked to the bar to wait for this, and of course, Gordy and Anna were there!  Perfect.  Ken was so pleased to have them come and surprise him for his 60th!   We had a great time for the next 2 days before Anna and Gordy had to make their connections out of Grenada.   Our other mission for going to St. George was to check out the  boatyards where we would keep Grateful Red
during the hurricain season so Thursday, we took the local bus to check out one Ken had picked out.    We ate at "de big fish" there and after Ken's filling out some paperwork, took the bus back to
the marina.
Friday we walked to St. George downtown to check out the local market and found a  great small bar "The North Pole", had some beer and bought some Lambi (conch) soup to take home for later.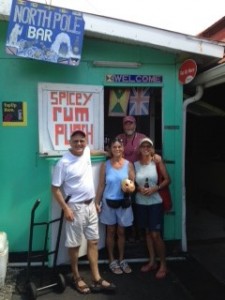 North Pole Bar
Found the bus station and caught the #1 local bus back to the marina in time for some good pool time!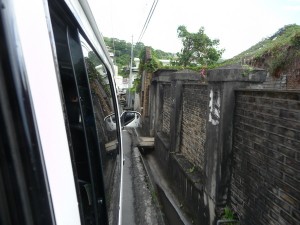 Buses are unique and why they are not all bashed up, we will never know!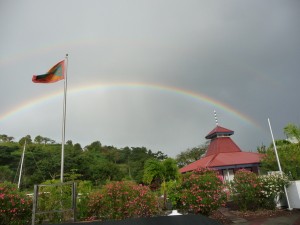 Lovely, double rainbow…can you see it?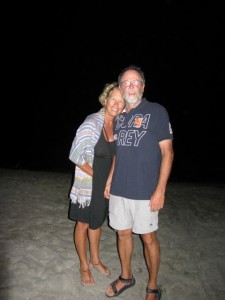 In the evening, we took a taxi to a recommended restaurant down a road that should have been condemned, but making it to La Luna, we had a cocktail there (almost the cost of a  dinner!) and then walked to the neighboring restaurant "the Beachfront" and had some great starters for our meal.   Our taxi road home was different and well paved from the Beachfront and we were happy about  that.
Saturday,  January 21, Gordy and Anna left the boat to catch their taxi ride to the airport around 5:45.  It was such a fun, relaxing time with them and it was too bad our wind and time would not allow a sail for them.  Next time!    Ken and I worked on getting the boat ready to leave by filling water tanks, last showers, and final food purchases.    Our trip north was dead into the wind and
mid-way up the west coast of Grenada a storm blew in and we were soon crashing through the waves and quite wet.   Our jib came unfurled at the top and it took about one hour to finally pull it
down.   Later we realized a halyard was crossed up on top of the forestay which would not allow us to pull-out the sail and get the unfurled back in place.  I had to be in front, (riding the bucking horse) and try to pull the sail down and tie it on the deck.  I was NOT fun!
http://gratefulred.us/wp-content/uploads/GratefulRed_FullRed-web.gif
0
0
Kristine
http://gratefulred.us/wp-content/uploads/GratefulRed_FullRed-web.gif
Kristine
2012-02-06 16:18:31
2012-02-06 16:18:31
Grenada, Gordy & Anna, and the second 1/2 of Ken's 60th!