Guadeloupe and it's Island Desirade, March 1st-4th
Thursday, March 1st, cleaned up and pulled our lines off the mooring to head to Guadeloupe.   Overcast skies and several dark clouds over coast of Guadeloupe.  About 2 hours from St. Francois, we realized we were going to run out of fuel (still have our 2.5 liter spare), so we put up the main to add to our front sail power.  Close hauled and now tacking way out of the way to find wind, we finally
decided to put the last 2.5 liters in and motor in.  It was close to dark and we knew the anchorage had some dicey spots and not recommended to attempt in the dark.  (Our luck, it started to rain as we came into the narrow entrance to get inside of the reef where the anchorage was).   We dropped the main before the entrance, put the motor on and watched the sea's push us in the narrow channel to the anchorages.   We tried two attempts to set the anchor and could not get a good hold.  At one point we hooked another boats  anchor chain behind us and we me at the helm, Ken had to get in the water to dislodge it.  Not fun as dark approached, in the wind and rain and tight anchorage.   We finally took hold and into the night carefully watched our anchor alarm.  Seemed finally to be set as it did not move a bit.   Spent 2 days there in a lovely marina area much like St. Tropez.  Full of tourists, and boats that did not move (that is why there was no room in the marina, only on anchor for the cruiser).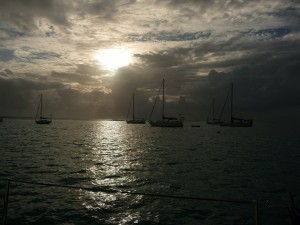 Quiet after the storm!
Saturday, we motored to Desirade (Island East of Guadeloupe and part of Guadeloupe) and went to their single fishing village/marina/ferry dock/anchorage!  There was no dock, only for the ferry and small fishing boats, there were only permanent moorings (3 in total) and maybe room for 2 boats to anchor (us being one).   While we were there, we were the only cruiser boat to come in.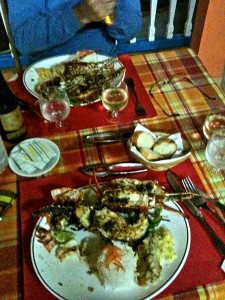 We enjoyed a nice walk and discovered a ATM, small grocery store where we purchase 2 beers to drink on our walk and then found a beach front restaurant (the only one open) and made arrangements for dinner later that night.   Because we made our dinner arrangements early in the day, we were given the choice of lobster or something else.  (Guess we forgot what the something else was  after we heard lobster).   We were the only diners later that night and had a delightful, tasty dinner with great service.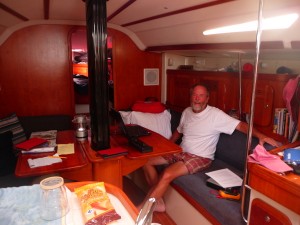 Ken's boat office – note the printer and scanner!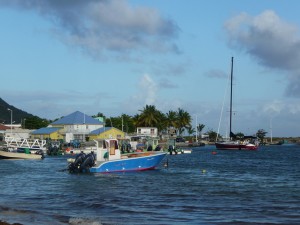 Cute little harbor, big enough for one sailboat!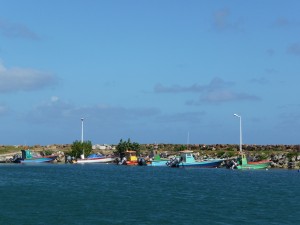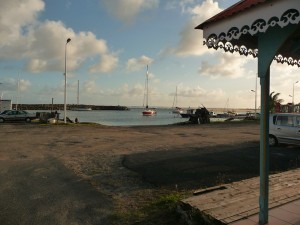 Sunday, 9AM, we pulled anchor after the ferry did it's bay turnaround and left.   Next stop, heading north to Antigua to pick up Wendell and Shelly.
http://gratefulred.us/wp-content/uploads/GratefulRed_FullRed-web.gif
0
0
Kristine
http://gratefulred.us/wp-content/uploads/GratefulRed_FullRed-web.gif
Kristine
2012-04-14 18:37:10
2012-04-14 18:37:10
Guadeloupe and it's Island Desirade, March 1st-4th