We arrive in Macinaggio around 4:30 after rounding the top of Corsica and taking countless pictures of Giraglia Rock. We had a cute French family in the berth next to us. The little boy had to be only about 2 ½ and he was all over that boat with the mother and the father chasing after him. No fear at that age. They gave us some great travel tips on where to go next and suggested Isla Capraia. Evenings dinner was our Chicken with the new potatoes and shucked peas. It was so good!
Sunday 5/15, after fondly bidding goodbye to France, and looked forward to continued adventures in Italy, our first stop would be the former prison island, Isla Capraia. It was only about a 3 hours sail and we did actually sail. Beam reach with the Genoa. Winds about 15 knots, Mike at the helm, Page and I trying to read! (We still had a bit of sea rocking us). We arrived in the only port on the island around 4:30, and found the port to be very protected and very quaint. There is more of a village at the top of the hill by the Prison ruins, and we would walk up there Monday morning before we departed. The view down to the Marina was outstanding. I was hoping to get more information regarding the Island, but found that the port shops, and Tourist office are only open on Friday, Saturday & Sunday, and so arriving on Sunday after 4:30, we were left with a bar to stop in! After washing down the boat, we went for beer and camparai. Dinner was chicken stir-fry over a greek salad.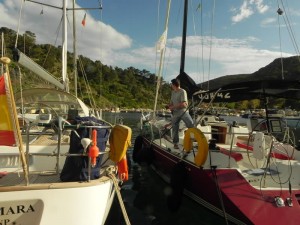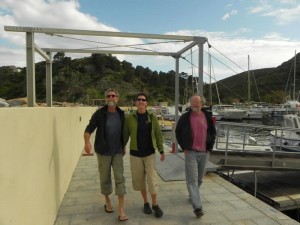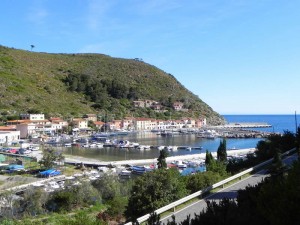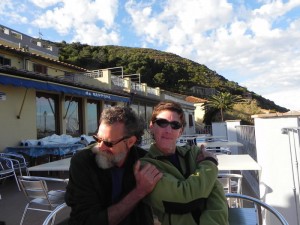 Monday, after Mike sprinted to the top of the hill in search of Wifi, and Page, Alan and I hiked the foot path up the hill, we left Islo Caparina for Islo d'Elbo. Ken was working and wanted to leave around 11AM. We retrieved our boat documents from the Capitaniare and headed out.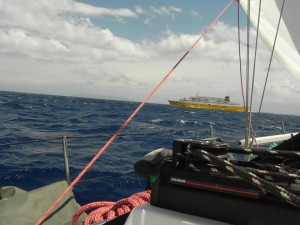 With a bit of deviation on our route due to the Corsican Car ferry traveling in our direction at 22 knots, ( AIS serves us well so we can figure how fast the ferry will cross our path without changing our tactics) tactics changed, we continued our trek to Islo d'Elba. We had 3 anchorages in mind for lunch, found them still too deep for us, and then headed to the Port of Marciana Marina on the North West side of Alba. We found the port to be a nice mix of local and tourist flavor. Again, no internet and toilets available here at the marina. (always a "in construction" situation) We had not eaten yet and when we arrived around 2:30 we set out to make a late lunch and do some laundry and such. I made eggsalad and some curry chicken salad from the last remaining chicken, along with some great bread Alan bought. Took our little tour of the town and later ate Pizza at a café along the water.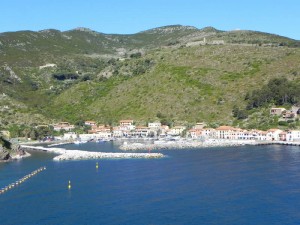 http://gratefulred.us/wp-content/uploads/GratefulRed_FullRed-web.gif
0
0
Kristine
http://gratefulred.us/wp-content/uploads/GratefulRed_FullRed-web.gif
Kristine
2011-05-24 21:33:28
2015-11-18 19:01:49
Isola Capraia