Sad to say, we spent our final days in Key West. (at least with our current planning). The Wednesday before we left, our wonderful Key West friends gathered at Dante's and Schooners Wharf to share a good-bye beverage and maybe a laugh or two.
Already making plans to return (without Grateful Red) we received invitations to stay with several of these friends next January or February. We ended the day prior to our departure at la Trattoria, one of our favorite restaurants and of course had to stop at Virgilio's for one last fancy martini. Our plan was to sail out the next day when the remainder of our sail crew arrived. (Other Crew: Niki, friends Matt, Lisa & Joe.)
Weather was beautiful during our last stay and the only thing missing was the wind direction that would allow us to actually sail out of the harbor. As we motored away, friends gathered and waved from the fuel dock and off we went…to our next adventure.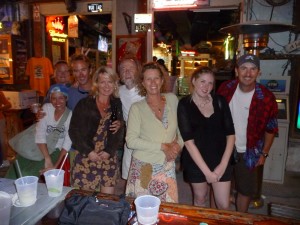 http://gratefulred.us/wp-content/uploads/GratefulRed_FullRed-web.gif
0
0
Kristine
http://gratefulred.us/wp-content/uploads/GratefulRed_FullRed-web.gif
Kristine
2009-03-24 23:53:57
2015-11-18 19:01:53
Key West farewell