Margarita, Isla Tortuga, Cayo Herrandura, Las Roches Islands, and the Aves with Bob
LOBSTER!   Again!!!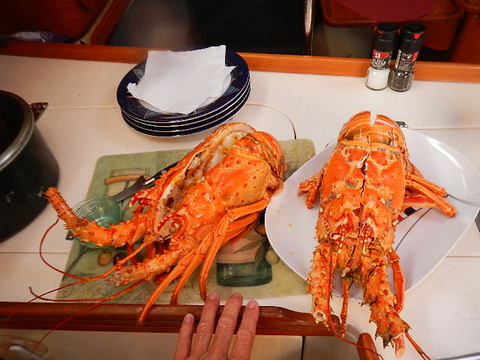 We sailed our 4 hours on, 4 hours off shifts through the night and arrived at Isla Tortuga about 1PM in the next afternoon.   17 hour sail!   Bob's first sail without being able to see land.   Isla Tortuga is barren and flat and we named it La Blanquilla #2!  Not much there but a few fishing boats and lovely sandy beach.
We found fisherman in our bay at Isla Tortuga and arranged for 2 lobsters, no diesel.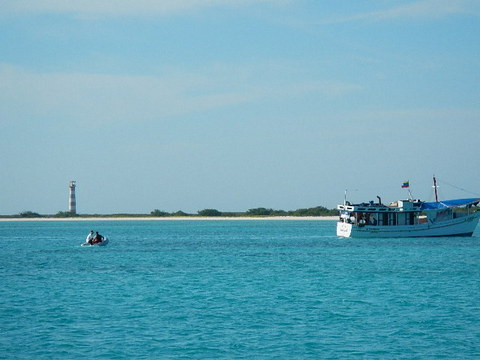 They cannot sell any. Ken and Bob took the dinghy later to pick up the lobster and ran out of gas on the way back.  First lesson in using the oars!    These lobsters have to be some of the biggest I have ever seen and Scott's second time eating lobster.  This time with butter which he agreed was the way to go!   His plate was clean so we think he likes it.
Thursday,  March 7th, woke up to a perfect day with light breezes.   Spent most of the morning catching up on journal work, and then some boat cleaning and derusting.  For lunch, we then motored to one of the small Islands about one hour away, Cayo Herradura.   There was a small fishing camp on the island and a very lovely red and white lighthouse.  Original plan is to leave for Las Roches around 3 or 4Pm.  Our next leg will be about 85 miles at least.  We changed plans and decided to stay overnight in Cayo Herradura.   Bob and Scott decided to motor in the dinghy over to one of the fishing boats to see about some fish and diesel.  This time they took 2 empty water bottles (large2 gals).   They bartered using a liter of Bacardi and returned to our boat will a lovely filleted Tuna, and the 2 bottles filled with diesel.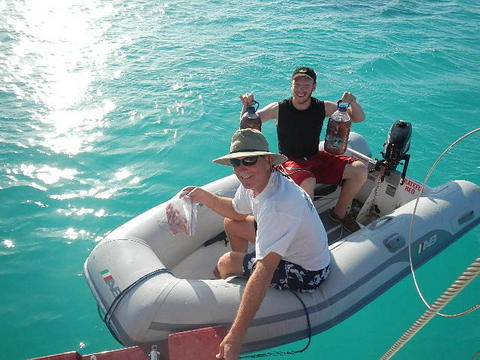 I made lobster quesadillas for a late lunch saving the Tuna for another meal.  About one hour after the boys returned we noticed someone snorkeling over to our boat.  It was one of the fishermen , Jesus, and he was looking for a bottle of Coke from us.  We only had one 1.5 liter of Pepsi and we agreed to split it with them.  I poured their half in one of my empty Pepsi bottles and then Scott gave the Jesus  a ride back to their fishing boat.  (He did get a bit of raze from his fellow fisherman for not swimming back to the boat).  When Scott returned he brought with him some "fish" ice for our beer cooler, this is a good thing.   They promised "drink" ice in the morning.   (It was questionable looking when we got it…)
Friday, before we left for Las Roches in the afternoon, we went to shore and did some snorkeling and walking around.  The island is mostly sand and grass and very flat.  We pulled anchor at 3PM and headed NW to Los Roches, Venezuela.  (According to Doyle book, "14-25 miles of protected, Reef Studded water dotted with islands"…)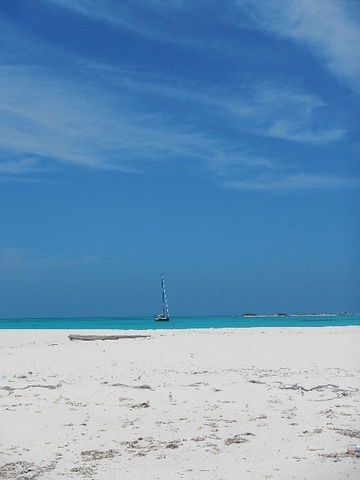 Anchorage at Cayo Herrandura
First stop in los Roches was Sarqui, an Island filled with mangroves and sand.   We were able to go into a very shallow holding that was surrounded by mangroves and coves.   This island boast 80 species of birds in the area.  We didn't see more than 3-5 different birds!   Ken and I took the dinghy into the mangroves to look around.   It was shallow and beautiful, saw barracuda and pelicans and very large orange starfish.     We ate the tuna, seared with Soy Sauce for dinner.  Yum!
Sunday,   March 10th, we left anchor around 10AM after pancakes and bacon for breakfast.  We arrived in La Grand one hour later.  (Los Roques – el Gran Roque).   We dropped anchor in their small anchorage facing the town and were soon approached by the local Venezuelan Coast Guard.  Renaldo was the main man and spoke very good English.  El Gran Roque and all of the Los Roques are setup as a National Park.   You are limited to 15 day stay and must pay per person/per day to stay.  You are also accessed by the size of your boat.   We paid total $300 USD to stay (5 days).  Part of this fee goes to garbage collection.    Renaldo, the coast Guardia who boarded our boat was extremely friendly and between Scott and Ken's Spanish and his English, paper work was completed and casual conversation commenced.   We asked about fuel and he said they could deliver to the boat.  Within one hour we were putting 80 plus liters of diesel in.   He promised water delivery the next day.  While the "boys" were filling the diesel in the boat, Renaldo showed me pictures of his new baby that was born on Valentine 's Day.   Her name was "Valentin"!   I showed him a picture of my  37 yr old "baby" Matt.
In the evening, we at on shore at a very nice place called "Aquarena".  A bit of a sushi place but Scott had pasta as he had not eaten sushi before.   He did try Bob's tempura and Ken's grilled fish.  We will convert him to a fish eater yet!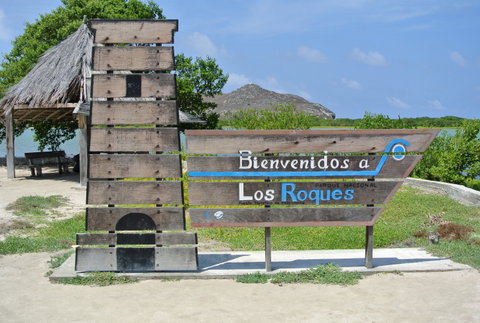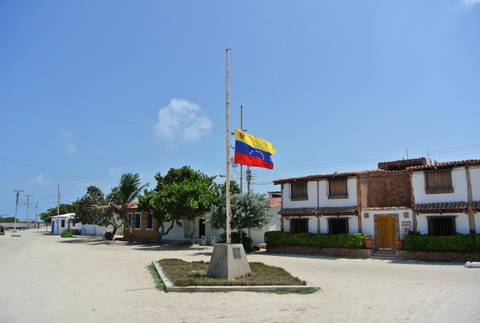 Flag half-mast for Hugo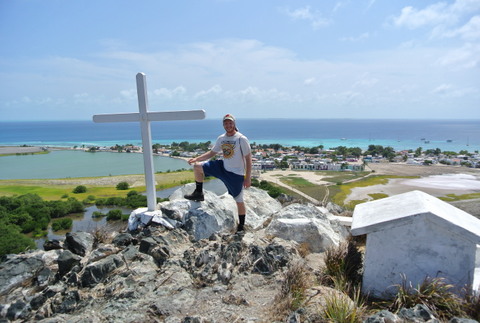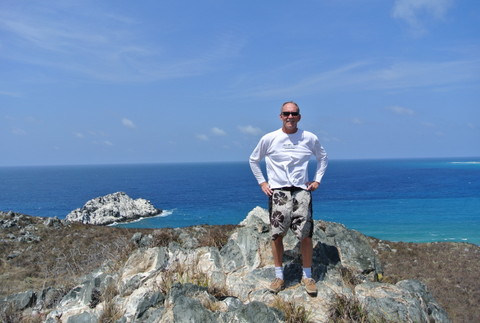 Monday, March 11th, Ken worked most of the day.  Bob and I did some hunting through the many small markets to do some replenishment.   It took 3 markets to gind eggs, water, sausage and bread.  Because of the death of Chavez, no alcohol was served or sold.
In the afternoon, Bob and Scott walked up to the ruins and the large cross on the top of the tall hill behind the town.    Renaldo showed up at the boat with 10 gal's of water for our tanks.   We had planned to stay for a few days so Ken and Bob and I found Hotel Macanao Lodge  on the beach and decided to check-in for one night.   Scott would stay on the boat, but would eat with us and use the hotel showers.     We had dinner at a restaurant facing the anchorage that's name translated to "tail of the whale".   It had a fixed menu and reservations were supposed to be required by their lodge guests.  We did not have reservations, but the early hour we showed up, they decided to let us in.  This restaurant served us wine and beer, but did not bring the bottles or cans to the table.
Tuesday morning, after a very windy night,  Scott arrived at our hotel for breakfast.  Ken finished up some work taking advantage of the internet at the hotel,  and I made some last minute runs to the markets.   We decided to head to another Los Roques Island to do some snorkeling.  When we all arrived back at the boat we noticed damage on the anchor roller from the chain.  A bolt was missing and the anchor roller end was truly bent. (wind damage) .   another trip to town to look for a replacement bolt turned up empty.   The guys decided to ask a anchored fishing boat if they would have a bolt like it.   They returned successful and after Scott dived to retrieve a dropped dinghy lock, we pulled anchor around 12:30.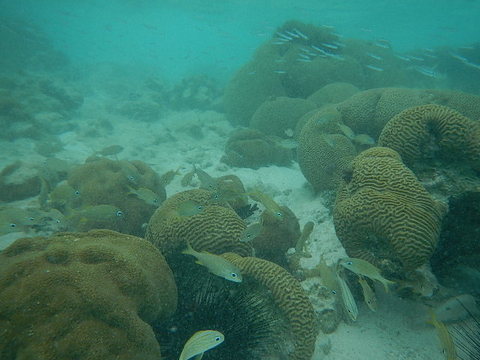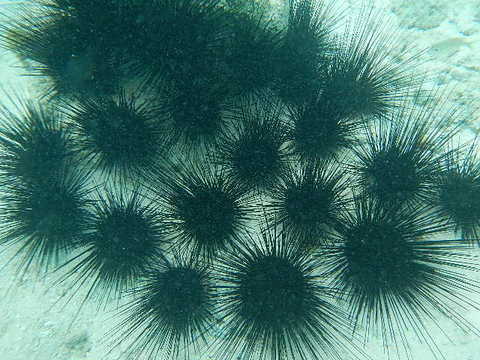 Motored 2 hours to Canernero.  We found a perfect anchorage with only 2 other boats.  We saw small fishing huts at the Western edge of the Island, but did not see any activity.   This was my favorite anchorage.  It was calm, beautiful, and easy swimming and snorkeling.   I made cheese and bacon quesadillas for a late lunch and it ended up being our dinner.   We all seemed overly tired and went to bed early.
Isla Carenero is a small mangrove island at the western anchorages of Los Roques.  The book said there were 6 moorings,  we saw maybe one, but dropped anchor instead.   We spend Wednesday finding excellent snorkeling and before we packed up to leave, I did some clamming in about 5 ft of water.   I will try steaming them later….!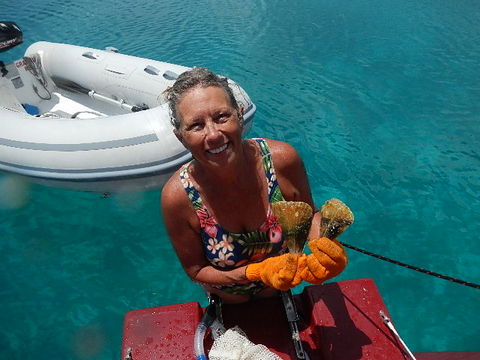 We left for Cayo de Aqua about a 2 hour motor straight down wind.  Island with a few palms and sand dunes.   Along the way I decided to put out my fishing line and sure enough, caught a mackerel and one tuna by the time we turned into the Cayo de Aqua anchorage.  Should have tried fishing long ago!   Mackerel for dinner!  Clams were so-so, but had to try.   We will eat the Tuna for Thursdays meal.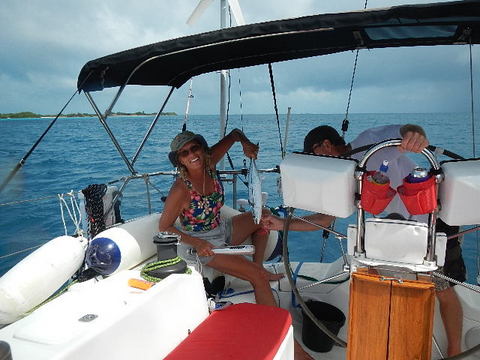 On Thursday, we headed to Aves de Barlevento, about 30km's from the Western Islands of los Roques.   It was very windy and the wind generator is doing great.   We sailed single Reef and furled head sail.  The sailing was beautiful but the following seas kept us fighting for our personal balance the entire time.
We arrived at the first Aves and just like the Doyle book said, we would weave our way through coral heads to a very nice anchorage  at Isla Sur Sut near the  Red footed Boobies, and mangroves.
Friday, March 15th, after French toast, we did some work on the head sail furler, then motored around the coral heads to another noted snorkel spot.  It was very windy and wavy and  basically dangerous for the snorkeling so we headed to Saki Saki, one of the Northern anchorages of Aves de Sotavento.    This was the most beautiful, blue water anchorage we have seen.   One for the books for sure.   Saki Saki will be our last Aves to experience and we spent the day swimming, snorkeling and running out of gas for the dinghy!  It is always something!   Scott surprised us by offering to make dinner, Spaghetti!  Nice for me.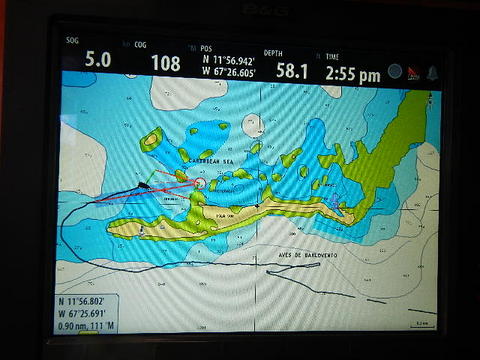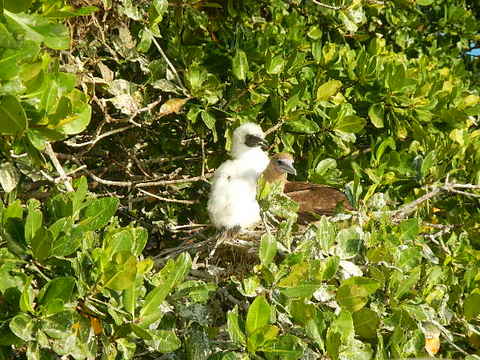 Baby Boobie at one of the Aves islands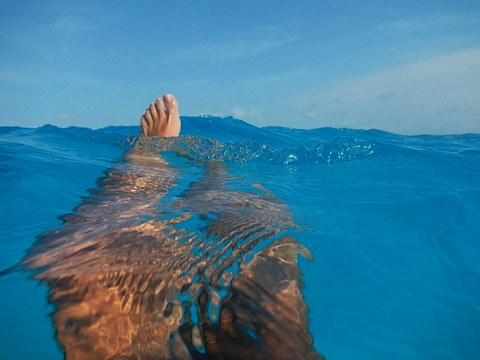 Perfectly blue water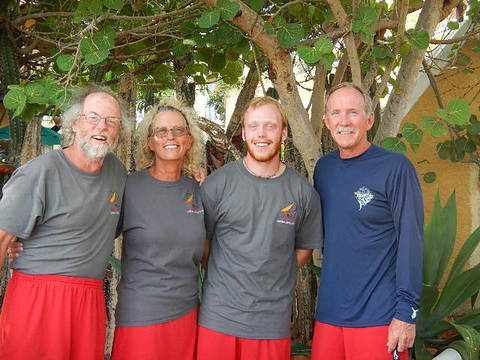 Ken, Kristine, Scott, Bob – Margarita to Bonair Crew
http://gratefulred.us/wp-content/uploads/GratefulRed_FullRed-web.gif
0
0
Kristine
http://gratefulred.us/wp-content/uploads/GratefulRed_FullRed-web.gif
Kristine
2013-03-05 13:49:51
2013-11-11 10:20:45
Margarita, Isla Tortuga, Cayo Herrandura, Las Roches Islands, and the Aves with Bob