Oh Trinidad! What a Carnival!
Ken arrived home to Wisconsin on the 22nd, and after a fast week with Ken home,  I flew to Trinidad leaving Ken to finish up some work.  Our boat is moored at TTSA, in Chaguaramus, north of Port of Spain.  I spent the first night at   "Tammy's"  B&B due to my late arrival.   In the morning the host, Tammy,  gave me a ride to TTSA and with the aid of the water tender, I made it to the boat, luggage and all.  I spent 3 lovely days cleaning and reclaiming the boat.  Ken arrived Thursday evening and for the next 2 days we arranged with our new friend Junior some paint touchup, new anchor lock install and the re-sanding, and finishing  of our teak cockpit table.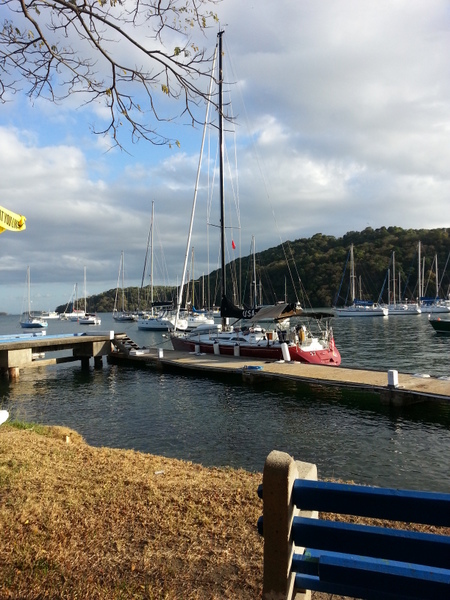 Grateful Red at TTSA dockside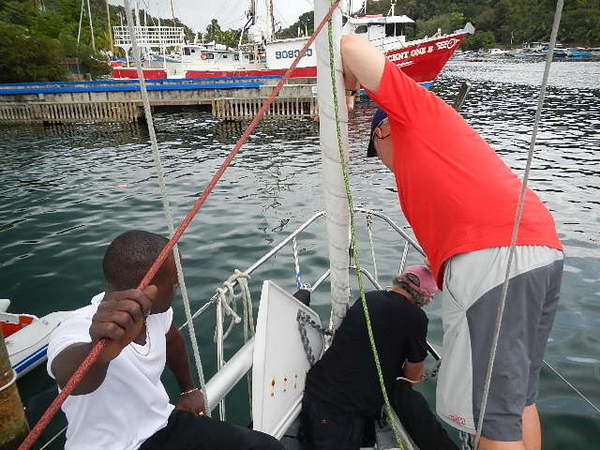 Junior, Ken and Brad installing our anchor lock.
Saturday night, several members from our Lake Kegonsa Sailing club, Davin, Donna and Brad arrived to TTSA to sail with us.
We had moved the boat to the dock to do the paint touchup so getting them to the boat was no issue.  The water tenders quit after 9pm or so.
Because the TTSA Regatta had been rescheduled to March, our crew plans shifted to enjoy Carnival and do some island touring .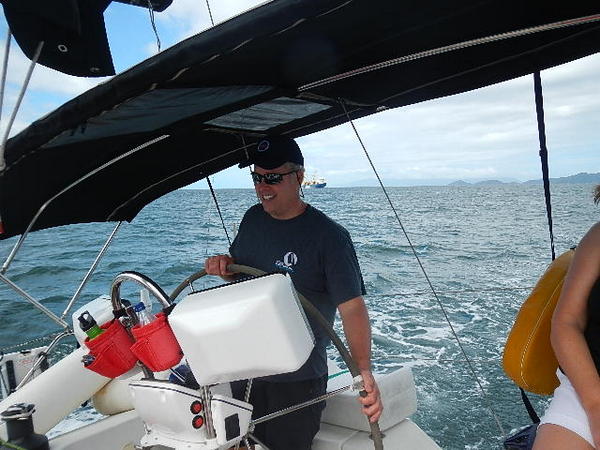 Molly was scheduled to arrive on Thursday and then we would head out to do some overnight anchorages.  After Molly's arrival, we sailed to Chacachacare Island northwest of the mainland and anchored the first night in Coco Bay.   The island boasts of beautiful black sand beach on the side facing Venezuela and a lighthouse that has wonderful vistas.   Well the black sand beach was mostly un-walk able rock and the light house was quite a let-down after the hour or so it took to reach it.  The walk was so steep that stopping many times was required to cool down and catch our breath.  Going down was so much easier of course.
The Lighthouse on Chacachacare Island.  Vista was great, the lighthouse, a bit junky!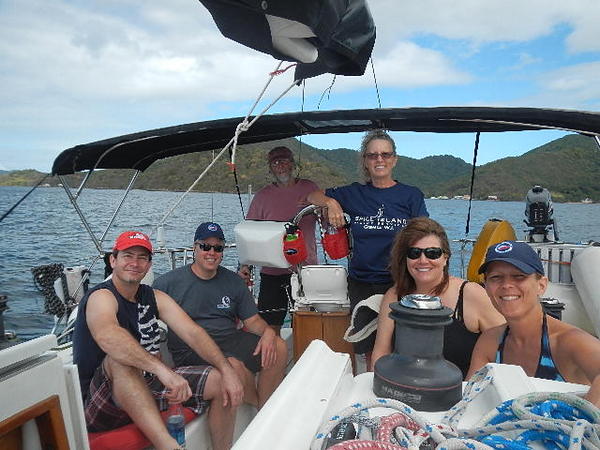 Davin, Brad, Ken, Kristine, Molly and Donna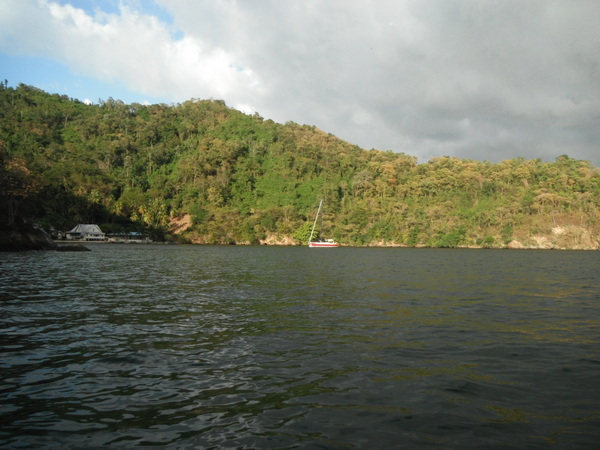 We motored over to Mono Island at the Grand Fond Bay where we found a lovely spot to anchor.  We dinghy over to the next bay to see if there was any restaurant or bar.   As we had approached both bays, the one was having a huge carnival party with 20 plus boats rafted together.  This alone made us think we would find something.  The music was so loud we had to shout to each other to be heard.   We did not find anything more than several day-rental houses on shore and the wild party so we headed back to our quiet boat in our quiet bay!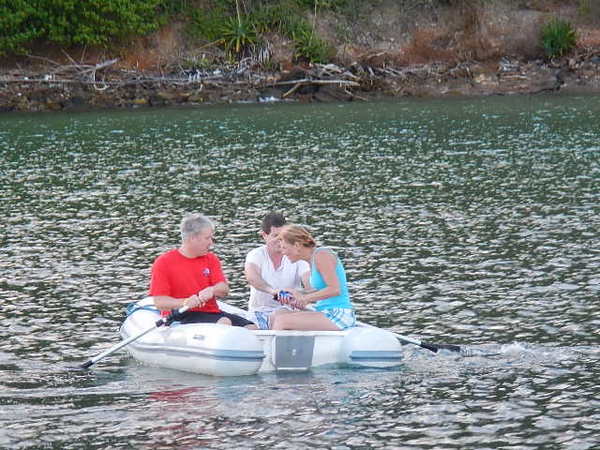 Learning how three can maneuver a dinghy!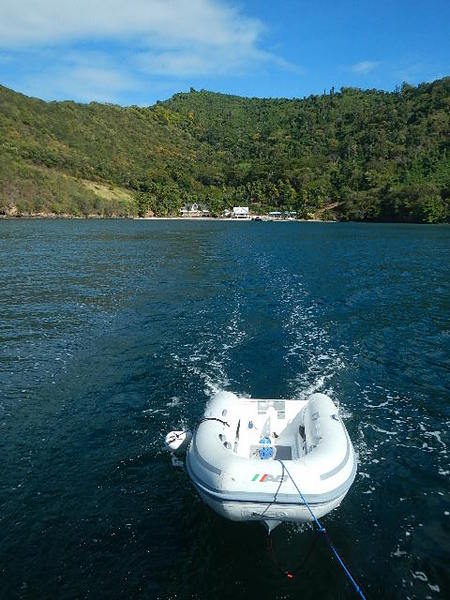 Sunday,  Feb 10th, we sailed back to Coral Cove and made a fuel dock stop.  Made it a quiet afternoon and evening because we had to wake up at 2AM to be ready for our taxi pickup that would take us to our first Carnival Event, J'Ourvert, better known as "Dirty Mass".
J'Ourvert starts at 2AM Carnival Monday and to participate, you only have to endure paint all over your body, incredibly loud music, mud, dancing through the streets in a parade of thousands for hours and hours.   I think pictures can tell the story better .
Well, we did feel fuzzy – so just imagine how hard it was to take a clear picture!
No, they are NOT having fun!
After "Dirty Mass"!  Boy were we looking forward to hot showers!
We finished the parade back at our starting point around 10AM and were given time to "wash" and use the restroom before being transported back to Coral Cove.  Our driver had prepared his maxi-taxi by covering all the seats in black plastic bags!   Smart move.
The rest of Monday, was quiet, time for the crew to pack, and recharge.  Made arrangements with Members only maxi-taxi (Jesse James) for pickup times for Donna, Davin, Brad and later Molly for Tuesday ride to the airport.   They had to leave with plenty of time for traffic with Tuesday being the busiest of Carnival!
http://gratefulred.us/wp-content/uploads/GratefulRed_FullRed-web.gif
0
0
Kristine
http://gratefulred.us/wp-content/uploads/GratefulRed_FullRed-web.gif
Kristine
2013-02-02 14:35:32
2013-11-11 10:27:29
Oh Trinidad! What a Carnival!