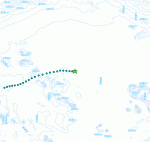 Six hundred miles in the bag with 1269 miles to go. winds have been humming between 20 to 25 mph for the past three days with bursts up to 30 mph, rain off and on – beautiful cruising weather. the grateful red is rockin' averaging seven knots an hour with times of eight and nine knots per hour. crew is falling into the shift rotatioin – work three hours (you are in control of drving but reality is auto pilot does most driving – more responsible then some silly crew driving), three hours sleeping in the cockpit in case of emergency followed by three hours off – typically trying to sleep in a rockin and rollin boat crusing at eight knots in seas of six to ten feet. Actually easier then it sounds after three hours trying to sleep in the cockpit inwhich you have all of the above plus ocean spray and rain.
Kristine's seal a meals have been terrific – one hot meal a day as a crew, munchies at shift change and at least two barley soups a day – my fav is Mexican. Not going hungry – hopefully supplies will last another ten days.
Just another Sunday at sea.
http://gratefulred.us/wp-content/uploads/GratefulRed_FullRed-web.gif
0
0
Ken
http://gratefulred.us/wp-content/uploads/GratefulRed_FullRed-web.gif
Ken
2009-06-14 19:23:00
2015-11-18 19:01:53
Skipper's Sunday update