St. Barts to St. Maarten, Wendell & Shelly, March 12th-15th
Arriving in Gustavia, St. Barts around 5:45, we were told by the harbor master that it was too late to get into the harbor because everyone had gone home, so we motored up around the north point to Grand Colombier, a marine park, and took a mooring ball there.   It was a very rocky night, but we were tied securely to the mooring and it would only be for one night.   The next morning, I saw several sea turtles in the mooring area  and was told they were numerous and not an uncommon sight.
Tuesday, early we called again to the Gustavia Harbor and the Harbor Master met us in his skiff to direct us to a spot on the Quay.  The marina area was near empty and it seems a shame we were not allowed to come in the night before.   We had to use our anchor and did a stern to tie-up.   We have discovered that the swell action in St. Barts is normal and getting the anchor out far enough to
keep us off the quay was a trick!
Gustavia is a cute little French-style  harbor and seems to be the upcoming spot for the well-to-do and "in" crowd (according to Doyle book and our observations) .  French is the language, however English is well understood.  We found cute shops, some screamed MONEY,  an extremely nice Chandelery (le Ship), and a wide-assortment of restaurants to suit us.
Sorry, no pictures of St. Barts this trip….we must have been distracted by our desire to get to St. Maarten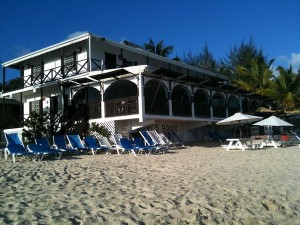 Mary's Boon Beach House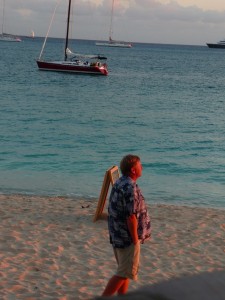 Wednesday,  March 14th, we made our way to Simpson Bay, St. Maarten to ensure Wendell and Shelly would make their Thursday departure.   We ended up straight into the wind and motored all the way.  Took about 3 hours total and when we arrived we dropped anchor just  in front of Mary's Boon Beach house in about 13 feet of water.    We of course, had to go to shore to start the process of "bonding" with the staff of Mary's Boon where three weeks later we would have our Annual Boat party.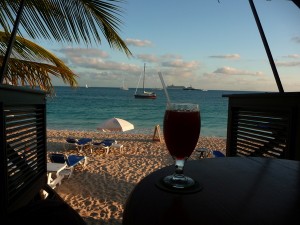 Getting to shore with 4 people in our little dinghy is a constant learning curve and after a super afternoon and evening of eating, drinking and enjoying the beach, we started our migration back to the boat.   Shelly and I had Wendell take us back to the boat and that proved to be without incident.   When later, it was time for Wendell andKen to come back to the boat seems the "wet" comedy began!   While I watched from the  boat, I saw their several attempts to get past the surf without flooding the dinghy.  One time I saw them wrestle the boat as it stood on end.  When they finally got to the boat, soaking wet, they explained that the dinghy tired to commit dinghy suicide!  Not their fault!, but at daylight inspection, one oar was broken in half, the inflatable keel was in backwards, (how could that happen? )  there was at least 3 pounds of sand in the dinghy, one slat for under the inflatable floor was missing and there was so much water in the dinghy, I was surprised it was still above water.
Of course, this also meant, (due to sea water), another NEW PHONE FOR KEN!   Too bad I didn't  think of getting my camera out.  It was a comedy for sure.   (this is also why I do most of the dinghy
driving….!)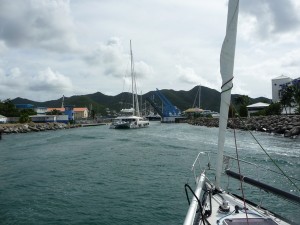 Thursday morning, we called Simpson Bay Marina to tell them we would be making the 9:30 Bridge and about 9:15 Ronny, one of the marina staff was out in their zodiac's greeting us and telling us to follow him  to the marina after making the bridge.   It is a great marina and they are very helpful with your docking and departing process.   They use their boats as bumper cars to turn you quickly in tight spaces.    By 1:30, the boat was tied up, cleaned up and Wendell and Shelly were packed and waiting for their cab to the airport.   We had a wonderful time and some of the best weather and sailing of the season with them.   We owed them that after their  COLD, WET experience in the French canals when they visited us in 2010.  Our only guests during the canals and they got the most miserable weather of the entire trip.
Friday, March 16th.  Started our boat recovery, Island bonding, getting to know the lagoon with our dinghy, finding Budget Marine and Island Water World shops, the sail loft, and of course the Business Center with the incredible wifi for ken.  This marina is so well situated;  you really don't need car or bus.  Everything is within walking distance or a short dinghy ride.  Plus, the marina does your laundry (for a fee)
Ken left for the States Sunday the 18th and I would be on the boat for 9 days working on cleaning and polishing the chrome,  and the beginning of prep for off-season.  We would also have the St. Barts regatta crew living on the boat followed by our party so a bit of domestic preparation kept me busy.  I also made several trips to Mary's boon taking the dinghy to Barnacles (lagoon side) and then walking across to the beach side to Mary's continuing the bonding process.   On early discovery, I found that Lisa, at the bar, makes a mean Rum punch and the kitchen makes the best coconut shrimp.   Can't wait for the party!
http://gratefulred.us/wp-content/uploads/GratefulRed_FullRed-web.gif
0
0
Kristine
http://gratefulred.us/wp-content/uploads/GratefulRed_FullRed-web.gif
Kristine
2012-04-26 11:11:43
2012-04-26 11:11:43
St. Barts to St. Maarten, Wendell & Shelly, March 12th-15th