May 11, Wednesday
Our first real sail will be an overnight to Corsica. We finish our boat provisioning, fuel up the boat and depart around 4pm. Winds about 10 knots, we put up a reefed main and Genoa, but soon found the winds out of ;the Golfe to be blowing 20-25 from the West.
Within one hour, we scampered to get the main down and reefed the Genoa. We set up the jacklines and tethers. Everyone got their foul weather gear on and life vests. With the wind and the waves we got wet immediately. We were still sailing average 7 knots and did so most of the evening and into the night. The winds were mostly behind us and the following seas made holding our course difficult. Shifts were required, but Ken seemed to stay available as it was so rough and this was our crew's first sail with the boat. Overnights are tough in perfect conditions and this was a good test.

Just a bit of fun…
Thursday, 11:30, after a long night, we arrived at a lovely cove where we anchored for a lunch of Hopel-popel. I am sure I have spelled that incorrectly, but it is fried potatoes, sausage and then beaten eggs cooked into the mix. I always tend to embellish the dish to what my refrigerator holds, but it is a hearty meal after a hard night.
After lunch, Ken and Mike reflaked the hastily dropped main from the night before and Alan washed the dishes off the back of the boat. Our evening destination for Thursday night would be Ile Rousse. We were able to continue to sail with Genoa only and arrived at 6:30 pm.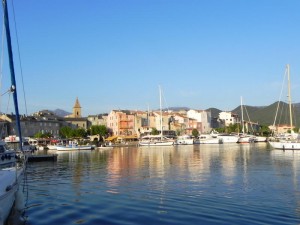 This picture is not in order. It is of Macinaggio Marina our stop after Ile Rousse.
Ile Rousse has a very small marina and we were concerned with the maximum depth of 6 ft. We got a berth 3 boats from the Jetty and did not seem to have any issue. Getting out might be difficult as it would require a hard to port turn to miss the other side of the jetty.
In the morning we took turns with our boat shower, did sink laundry, hanging it out on the lifelines, washed the deck, sprayed off the hull salt and paid the Capitanarie his 20 Euro's. He explained that the toilets were open, but no water yet because it was too early in the season!
The village is lovely and on Friday, we wandered the small market, and surroundings. Ken was in search of a newspaper and Page and Alan were on a mission for a Super Marche. I marveled at the sight of them as they returned to the boat. Alan had taken my back pack and it was so heavy with bottles of all sorts of wines and ports! They had picked up Ahi Tuna at the market along with wonderful fresh veggies and fruit. They could have used a pack horse with all they were carrying.
So far, with the exception of the rain as we were leaving Port Napoleon last week, the weather has been stupendous. Clear blue skies, warm breezes, and wonderful cool nights.
We would leave Ile Rousse around 2:45 to motor to St. Florent. About a 3 hour motor. (again, no real useful wind). We arrived in St. Florent around 6:30 Friday evening. Of course, the Captinare is closed for the evening, and we discovered the Toilettes were under construction. Everyone says too early in the season yet for all facilities to be open. St. Florent has a large marina with approximately 250 berths just for the transient boater. Mike, Ken and I wandered around to get a glass of wine and found Wi-Fi at a local bar and caught up on some email. Friday was a wonderful evening. We ate our dinner outside, feasting on Ahi Tuna, Fresh beans, Couscous and salad. And the never ending (it seems) great wine and port to end the evening.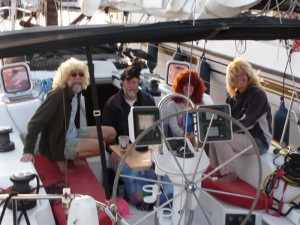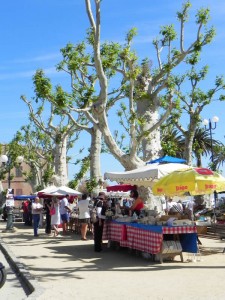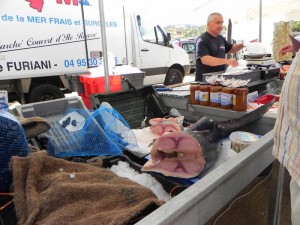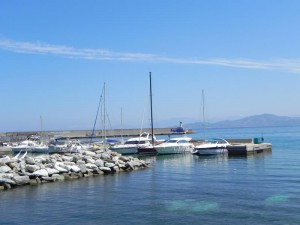 Ile Rousse berth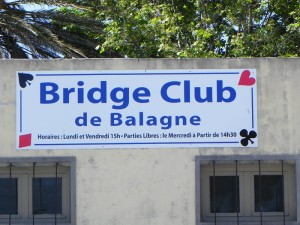 Seems you can play Bridge anywhere!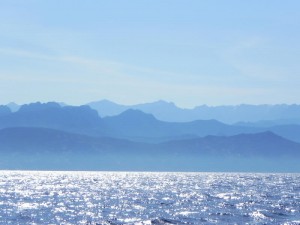 Saturday, our morning routine today was coffee/croissants, a stop at the Capitanare to pay for the night (47 Euro's), and then a quick walk for ice and beer at the Spar market. Being Saturday, the Spar closes at noon and we want to depart by 11:30 or so. We purchased 4 bags of ice and beer for the road. I even think Page and Alan bought MORE wine along with 2 Cooked chickens! We left port exactly 11:30 and head-off to Macinaggio. This will require a trip past Giralia Rock. We again, motored most of the way up to the Rock and looked forward to using a Genoa on the way down the East side of Corsica to Macinaggio.
http://gratefulred.us/wp-content/uploads/GratefulRed_FullRed-web.gif
0
0
Kristine
http://gratefulred.us/wp-content/uploads/GratefulRed_FullRed-web.gif
Kristine
2011-05-14 22:34:26
2015-11-18 19:01:49
St. Tropez to Macinaggio