Thursday – June 2 – Otok Mljet (Island Mljet)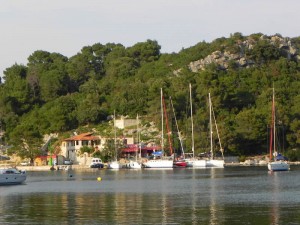 Okuklje di Otokmljet Cove (yes that is how it is spelled)

Local fishing boats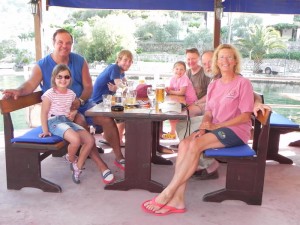 Thursday, June 2nd, we motored into Okuklje di Otokmljet, a small bay with several small moorings operated independent of each other. We were flagged in by one and it seems a nice location. We later found we had to have dinner at the adjoining restaurant in order to get free mooring. It was a late night for the girls and they were close to asleep even before their dinners arrived. The food was outstanding and served family style.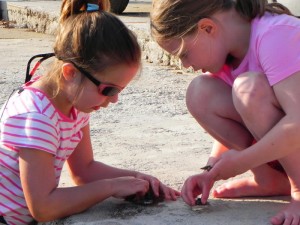 The girls at their first port, exploring the sea life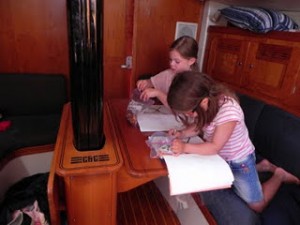 The girls working down below on their workbooks.
The next morning we allowed ourselves a lazy day and while the crew went to breakfast, Ken and I stayed and did some work on the boat. We shoved off at about 11:30 and Ken proceeded to give the girls some sailing lessons. They shared the job of pulling in the jib sheet, and grinding on the first tack. We sailed most of Thursday and when the girls got antsy, we went downstairs to start their notebooks. I had made some project books for them that had coloring projects, paper boat directions and various other things to keep them interested. I made chicken roll-ups for late lunch and then the girls took a nap for several hours. Sailing is HARD!
http://gratefulred.us/wp-content/uploads/GratefulRed_FullRed-web.gif
0
0
Kristine
http://gratefulred.us/wp-content/uploads/GratefulRed_FullRed-web.gif
Kristine
2011-06-06 23:57:31
2015-11-18 19:01:49
Thursday – June 2 – Otok Mljet (Island Mljet)