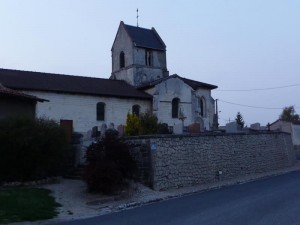 Each town has at least one Church, this one is Chaussee-Sur-Marnes. Small compared to the towering cathedrals we experience in most of the French towns and villages.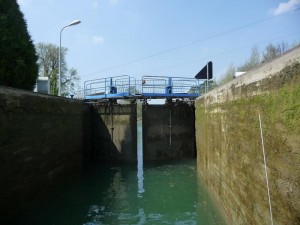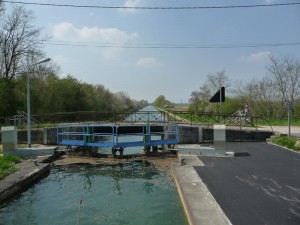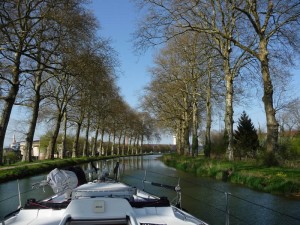 Motoring through Vitri-le-Francois.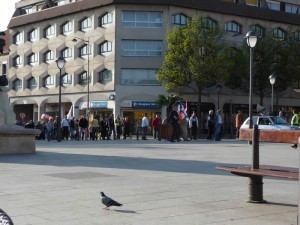 Tuesday, April 20, 2010 47 kms and 18 locks.. to me it seemed like more locks as it was a long day to St. Dizier. We want to get to Chamount by Saturday. Ken has had to re plan his week in the US and we also want to get the boat and me to a more civilized place with electric and water. I will be on the boat for almost 7 days alone so power is wonderful. This is why we are pushing now.
Arrived St. Dizier late afternoon and it was a pleasant quay aside a parking lot. Had a friendly women stop and speak English to me. She asked if we were looking for anything special (thinking I looked like a lost American) and in a few moments she had told me most of the virtues of St. Dizier. Of course we made our way to the main square where we got to witness a protest march. Not sure what the issues were, but it was exciting.
Before we launched in the morning Wednesday,our new friend had left some pamphlets on the boat. In St. Dizier we found an Internet cafe and before departing Wednesday, we spent one hour catching up with the Blog and other business.
The weather has been spectacular and the French wonderful. The VNF canal personal have been so wonderful and friendly we know we are welcomed and forgiven for our poor French. The Canal system is becoming very sophisticated over time. The books we have speak of manual locks that now are replaced with remotes you receive and carry through the length of the canals. There are also long lengths of canal with locks where the lock keeper follows you with his car to get you through the locks and lift bridges. Always with a wonderful smile. The country side on this canal is truly what you envision as French canals. It was rolling hills, farmland, quaint villages, and so on.
http://gratefulred.us/wp-content/uploads/GratefulRed_FullRed-web.gif
0
0
Kristine
http://gratefulred.us/wp-content/uploads/GratefulRed_FullRed-web.gif
Kristine
2010-04-28 22:19:14
2015-11-18 19:01:50
Tuesday, April 20