Tuesday, July 19th, we sailed half of the day and motored half to get around the Cap Bon to Sidi Daoud. Sidi Daoud is home to a very small fishing harbor where they had a Tuna cannery. The small fishing harbor that also is home to the Sidi Daoud Cannery is stinky and full of flies, but was filled with unknown treasures we were yet to discover.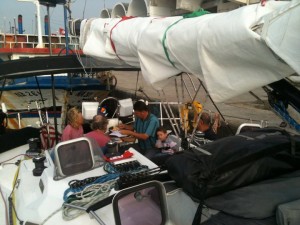 Giving our passport information to Authorities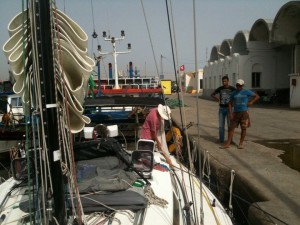 We were greeted by the Harbor Master and also met the National Guard and Customs officials. The port authorities went through a very complete check of our passports, the boats paperwork, all our electronics aboard, and various other information they thought they should ask. One of the officials brought his young son who sat quietly on his lap as we were asked to fill out many forms complete with carbon paper for their duplicates. After they left, we seemed to have one or more civilian looking "guards" standing on the Quay 10 feet from our boat. We think they were watching to see if we were going to do any drinking, or maybe they were just plain curious. We kept any "beverages" in cups and produced no cans for them to see in any event.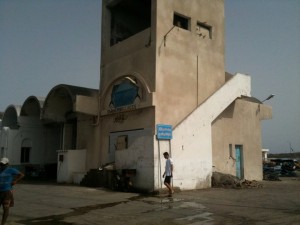 The Icehouse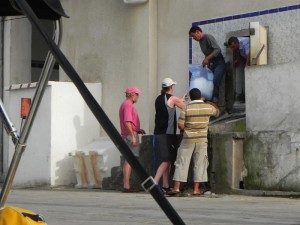 Fred and Ken getting our bag of ice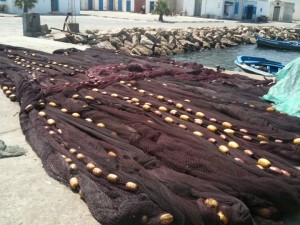 some of the many fishing nets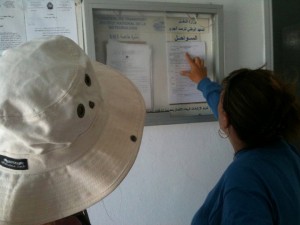 Checking the weather at the Harbor master's office

Sidi Daoud Cannery in the background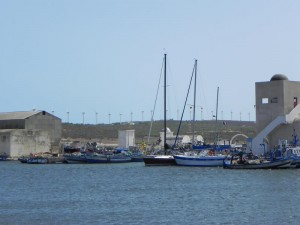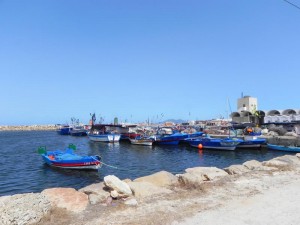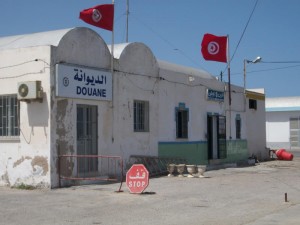 That evening after we secured ice from the main Ice building on the quay, Ken and Fred proceeded to find our their new best friend, Omar. Omar decided that he would offer us something special for a good price, and when his friend produced 2 very large lobsters, we could not refuse! Despite the miserable location at the dock with the flies and smells and the curious, we had a outstanding dinner of all the lobster you could eat, fresh bread and loads of butter. The Tunisians there just stood and watched us as we ate by candle light. After dinner, Ken and Fred walked around the small harbor and apparently were invited by the local fisherman to eat some couscous. It seemed to be quite a honor to be asked so they did not refuse. Ken says that their couscous takes several days to prepare and is highly anticipated.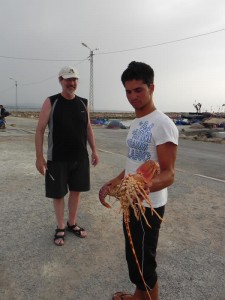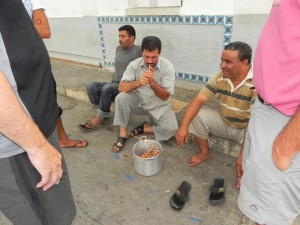 Discussing price for the two lobsters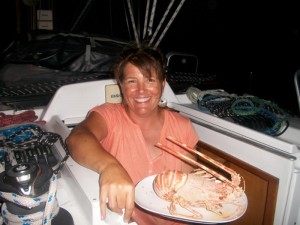 One cooked, ready to feast!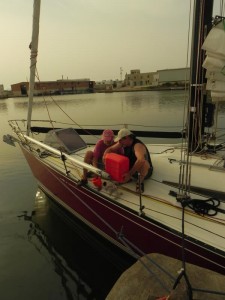 Refueling, one can at a time
Wednesday was promising high winds so collectively we made the decision to delay departure for another day and Omar called a taxi to take us to the Roman Caves north of Sidi Daoud. It was a beautiful coast, but the caves were closed because they had been deemed to dangerous (not entirely sure why they still promote them as a tourist site except to get you there to eat at the restaurant). We did eat lunch there and met a very nice couple from Tunis who were on holiday for the week. Jaz (the gentleman) told us that he taught English and was very happy to talk to us in order to keep the English he knew as genuine as possible. He later offered to be our tour-quide if we came to Tunis or Carthage that week Thursday or Friday. We took his number and promised to give him a call if we did so.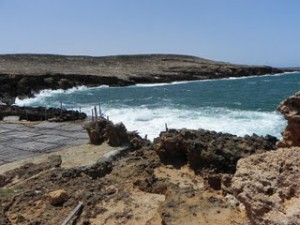 Coastline at The Roman Caves

Molly

We still love to look at the Sea!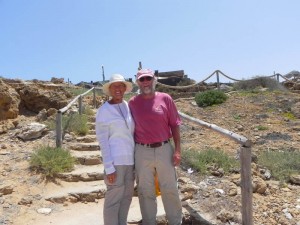 Kristine & Ken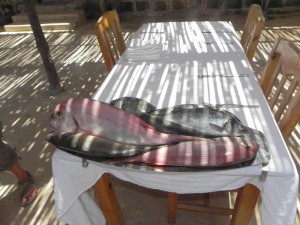 Lunch options! Fish of course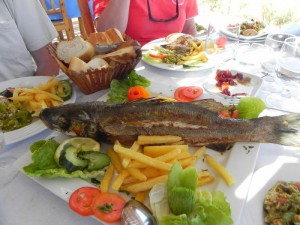 http://gratefulred.us/wp-content/uploads/GratefulRed_FullRed-web.gif
0
0
Kristine
http://gratefulred.us/wp-content/uploads/GratefulRed_FullRed-web.gif
Kristine
2011-08-18 08:21:56
2015-11-18 19:01:48
Tunisia-Sidi Daoud