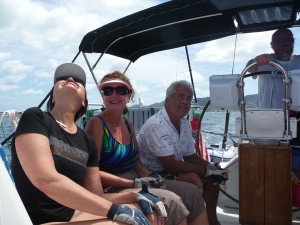 After most guests left after the party weekend, a small group of us (Nancy, Jim, Barb, Ron and Pip) sailed to Anguilla.  Within 15 minutes, Ron Hausch was in great pain in his shoulder.  Concerned we were ready to turn around, but Ron said to continue but by the time we arrived in Anguilla, we called on shore for medical assistance.  Their only dock was a huge concrete dock meant for large(r) boats, but we managed to tie up and meet up with an ambulance and local officials.   Ron and Pip went to their local clinic and ended up taking the boat ferry (along with Jim and Nancy and Barb) back to St. Martin.   Ken and I tied to a mooring ball in the harbor and stayed the night.
The next day we sailed to Prickly Pear Cays anchorage and too the dinghy to shore for a bit of exploration.  After crossing the mid-of the island (very small), we found a beach restaurant that catered to the snorkel day trip boats.   They had enough to allow us to buy lunch and so we enjoyed a nice swim and a meal in another island paradise.   Heading back to St. Martin, this time we anchored in Marigot  on the North Side of St. Martin.  We needed to go through the Bridge into Simpson Bay lagoon at 8AM.    Ron and Pip were still on the Island and Ron was feeling better with a shoulder sling so we met for dinner near the Sandy Ground Bridge.  The next day, Ken and I took the boat back to Simpson Bay Marina where I would stay and Ken would return to the US for some work.
I stayed on the boat for 5 days, cleaning and getting some work done on the boat.   TKG will install a new lifeline on the boat and fix our bent stations.   Another group will take care of our damaged dive platform and touch up the paint.  (a sad remnant of the St. Bart Regatta).  The five days went fast and when Ken returned we walked to Mary's Boon Beach house for their Sunday Jazz on the beach.   Sure feels like home there!
http://gratefulred.us/wp-content/uploads/GratefulRed_FullRed-web.gif
0
0
Kristine
http://gratefulred.us/wp-content/uploads/GratefulRed_FullRed-web.gif
Kristine
2012-05-03 06:17:57
2013-07-15 10:16:38
2012 End of Season Cruises and Layovers – Phase One!