Bequia, Canouan and Mayreau Islands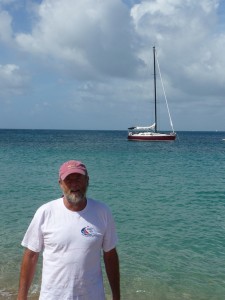 Friday,we sailed to Bequia Island into the big Admiralty Bay complete with wind.  We found a holding spot near the  beach and soon realized why we were alone.  You catch a lot of the rocking swell but it was secluded and lovely so we stayed.   Our dinner was decided when a local in his colorful boat came by to offer some juicy lobster for sale.  One had our name on  it and that made up for the rocking boat syndrome.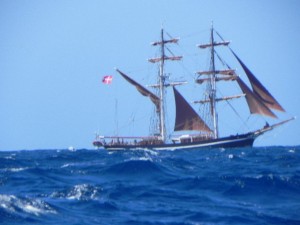 Some "boat traffic"…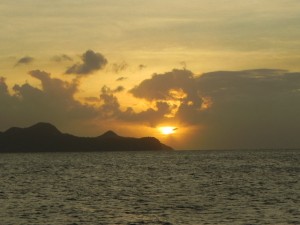 Sunset on Canouan Island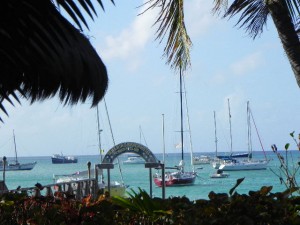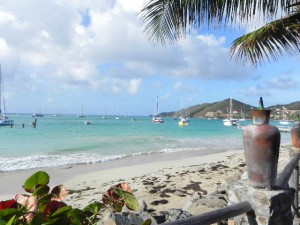 Saturday,  we left for Canouan Island and got a great mooring close to the shore in Charlestown Bay around 1:30pm.  We were assisted by John (the iceman) and our night charge was 50EC.
We took the dingy in and had a drink at the beach resort bar and then walked into the "town" to get some easy provisions.  The vegetable market was open and I bought some okra and mangos while
Ken drank a cold beer (also sold in the market).  We never saw the internet shop that was advertised, but that was not a big issue because we could pick up wifi free from the resort.   Benefit from being on the closest mooring I guess.   Bought 2 red snapper for dinner and I poached them because they were so big for the fry pan.  We ate one and saved the other for fish taco's another day.  Very good!
Sunday, left for Saline Bay, Mayreau Island and found a nice anchorage in a quiet corner of the bay.  Beach was a swim away and we decided it was time to get our feet "wet" and do some snorkeling.  Our Brownie unit for scuba was not working and we decided it required proper service on the compressor before we trusted it to provide our oxygen while diving!  Walkedup to Dennis's hideaway (a favorite spot for boat cruisers)  for Callalou soup and a seafood appetizer.  It was magical and empty.  We are still wondering where all the touristsare.  I imagine the locals are wondering  the same. We finally got a good nights sleep because of the lighter wind conditions.  Before dark we bought a seabass from a local and would have it tomorrow
http://gratefulred.us/wp-content/uploads/GratefulRed_FullRed-web.gif
0
0
Kristine
http://gratefulred.us/wp-content/uploads/GratefulRed_FullRed-web.gif
Kristine
2012-01-25 10:01:15
2012-01-25 10:01:15
Bequia, Canouan and Mayreau Islands