Veiux Fort to St. Vincent Jan 11th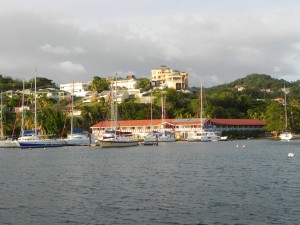 Wednesday,
January 11th,  we pulled  anchor without any difficulty considering the wind and what appears to be our "too-small" anchor rode that slips in the windlass.  With auto and the front sail, we made our way across to St. Vincent, heading along the windward side south to Blue Lagoon  anchorage.  It was a long 40 nautical mile sailing day with large swells and uneven seas.  We arrived at Blue lagoon, near Young Island and found it quite small and full, but with assistance from Dexter (from TMM)  we secured to a mooring ball for the night and paid our 40EC charge.  Rum and cokes at 5pm and we were set!  This is NOT anything like the Blue Lagoon we think of.  We found it crowded with many abandoned boats; some half in the water, but the marina was full of SunSail charter boats, most of which were catamarans.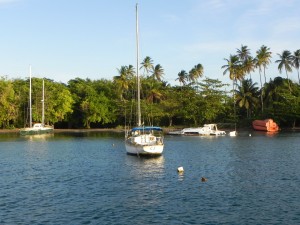 Blue Lagoon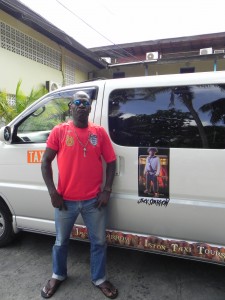 Winston, our driver to the  botanical gardens.  He was an extra in one of Johnny Depp's Pirates of the Caribbean movie.  fun to hear his stories!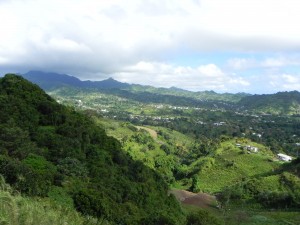 On the way to Montreal Botanical Gardens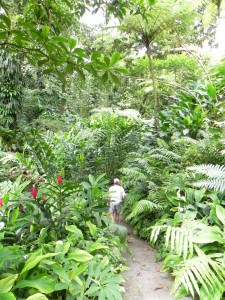 Our "jurasic Park"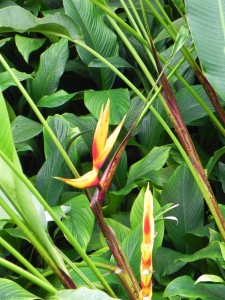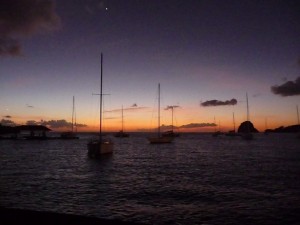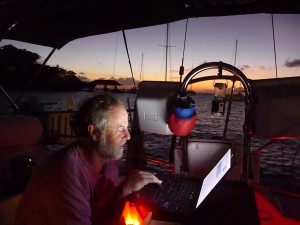 Evening office hours!
Thursday morning after breakfast, we put the motor on the dingy and went to the marina dingy dock and showered and utilized their internet.  At 9:30 our tour guide,
Winston arrived to take us on a ½ day tour of South St. Vincent, complete with the Montreal Botanical gardens. The botanical gardens are the oldest in the western hemisphere and it was here that Capt. Bligh brought the breadfruit tree after the mutiny on the Bounty fiasco. It was truly beautiful and at one time was a place for Newlyweds to go for a private retreat.  I felt we were in Jurassic park and half expected some roaring dinosaur to come out of the rainforest.   We drove through the Mesopotamia Valley and also up along the ridge of the valley that looked down to the lush valley that once was the crater of the long dead volcano.   We found the houses cute and brightly colored and most well kept.
We got back to the dingy dock around 12:30 and decided to dingy to Young Island where there is an exclusive resort, restaurant, bar and spa.  The restaurant is open to the public and most arrive via small water tender.  If any of you have visited Little Palms Island in Florida, it is much the same.  We had a lovely lunch there and after, returned to the boat for some afternoon internet and boat tasks.   We decided to spend another night before our next stop of Bequia Island.
http://gratefulred.us/wp-content/uploads/GratefulRed_FullRed-web.gif
0
0
Kristine
http://gratefulred.us/wp-content/uploads/GratefulRed_FullRed-web.gif
Kristine
2012-01-25 09:33:38
2012-01-25 09:33:38
Veiux Fort to St. Vincent Jan 11th