The start of a race and the time leading up to that start is full of electricity and rushing about. Anxiety can run high and nerves can be on the surface and potentially raw.
Yesterday's start, and the time leading up to the race start went well, (remember, I was a bystander and not in the fray) and if there were any "hiccups" it might have been departure from the fuel dock. With the tide going out, it was more difficult to maneuver the boat away and well, alittle bumping occured…
But, all that behind us, I jumped into the car to drive to the East side of Charleston to the Harbor where the start could be seen. It was a 45 minute motor for the boat so I had time to get there and position for pictures.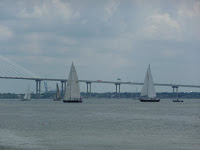 If you can only imagine, a large shipping lane, huge expansion bridge, and spectator boats everywhere, the racers had alot to deal with. Two separate container barges crossed the start line from opposite directions delaying the start about 30 minutes.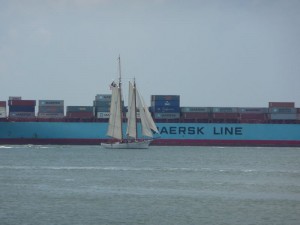 Finally, the Spirit of South Carolina Tall boat lead the pack. Grateful Red had a slower start but I could see that within 30 minutes they were beating through the channel out to the ocean with beautiful sail shape and boat speed. (boy, I would have loved to be on the boat)
I can only share photos from shore, but next week, I will gather photo's from the crew to update on the race itself.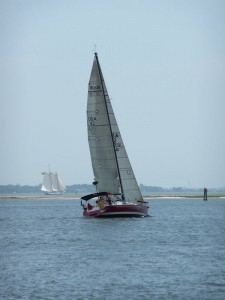 Please check the website http://maps.iboattrack.com/races/2009_charleston_bermuda/htdocs/quick_view.php and you will see Grateful Reds little blue dot!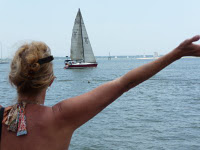 Please share this blogsite with others as I can only put in 10 address per post. Enjoy, and think happy sailing thoughts for the crew!
http://gratefulred.us/wp-content/uploads/GratefulRed_FullRed-web.gif
0
0
Kristine
http://gratefulred.us/wp-content/uploads/GratefulRed_FullRed-web.gif
Kristine
2009-05-30 20:34:41
2015-11-18 19:01:53
C2B 2009 has Begun!