Catch up with the adventures – Island of Martinique Feb 18-21, 2012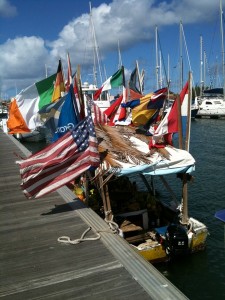 Last picture of Rodney Bay,
This is the "Fruit and Veg" boat that will deliver right to your boat!
Saturday, February 18th, we left around noon after checking out with customs.  Had a beautiful sail to Martinique,  the Island of Flowers.  (about 4 hours) cruising about 6-7 knots in winds of about 15kts.  We anchored in Le Marin harbor, and dingy'd into the dock near Mango Bay Bar.  Had great lamb shank for dinner!
Diamond Rock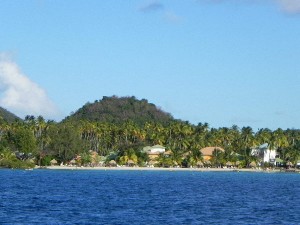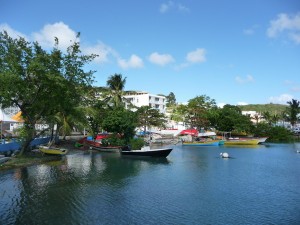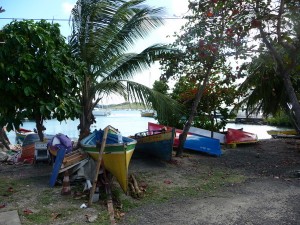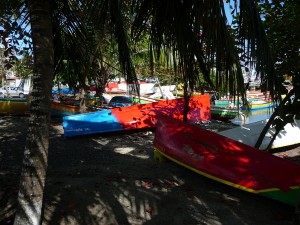 Sunday to Tuesday, we found everything closed and everyone celebrating Carnival.  A bit frustrating, but fun to watch.  Parades each afternoon! Did find a Leader Price supermarket open until noon,  oaded with French foods.  I was delighted to find good wine in a box! (Sorry, but it is useful on the boat). Great sausage and several other items I had missed since France!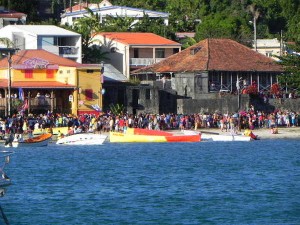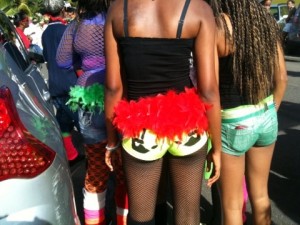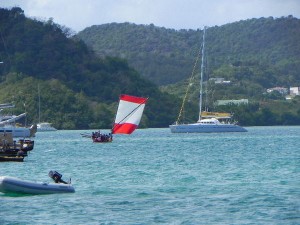 Island Yole  Sailing yacht.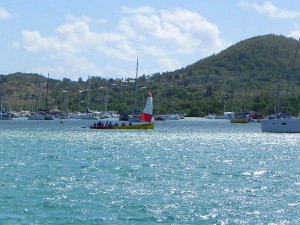 Tuesday late afternoon, we sailed up to Anse de Arlet,  Martinique, into a small bay with the clearest water I have ever seen.  I snorkeled to check our anchor holding before we went to town to the only place open during  carnival for food.  We chose what they cooked, pizza.    It really is too bad we have missed the shops and markets but Carnival is Carnival!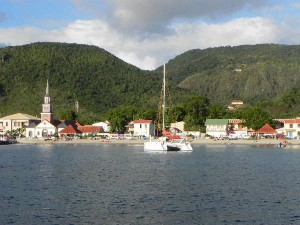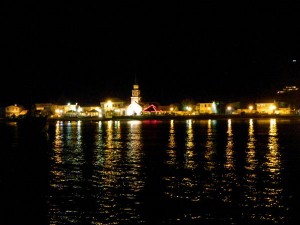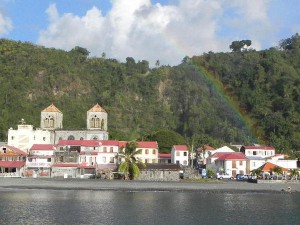 Wednesday we pulled anchor and sailed north to St. Pierre, Martinique.  It was a 3 hour sail past Fort de France which was one of the largest harbors we had yet to see.  We arrived at St. Pierre around 3pm and anchored close to shore due to a huge shelf dropping off too deep to anchor.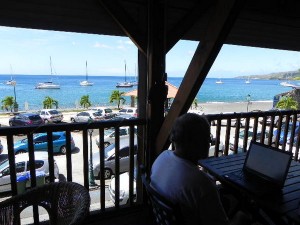 Ken found the local "hotspot" for internet, L'Escapade's and set up office while I relaxed, swam and did some reading.  I went in to pick him up before the towns last night of Carnival started.  Each town we stopped at had it's own parade each night and loud music!  Everyone  celebrated in grand style.  Steak fajita's for dinner on the boat and celebrating ourselves that the town seemed to shut down around 9pm!
On Thursday, February 23rd, pulled anchor around 8am after a bit of a restless night.  We seemed to do a bit of drifting on the hook with the alarm letting us know we had moved.  Not too much to be concerned as no boats around us, but we would recheck the hold each time.    We had soaked the paddle wheel  in white vinegar for the speed odometer gauge on the boat overnight and our days sail to Dominica, although very wet, made Ken happy as each instrument was working in top form.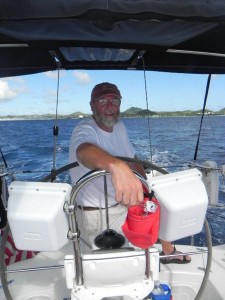 http://gratefulred.us/wp-content/uploads/GratefulRed_FullRed-web.gif
0
0
Kristine
http://gratefulred.us/wp-content/uploads/GratefulRed_FullRed-web.gif
Kristine
2012-03-29 10:26:56
2012-03-29 10:26:56
Catch up with the adventures – Island of Martinique Feb 18-21, 2012