The Leeward Islands – Roseau Dominica, Feb 23-27th
Arrived in Roseau, the Capital of  Dominica,  and called for SeaCat, a local tour guide(recommended by other boater).  His pal Desmond arrived on his boat to put us on a mooring in front of "Drop Anchor" a great , small, new waterside restaurant complete with strong internet (our new office).  We met up later with SeaCat to arrange for a day of touring on Friday.  Huge swells at night that  made us glad to be on a good strong mooring!!.  Had to use a stern line with the dingy at the docks or it would be trashed about.  Friday, we met our arranged driver (Stu) and set off to Victoria Falls and Emerald Pool.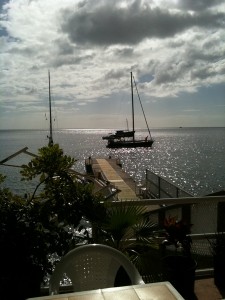 View of boat at mooring out from Drop Anchor Bar-Restaurant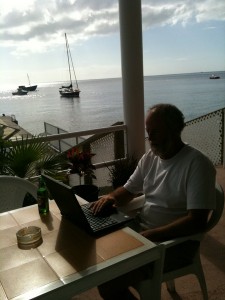 Ken's Roseau "office"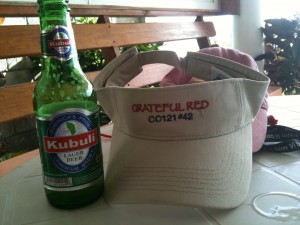 Dominica Beer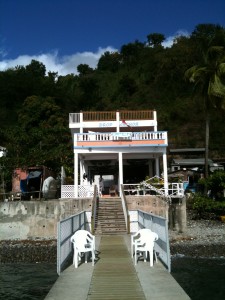 Drop Anchor – great little bar, restaurant, wifi cafe.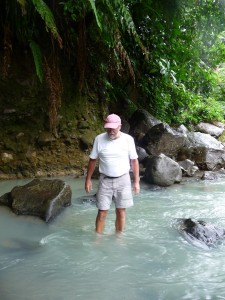 One crossing on the hike to Victoria Falls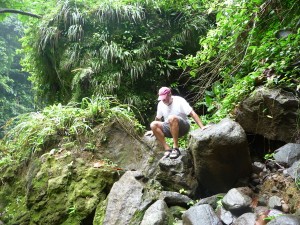 Ken  wanted to do some hiking and our driver assured us that hiking to the falls and to the pool might satisfy him.  Ken wasn't convinced and still had other destinations in mind.  However, after a grueling hike over wet boulders and crossing fast running river water five times on our way to the Falls sure changed his mind about doing more in one day.  The hike was well worth it, (could have been better if Ken had not slipped and scraped his shin gloriously) as the falls were outstanding.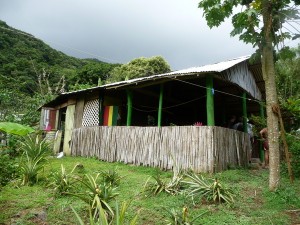 Moses's bar serving cold beer after our hike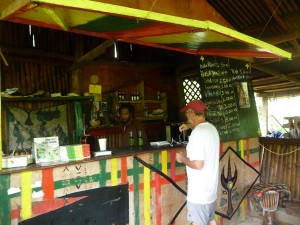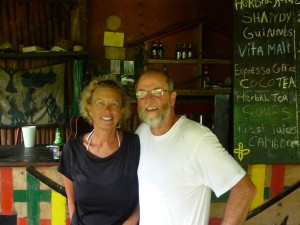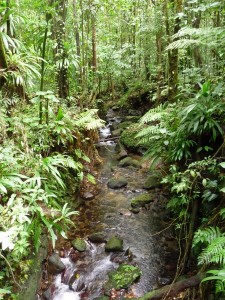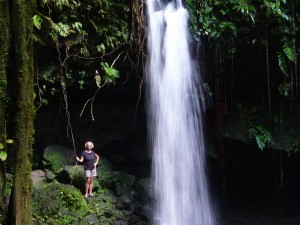 We stopped for lunch at "The Riverside" a new French restaurant that even Stu did not know about.  After lunch we concluded our tour by a short hike to Emerald Pool.  I just had to go in although the water was cold, but so refreshing.  Stu concluded our tour with a quick drive through Roseau, past the new sports arena and then a quick drive through their Botanical garden park.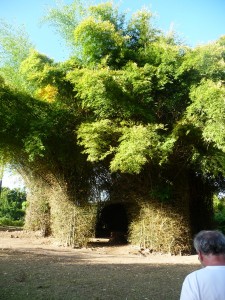 Saturday, we made one last dingy stop at Drop Anchor for lunch and a quick internet check then called Desmond so we could pay for the mooring and go.  We motored 2 ½ hours to Portsmouth in order to recharge our boat battery.  2 Days on a mooring drains the battery and you have to either hook up to shore power or run the engine.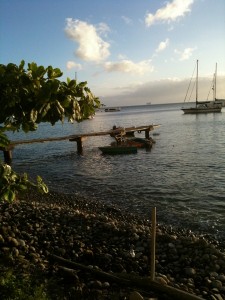 Rough-rocky beach!
http://gratefulred.us/wp-content/uploads/GratefulRed_FullRed-web.gif
0
0
Kristine
http://gratefulred.us/wp-content/uploads/GratefulRed_FullRed-web.gif
Kristine
2012-03-30 10:04:06
2012-03-30 10:04:06
The Leeward Islands – Roseau Dominica, Feb 23-27th