Corfu Greece to Italy, Steve and Vicki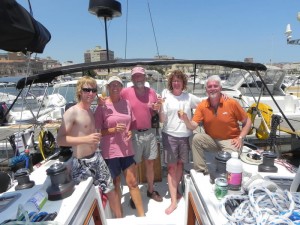 We Found plenty of place at the small harbor for us, but our first attempt at anchor mooring. This is where you drop anchor and then back into the quay to tie up. Usually, we would find laid-lines from the Quay that we would tie our bow to their permanent underwater anchors. This first attempt went extremely well considering at this time our windlass decided not to work and the "boys" had to manually drop the anchor.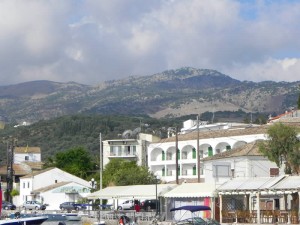 We found Steve waiting for us on the dock and Vicki in the closet café guarding their luggage. We decided to stay at Kosiopi, Corfu until Monday with both crew. As it turned out, Brian, Beth and Kat decided to taxi to a hotel near the airport for their Sunday departure. Steve, Vicki, Charlie, Ken and I stayed on the boat and spent some time discovering the town of Kasiopi. Found great internet in a covered outdoor café that also had good food. We spent several hours there using the internet and getting tips for fuel, food, and ice from the local patrons. Our fuel would be delivered by truck and I had to ride with the driver back to the station in order to use our Visa card. We purchased a larger jerrycan for extra fuel on the boat and the kind man carried this full can back to the boat for me. While we were here, we had two great rains that did a great job of cleaning our dirty deck. It is impossible to keep it clean with the dirty mooring lines we bring on the boat.
http://gratefulred.us/wp-content/uploads/GratefulRed_FullRed-web.gif
0
0
Kristine
http://gratefulred.us/wp-content/uploads/GratefulRed_FullRed-web.gif
Kristine
2011-07-05 21:12:16
2015-11-18 19:01:48
Corfu Greece to Italy, Steve and Vicki