The Donley's – June27-July 2 Cres to Greece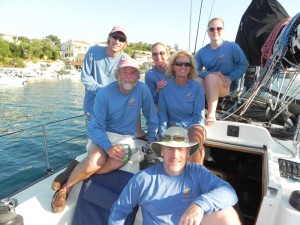 Charlie, Ken, Beth, Brian, Kristine & Kat
Our next guests, Brian, Beth and Kat arrived Monday morning to the boat and with Charlie's help started to shop for provisions for our next adventure. We will sail down the Croatian coast stopping at different spots than before. You would have to sail for many months to hit all the wonderful places along Croatia.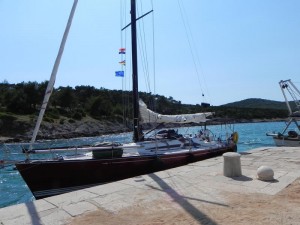 Tuesday, after arriving back to the boat, we paid our marina bill, got the last bags of ice, along with a treasure of 2 large bottles of Bicardi, and left allowing time to sail or motor to Orso where we would catch the 5pm swingbridge.
This route allows us some different places to stay on the inside of islands. We arrived with plenty of time in Orso to allow for some lunch and time for some people watching. Along the swingbridge were boats of all types, camper trailors filled with families on vacation, and people swimming in the canal. We ended up getting a great spot to tieup as we waited for the bridge to open. After the traffic from the South came through the bridge, we were given the signal to come through.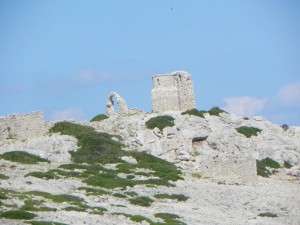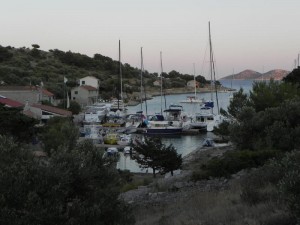 We arrived at Otok Ilovik around 7:30, finding the last spot in the harbor to tieup to a concrete pontoon. Otok Ilovik is a small island south of Otok Losinj and was very charming. No ice or internet of course. We at dinner at the first quayside restaurant and had excellent Risotto and fish.
Wednesday, we left harbor at 4:45 and sailed along Kornati Islands, where we found a large area of National Parks along the Islands. Our plan was to anchor off at O. Levrnaka and have some lunch. When we got settled, the Rangers approached us in their dingy and charged us the customary entrance fee of 40 Euro's. Heading to Greece, we had used most of our Euro's and had some time scraping up loose change and what Euro's we had left. This was followed by some swimming to shore and a nice lunch on the boat.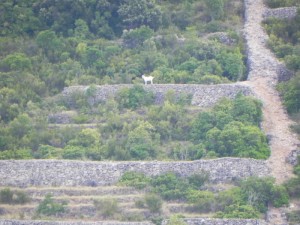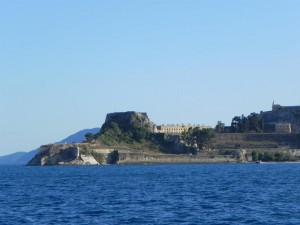 Our overnight stay would be O.Smokvica. Thursday, we started our 3 day, 2 night sail. We were able to sail most of the day and night. During the day we did one stop at Otok Vis for provisions, lunch and fuel. In the morning, Hople-pople for breakfast and pasta for dinner.
We lost wind and ended up motoring all through Friday night. During the night, on Beth and my shift, we saw dolphins for about 30 minutes swimming along the boat. They would turn on their sides and their under side would glow with the lights of our starboard green nav light. It made our shift go much faster with this entertainment. No moon so it was dark and clouds only allowed a few stars to shine for us.
The evening shifts went well and I think everyone had a chance to get some decent sleep when they were off shift. Saturday, I woke to see the Albanian coastline. It was huge and lovely in the morning sun. We will arrive in Corfu Greece around 1-2pm. We made contact with our next crew, Vicki and Steve who are waiting for us on Kasiopi City on Corfu.
http://gratefulred.us/wp-content/uploads/GratefulRed_FullRed-web.gif
0
0
Kristine
http://gratefulred.us/wp-content/uploads/GratefulRed_FullRed-web.gif
Kristine
2011-07-05 21:03:48
2015-11-18 19:01:48
The Donley's – June27-July 2 Cres to Greece