Heading to Naples and crew change-May 23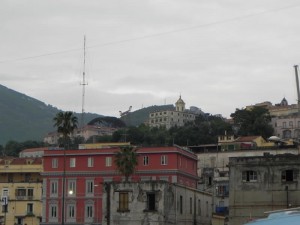 We left Porto Vecchio on Ventotene Island around 10:30 after a breakfast of Eggs' in-a-hole, and filled water tanks. Page and Alan had found some "delectables" to eat for our lunch, so we were well set for the day. We will head to Procida which is very near to the mainland and Naples. From there it would be a 10 mile ride to the Bay of Naples on Monday.
Isola di Procida is, unfortunately, a bustling, dirty town filled with tourists of all nationalities. Because of its near location to the mainland, there are countless ferries coming and going. We found a small internet point down from our marina and caught up with some email while savoring more cassis. I do have to admit though, the hospitality at the bars and cafes are wonderful. They are not yet tired of the tourist. Maybe that will change at the end of the season.
Monday AM. Page and Alan decided to take one of the passenger ferrys across to the mainland early in the morning to ensure they would make their scheduled 12pm train to Rome. Mike, Ken and I left the marina and sailed into the Bay of Naples. We had been directed to go to the marina near the Old City, but found it was private and they would not let us stay. Finding room in any marina near Naples proved to be difficult but after 4 hours of motoring from one marina to another, we found a great one in Castallmmare across from Naples. Only difficulty would be to have Charlie find us. It would require his taking a train or expensive cab. This all worked out and Charlie arrived around mid-night after his plane, bus, taxi adventure.
The next morning Mike took the train to the airport, and Charlie and I took trips to the market and fish markets for food and ice. Some fish markets would give us ice, but others would charge us for it. This ice is treated to freeze at a higher freeze point so you cannot use it in beverages, but at least our food would stay cold. At 10AM, after paying our 50 Euros for the marina, we left for Isla di Capri . Arrived at 12:30 to Capri, got a great berth (although expensive 130 Euro's), and set off to explore for the remainder of the day. Capri is beautiful, and you sure get your exercise walking to the city center which is on top of the hill.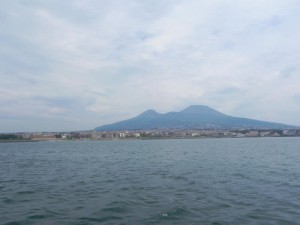 Mt. Vesuvius
http://gratefulred.us/wp-content/uploads/GratefulRed_FullRed-web.gif
0
0
Kristine
http://gratefulred.us/wp-content/uploads/GratefulRed_FullRed-web.gif
Kristine
2011-06-06 23:28:57
2015-11-18 19:01:49
Heading to Naples and crew change-May 23