Macquincourt Tunnel – Lesdins Tunnel, St. Quentin Canals
Thursday, april 8th
Todays mission, to get close to the famous Macquincourt tunnel of St. Quentin. This tunnel is 5670 meters, or 5.6k. We would then be in position to take the Friday's 9am convoy through it. You are hooked up boat after boat (up to 30 they say) and pulled by a tug that is powered by electrical cables from above. This convoy takes 2 hours to slowly move through the tunnel. We have been told of some boats swaying back and forth hitting the sides of the tunnel and doing damage, heavy exhaust from boats that leave their motors running and so forth. What we found was a very well lit, large tunnel that proved no issue for us being towed.
To get to the tunnel we had to go through 17 locks this day and about 23 k distance. We arrive at the beginning of the tunnel around 3:45pm and tied up at the assembly point for the next days convoy. To our surprise, the tug came out of the tunnel from the opposite direction with the last convoy from the South. Only one large barge was towed. The tug was heading back through to the south end and asked us if we wanted to go. Of course! This meant a 2 hour tunnel "ride" followed by a short summit canal and finishing off with a short tunnel named Lesdins Tunnel (1098meters, or 1k in length) that we would have to motor through ourselves. This one we could see light from both sides which was reassuring! You are not allowed to moor in the summit canal between the two tunnels so we would have to go all the way through. This proved to be a great deal for us and our time schedule putting us a entire day ahead of schedule.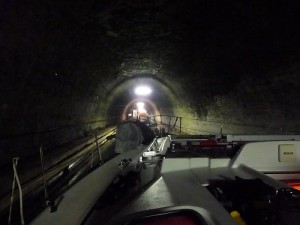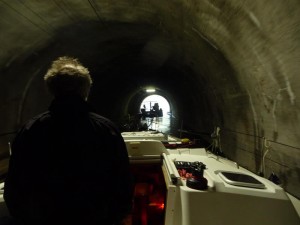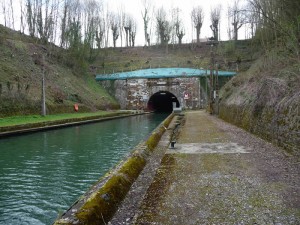 After finishing the 2 canals we motored to the next lock about 2k's, arriving at 7:30 long after the lock had closed for the day. We tied up to the locks mooring dock happy to be done for the day. The boat was well "slimed" from all the locks so we cleaned up the boat. The the deck and hull went from green yuck to bright white and beautiful red! Boat and crew happy, dinner of grilled ham and cheese and off to bed.
http://gratefulred.us/wp-content/uploads/GratefulRed_FullRed-web.gif
0
0
Kristine
http://gratefulred.us/wp-content/uploads/GratefulRed_FullRed-web.gif
Kristine
2010-04-14 21:35:16
2015-11-18 19:01:51
Macquincourt Tunnel – Lesdins Tunnel, St. Quentin Canals