Our risk for tying up to the waiting dock of the lock is that when the lock opens and the large barges start their day, our boat experiences all the wake surges. So, we awake at 7am to a crisp day. There was ice on the deck so we waited until 8:30 to depart. This was enough time for the sun's rays to melt the "white-ice". Maneuvering the lock would be dangerous with a slippery deck.
[MISSING VIDEO]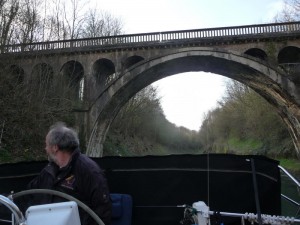 We had 3 locks to go through before arriving at St. Quentin City. The Yacht Haven we had read about looked bleak and with the day's weather looking promising, we pushed on. We had about 62 degrees on the Thermostat. We adjusted our plans for the day with a stop at Serancourt le Grand where the books showed a left turn into a small Halt Nautiques (or moorings for pleasure boats). It was wonderful, quiet and aside from the men fishing on the shore, we were all alone.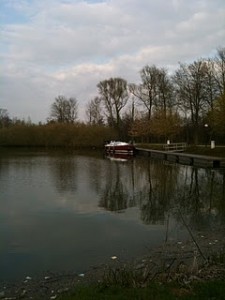 Prior to our leaving Bruinesse we had purchased 2 dockside folding bikes for transportation and exploration. We keep them tied to the foredeck for occasions like this. Towns that are too far to walk, but worth the exploration. We rode to town where only the bar was open. After a beer, we rode to the next town only to find the only restaurant listed was closed from 2pm-4pm. Right when we got there. So it will be dinner on the boat tonight. Was good to get a bit of exercise with the bikes, so all was not lost.
Because we had arrived there quite early in the day we contemplated pushing on, but instead gave ourselves some time off to clean the boat, and get some work done.
http://gratefulred.us/wp-content/uploads/GratefulRed_FullRed-web.gif
0
0
Kristine
http://gratefulred.us/wp-content/uploads/GratefulRed_FullRed-web.gif
Kristine
2010-04-14 21:53:20
2015-11-18 19:01:51
Friday – April 9th