Malta to Pantelleria Island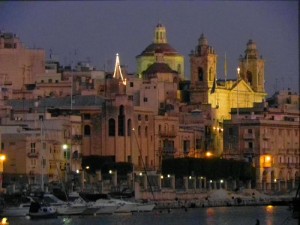 Evening view of Vittoriosa and Grand Harbor Marina

Maybe trouble-makers?…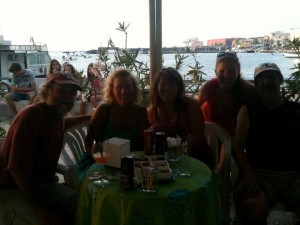 Our Malta to Valencia crew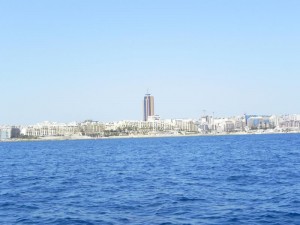 Coast line going North on the East side of Malta….what is wrong with this picture?…
Sunday morning, July 17th, we left Malta around 10:30 and motored North toward the Island Gozo and the Blue Lagoon on the North side of Comino Island, which turned out to be a big tourist boating stop.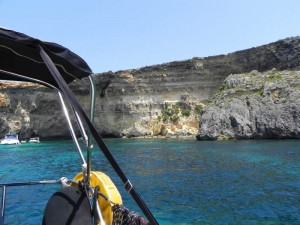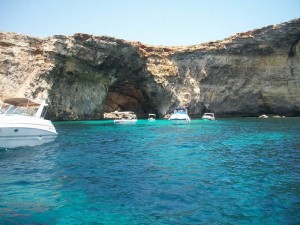 Blue lagoon bay, a noted snorkeling spot
We decided to continue on and found a lovely other bay where we dropped anchor to let Molly and Fred do some snorkeling.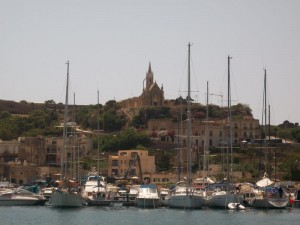 We stopped later at Mgarr on Gozo Island so we could go through Customs to leave Malta and then sailed most of the night to the Pantelleria Islands. While in Mgarr, we found the fuel dock closed, the restaurants closed and the dock where we tied up wanting us to move while we waited for Fred and Paula's passports to pass inspection. (apparently, they never got a stamp in Italy on their arrival. Fred had a new passport so without any stamps, this seemed suspicious to the Customs officials. Finally they approved our exit and stamped our passports and we were out of there!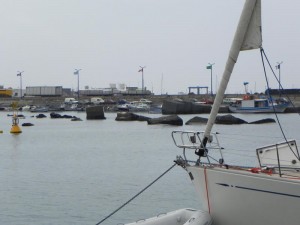 Porto Vecchio in Porto De Pantelleria, Sicily
Notice the rocks in this old harbor!
Monday, July 18th, we arrived at Pantelleria Island, Italy and anchor docked in the old marina where we met Vito. He was gruff looking Italian wearing no shirt and riding around on his "sting-ray" bike. From shore when we were debating on where to tie-up, he would yell to us and wave his arms. This we did not quite understand, but Ken decided to ignore him and we tied up on the quay. When he approached us, it seemed we did as he had asked us (although we did not understand) and soon he softened up.
I asked where we could find ice and Vito kindly escorted me to a nice hotel off the quay where he instructed them to give me ice. Then carrying it back to the boat for me, he seemed to want to help with anything we needed. He was planning on turning off the water around 3pm so he could go home, but left it on a bit later so we could do dock washing and dock showers. We gave him a tip of 10 Euro's in exchange for our berth, and a Grateful Red cup and we were forever his American friends!.

Water is on until 5pm so showers first!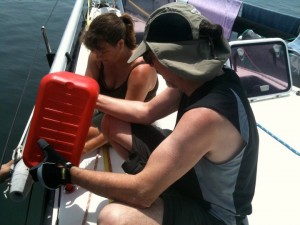 Then refueling, one jerrycan at a time…

Then Vito leading Kristine to ICE!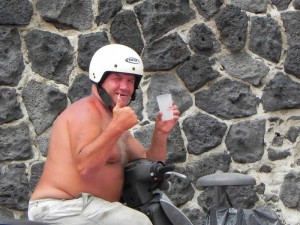 The berth was free so I gave Vito a 10Euro tip along with a cup from the Grateful Red. He seemed quite pleased.

Our neighbor boat tipped Vito by drawing in charcoal a picture of him.
Monday evening we ate dinner at a small contemporary Italian restaurant I think was called Donna Fregate. Again, a small unique restaurant with a set menu of the Chef's choosing. We ate inside as the outside was hot and tables were filled. The inside of the restaurant seated about 20 and was very pleasant. Heading back to the boat after a evening walkabout, we prepared for our morning departure for Tunisia.
http://gratefulred.us/wp-content/uploads/GratefulRed_FullRed-web.gif
0
0
Kristine
http://gratefulred.us/wp-content/uploads/GratefulRed_FullRed-web.gif
Kristine
2011-08-15 08:08:18
2015-11-18 19:01:48
Malta to Pantelleria Island