New Crew in Malta, Fred-Paula-Molly
July 12, 2011 (Tuesday)
Ken and I had Tuesday to ourselves after Vicki and Steve left and decided make it a "date" night and find a nice restaurant. The small peninsula of Grand Harbor Marina in Valletta, Malta has 2 "nice" restaurants. We selected Tal Petut and made reservations for 8PM. It is a small family-style restaurant that seats maybe 20 people and everyone eats the same menu of the day. It was quite nice, but a bit pricey. (sometimes you think you are better staying with more local food options.
Molly arrived on Wednesday night with little travel hassle, and Thursday, Fred and Paula arrived to complete our next crew.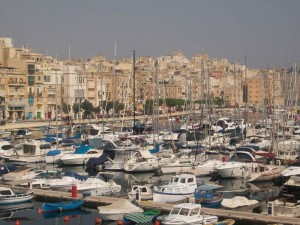 Grand Harbor Marina with one Black Mast!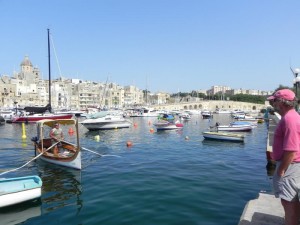 Hitchin' a ride across the harbor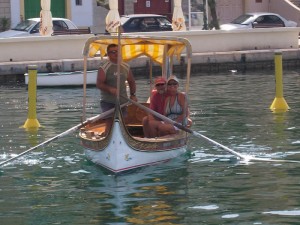 5 Euro water taxi ride took us directly to our boat.

Beautifully painted traditional rowing boat of Malta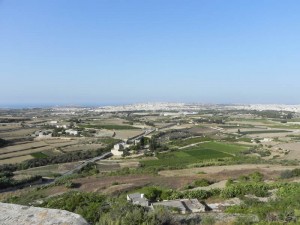 View of Valletta from Mdina, the highest point on Malta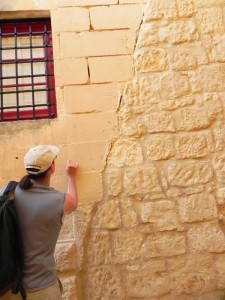 Fred checking out "old meeting new" construction in Mdina. Mdina is a tiny walled hilltop city in the heart of malta, famous for it's narrow, snaking alleyways, it's gold-stoned palazzi and Baroque cathedral. We took a taxi one night up there for dinner and to see the view from the highest point in Malta.
Friday, Molly and I took shuttle service to Pavi Supermarket in Malta with the help of our new local "go-to" guy Leno. Leno owns and operates the neighborhood marina bar "Old City Pub". He also runs a Chanderly nearby and was instrumental in many of our boat repairs.

Leno, Ken and Fred in Old City Pub
We met Leno the first night we arrived in Malta looking for ice. When we told him our refrig was broken, he gave us a number of a technician to call the next day. When we awoke, there was a man knocking on our boat stating "Leno had sent him"…Carmelo worked for several days on our refrig and we thought we had the problems all solved, but that will be another "story" as we continue to need ice… Leno helped us with boat repairs, ice, Rum, taxi's when we needed to go somewhere, and provided a fun place for us to go to be with local residents. When we left Malta, we had new friends in Leno and his connections. We gave him a Grateful Red tee-shirt as a Thank you for all his help. He was a wonderful guy and seemed very happy to help us.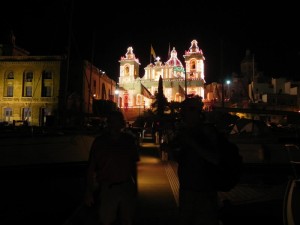 The "lit-up" Cathedral across from our pontoon. Thankfully, it was only lit one night of our stay there.
http://gratefulred.us/wp-content/uploads/GratefulRed_FullRed-web.gif
0
0
Kristine
http://gratefulred.us/wp-content/uploads/GratefulRed_FullRed-web.gif
Kristine
2011-08-15 07:57:30
2015-11-18 19:01:48
New Crew in Malta, Fred-Paula-Molly