Saturday,  we arrived to Margarita, one of Venezuela's biggest offshore islands.   According to Doyle books, its major attraction is its duty free shopping by the mainlanders.   Venezuelans are limited to how much they buy, but not how many times they visit to shop.     We considered their one marina, but without many other sailboats there, we decided to go to the Porlamar anchorages around from Pampatar.   Doyle says to anchor just off of the Concord Hotel.   There was a nice beach (small and loaded with tourists), and several beach bar/restaurants.    All in all, Porlamar is considered very modern, but we found it quite depressed and dirty.
Vicki, Ken and Scott set out with the dinghy to do recon and I remained on the boat and cleaned up. It was a beautiful day so I put up the sun shade and cleaned up the lines on deck.     I am hoping they find Ice and wifi on their journey to town.   Being Saturday, check-in with customs and immigration could be an issue.  The process is involved and difficult and it is recommended you find a "local" to help with it.
Another boater in the anchorage encouraged us to find Pedro, his "go-to" guy.  Turns out Pedro met Ken at customs office and agreed to help with the banking process, diesel, black market exchanges of USD to Bolivar, etc.  (Black market money exchange is widely done and accepted)
Second trip back to the boat, the "shoppers" returned with 2 bags of ice, pepsi (they have an issue with coke here) and Bolivar.   They did quite a bit of walking around and found Bellvista hotel with wifi, (we could actually see signal from the boat so we used our Rogue wifi to connect), the supermarket, and a place for dinner.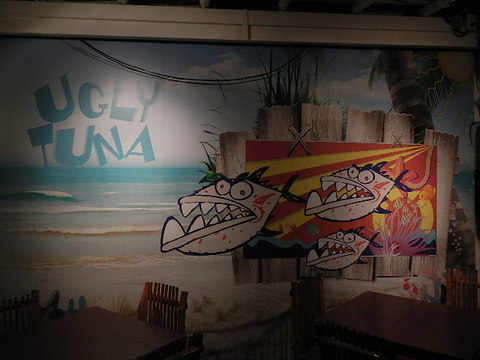 We had dinner at the Ugly Tuna a short walk from the beach.   They were out of most things on the menu and we think we drank their last 6 shorties.  Replenishment for these establishments come on a weekly basis and I don't think they always get what they need.
Pedro and ken started their check in process and with his help; we got a few liters of diesel.   It is not widely available so this was wonderful.   He exchanged several hundred dollars to Bolivar for us so we had some shopping power.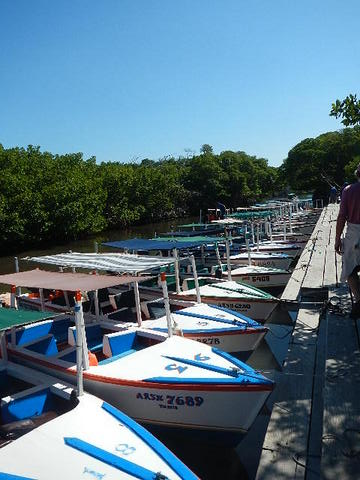 On Sunday, we scheduled a tour with Pedro to the Mangroves at Bahia mangle.   It was a nice afternoon, b but by now we had seen enough of Mangroves to last a while.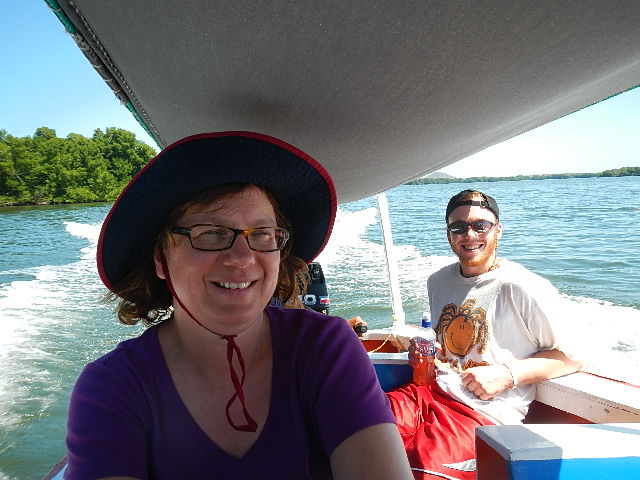 It was clever how they "decorated" the route through the mangroves, naming several passages.  We schedule Pedro pickup to allow us time for a beer and a quick walk on the beach and then we headed back to the boat.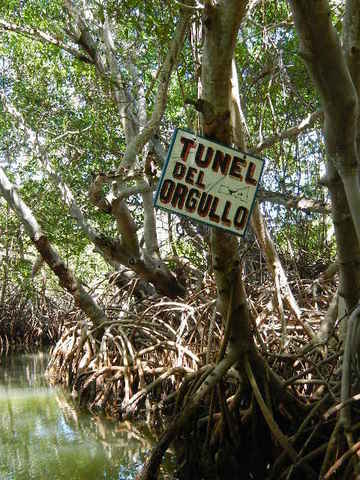 Sunday evening Bob Rose, new crew is set to arrive.  We had general time for arrival, and had given him the name of the beach.   We had Scott stay on shore for several hours and finally he gave up and came out back to the boat.  We decided to go to bed and hope that Bob would find a way to contact us when he arrived.   Around 3AM, Bob's wife called us to say that Bob contacted her via his Sat phone (he did not bring another phone) and told her he was on the beach with the security guard and stray dogs!   Ken took the dinghy in and picked him up, we did a quick chat and "hello" and all went back to bed when they got back to the boat.
Monday, we formally greeted Bob after waking up.  He and Scott walked to the Howard Johnsons looking for internet and came back saying they had booked a room.  We would use this room for laundry and showers and have dinner at their restaurant.   Ken continued with the check-in process.  It seemed Ken was always promised that another person that had the authority to stamp, receive forms, take money would be at the office "later".  Vicki and I did a quick trip to the Super Market before Vicki had to leave by noon to get to the airport allowing plenty of time for any unknowns.  We are sending her home with excess boat stuff, this year the gangplank which is aluminum and bound to be an issue through customs.
Tuesday, we were promised that we could finish check-in/check-out by 4PM so we planned to pull anchor by 10PM for Tortuga.  I made some fried rice for the night sail, and prepared the boat to leave, taking down our sun tarps, and putting up the jack-lines for the overnight sail.  After a last trip to customs, Ken returned to say we were all stamped, cleared and Ok'd for departure.  He also brought the news that Hugo Chavez had died!  Guess it is a good time to leave!
http://gratefulred.us/wp-content/uploads/GratefulRed_FullRed-web.gif
0
0
Kristine
http://gratefulred.us/wp-content/uploads/GratefulRed_FullRed-web.gif
Kristine
2013-03-01 12:07:04
2013-11-11 10:25:01
Margarita with Vicki