Trinidad to Margareta Venezuela with Vicki
Vicki arrives late tonight and we arranged Jesse's taxi to pick her up and bring her to TTSA.
Sunday, Denny left around 5:30AM for the airport via Jesse's taxi.   Today, more chores on the boat and hoping Junior will show up to finish the waxing of the boat.  The club race is today and we need to get off the TTSA dock so we motored over to Power Boats Diesel dock for fuel.   When filled, we motored back out to the race course just in time for the start.  Unfortunately, it was a "drifter" and after using all our sail resources, we decided to head to Coral Cove marina where we had a berth waiting for us.  By the time we had made our decision to quit the race, the committee boat called the race.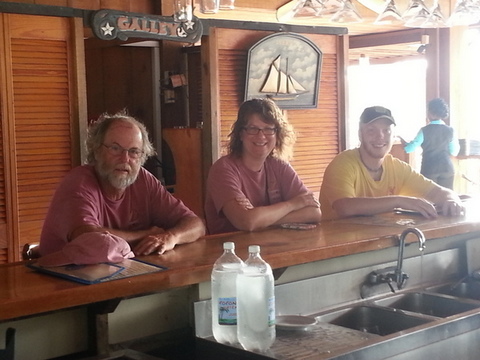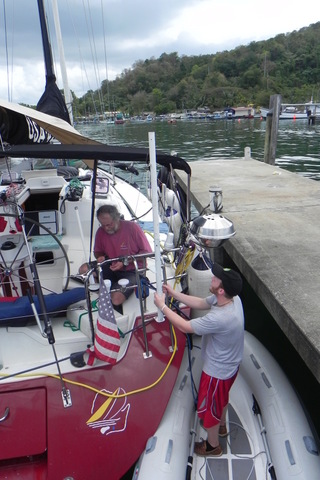 Monday,  Scott assembled the wind generator, fixed my faucet and Vicki and I did some last minute shopping for our take-off.    In the afternoon, we motored to an Anchorage on Trinidad called Scotland Bay.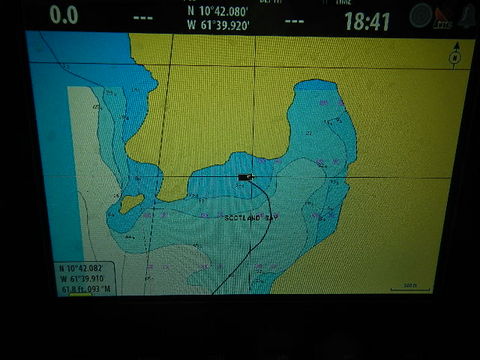 We stayed there until 10PM and then took off for Los Testigo's, a 92 nautical mile sail.  The first 3 hours we headed north to avoid the "rumored banditos" and that meant straight into the wind and pounding waves.  Hard way to start a voyage.   When we finally headed West, the boat settled down for our overnight motor/sail.   Winds were 18-24 most of the time and the following sea's gave us quite a ride.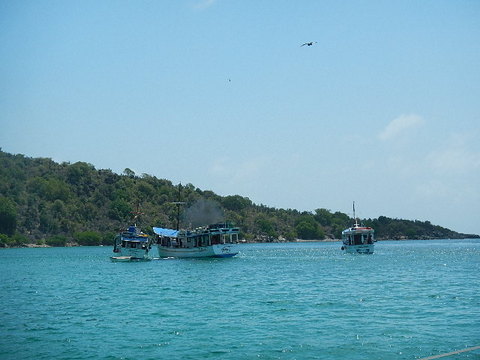 Tuesday,  Feb 26th, we arrived in P. Tamarindo anchorage on Testigo Grande.    Lots of fishing boats, but no cruisers.   Coast Guardia motored to us and told us we needed to go to Isla Iguana
Grande Island to check-in.   We pulled anchor and motored over there, but could not after several attempts, get a good anchor hold in their bay so we gave up and motored back to our original bay for the night.  If they want us to check in, they will have to come to us.   Our hold was not the best in P. Tamarindo so we motored to the next bay over, Balandra Bay where we found it was lighter wind affect, and closer to the path on the island that takes you to their noted sand dunes.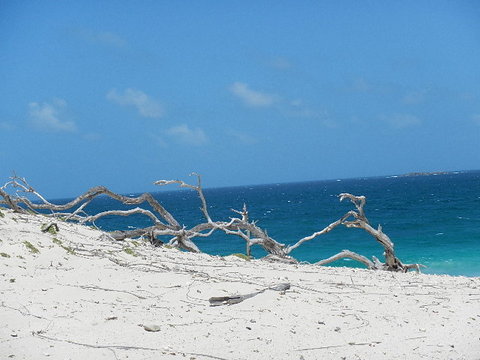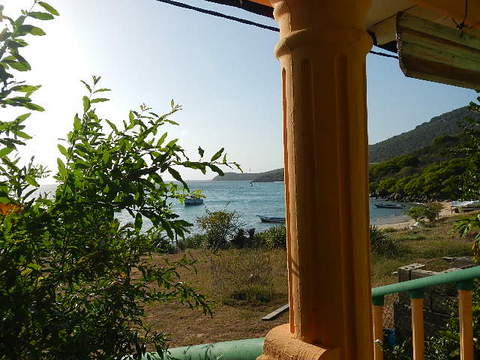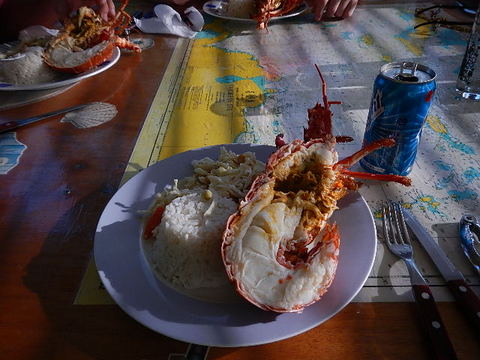 Lobster….AGAIN!
We decided to leave someone on the boat at all times so we split up taking turns at the land exploration.  I have to say, the sand dunes were magnificent!.   Not much for snorkeling there, but the vista from the top of the dunes was awesome.
A boat approached us (local) and the man said he had a restaurant at the point between the two bays and would we like to eat at his restaurant.  Ken asked if he had lobster and the owner said he would see if he could get some from the fisherman.   We set a time and price and would later get to his restaurant "La Casa Verde" for a great lobster dinner.   He only had one table in the restaurant (really his home) out on the veranda, but it was pleasant and clean and he and his family were very kind.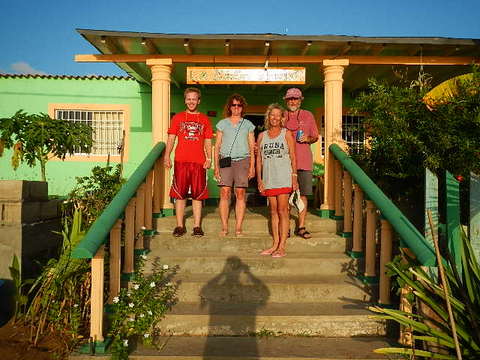 Crew at "Casa Verde"
We left Wednesday night to sail another overnight to Isla Blanquilla.  Nice easy downwind sail with 3-5 ft swells and 18-20 knot winds.  With head sail only, we clipped right along until about 10 miles out when the winds died and we had to motor the remaining way.
Isla Blanquilla is an island about 50 miles north of Margarita, very flat, with no real settlement.  We anchored in Playa Yaque, a small anchorage with room for only one boat.  Ours!   Still haven't seen any other cruisers, only the fisherman.  The beach was lovely and it looked like it would have some snorkeling opportunities so leaving Scott on the boat, Vicki, Ken and I dinghy'd into shore.    As we got to shore, Ken realized that the boat was moving so we hopped back in the dinghy to lend assistance to Scott who once realizing the anchor was not holding, started the motor and pulled it completely up.   He motored the sailboat out and around until the dinghy could get to it.  Ken hopped off the dinghy and he and Scott brought the boat back into the bay to drop anchor again.  I took the dinghy around to look for a good sandy spot for them to redrop the anchor.    Always a bit of excitement!  Second attempt held and we relaunched our land expedition.   Ken and Vicki wanted to walk to the "house" the Doyle book had mentioned, but returned saying it was too far.   Back to the boat, we decided to motor to the "house",  and find another anchorage to prepare for our next overnight sail to Margarita Venezuela.   With little success, we decided to just start our overnight sail early so shifts began.  I made spaghetti  for dinner  on route in our 18-20 knot winds.   Thank goodness for  spaghetti bowls.
http://gratefulred.us/wp-content/uploads/GratefulRed_FullRed-web.gif
0
0
Kristine
http://gratefulred.us/wp-content/uploads/GratefulRed_FullRed-web.gif
Kristine
2013-02-23 17:00:59
2013-11-11 10:23:20
Trinidad to Margareta Venezuela with Vicki