Orinoco River Delta Adventure with Denny and Scott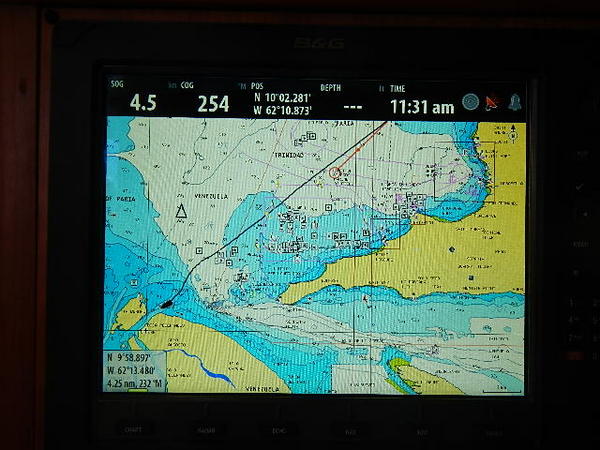 February 12th, 2013,  Tuesday night, Dennis Wanless and his son Scott arrived at the boat in Trinidad.   I had time between crews to "reset" the boat for new guests.   Scott will stay with us as paid crew after his Dad will leave next week.   Scott had sailed with us several times, on being the initial coastal cruise up the Florida coast to St. Augustine in  2009, and also racing with us in Majorica Spain for the Copa del Rey Regatta.   We are excited to have him with us this sailing season.
February 14th, (Valentines Day) we left our temporary dock at TTSA marina at 3:30 AM to sail to our first of adventures in Venezuela.
Morning Sunrise on the way to Venezuela
A bit worried about past rumors of bandits and such, we motored with no running lights and a watchful eye.   We arrived in Pedernalas  Venezuela around 1PM the next afternoon with no incidents but had difficulty catching a good anchor.   Finally with a good set in the area in front of the Guardia  National "offices"  Scott and I dinghy'd in to "check-in".  Venezuela doesn't really have  a solid system for cruisers and checking in, but they want to know who you are, what you are doing there, and where you are going.   We sat while they scoured over our papers, and conversed  to each other finally letting us know they wanted to come out to look at the boat.    They did a very thorough search of our boat looking for guns and drugs (according to Scott).  Ken offered cold beer and when they were done, I offered a gift of Patron Tequilla.  The bottle had been a gift to us, but we had yet to open it up after several years of "riding" in the boat.   They were very happy to get the gift.  Probably better than money.
We had rain coming so we looked for a reasonable place down river to anchor for the night.  We found a Lodge  near the opening of the river, across from Pedernales that looked nice but was not operational and after setting hook, we sent Scott in to investigate.   He returned after talking to the owner, letting us know that they were not open, but we could remain in front of his dock for the night.   He was working hard to repair and upgrade his lodge so he could receive guests.  We later, on our departure out of the Delta, would have dinner prepared and served on their covered dock, Thanks to Anthony of Delta Lodge.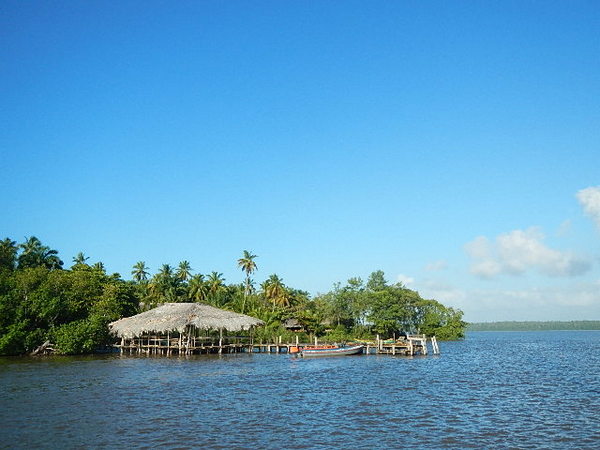 First night anchor outside Orinoco Atlantic Lodge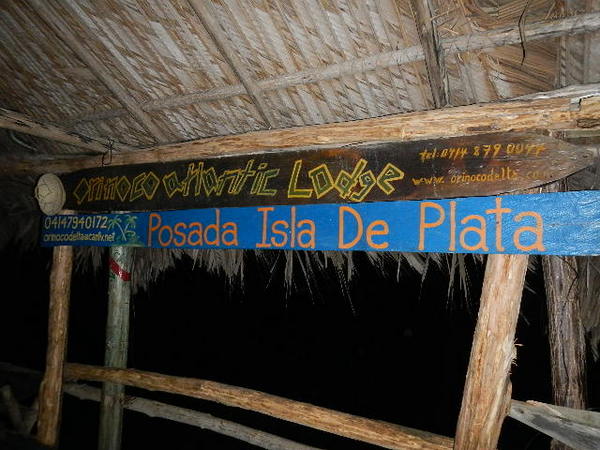 Friday morning we motored into the River Delta down to Boca Tigre Lodge listed in our Doyle book.  The Lodge is another one that is not accepting guests but it was nice looking and we had a good hook for the night.   On the motor there, we encountered our first Wareo  villages that usually contain one family and extended family.   We did some "trading" with the children and  mothers
that paddled out to meet us as we passed.
I had brought some hair goods, bars of soap, sewing kits, candy, wooden utensils, and some tee-shirts and hats.  Dennis brought toys (Scotts old toys I guess), fishing line and hooks, and more tee-shirts and hats.   We traded for lovely woven baskets and some beaded jewelry. (that we didn't need, but that is what it is about).  I had to show some of the children how to take the wrap off the candy before putting it in their mouths.  The kids were wonderful and had shy large smiles for us.  The adults were caution and looking for the best trade.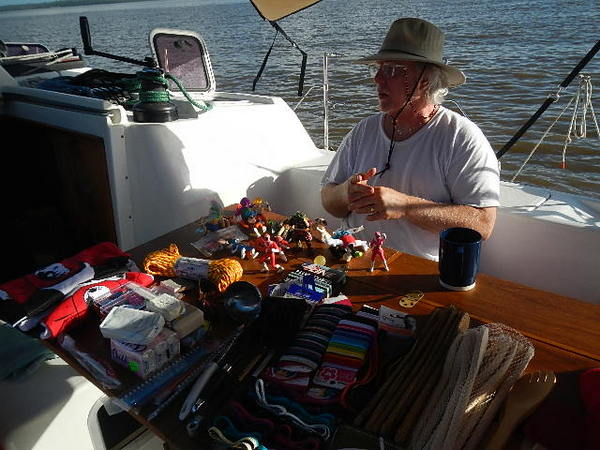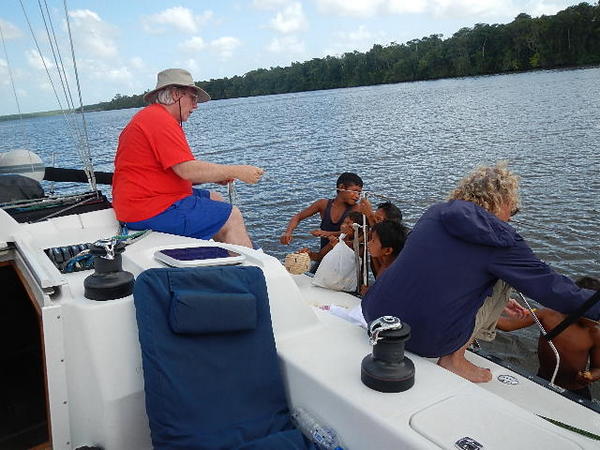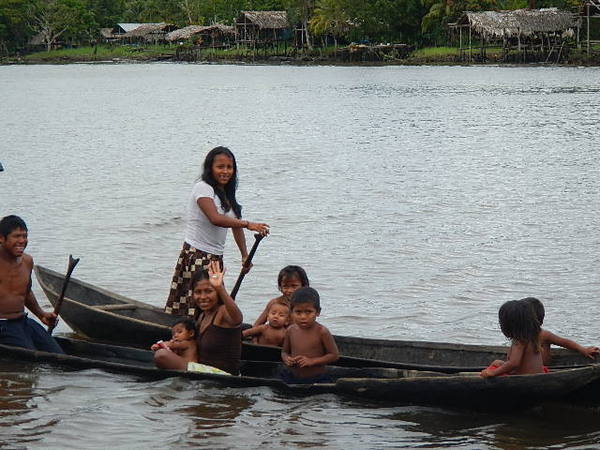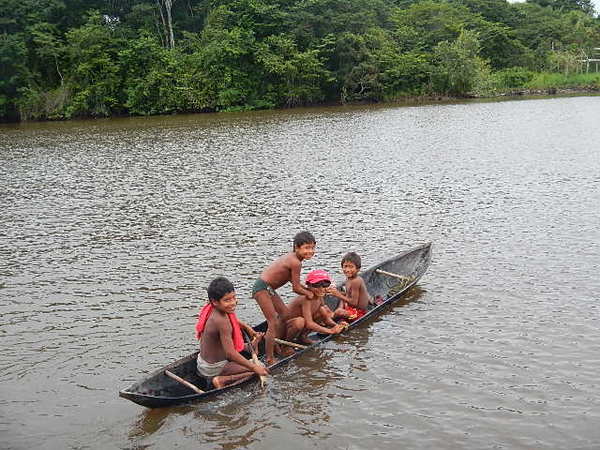 Saturday we motored to the Orinoco Delta Lodge where prior to our arrival, Dennis  had made arrangements for us to stay for a few days.  It appears to be the only operating lodge of the few on the Delta and we were so please at it's accommodations and service.   Our trip to the Lodge gave us a feel for the magnitude of the River and along the way to the lodge, we spied Toucan's, lovely green parrots,  flocks of red ibis and a few of the magnificent Blue and yellow parrots. Turning into the Cano where the lodge was, we also got our first glimpse of the infamous pink dolphins.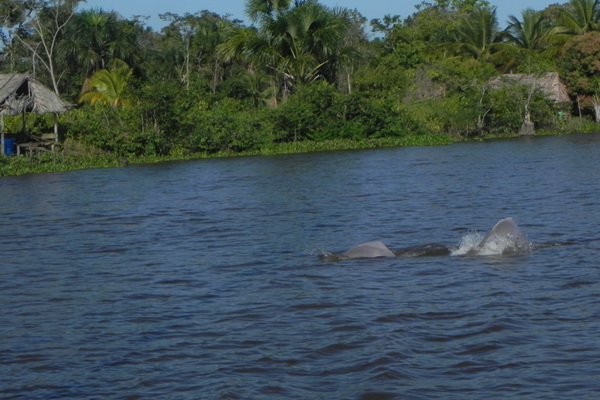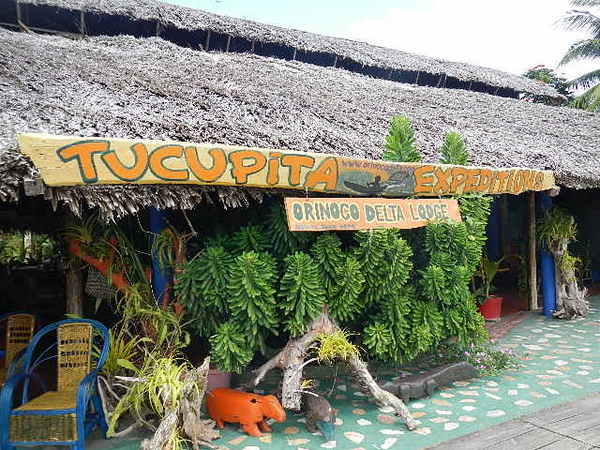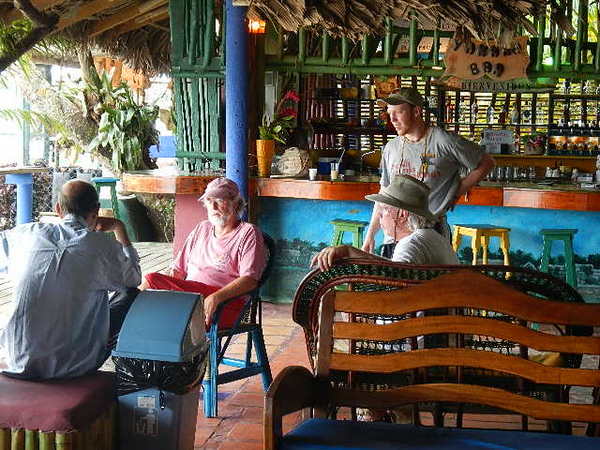 The men planning our stay
After a quick anchor outside the lodge, we went to shore and were greeted with fruit drinks and met Anthony and his wife, along with Ava the bartender of the moment.  Our rooms would be ready in a few hours and in the waiting time, we relaxed and made arrangements with Anthony for our jungle overnight and other optional tours during our stay.
Anthony and his wife Maria took great care of us and were gracious and let us tie Grateful Red to their dock.  They moved all their river boats to make room.  Anthony did not trust the night driving of the local Indians staying clear of our boat if it was anchored in front of the lodge, plus the incredible flow of hyacinth bogs with in-coming and out-going tides was incredible.  The tidal hyacinth bogs seemed to completely close up the river at times.     The lodge had good wi-fi, which we found later was only when Anthony was around.  (he must hold the "key"…).   We had 2 different "rooms", ours on the river and Denny and Scotts jungle side.   The rooms were equipped with mosquito netting over the beds, a toilet/shower and sink and candles.   We brought flashlights from the boat because electricity was turned off around 9pm each night. (diesel generator was their power).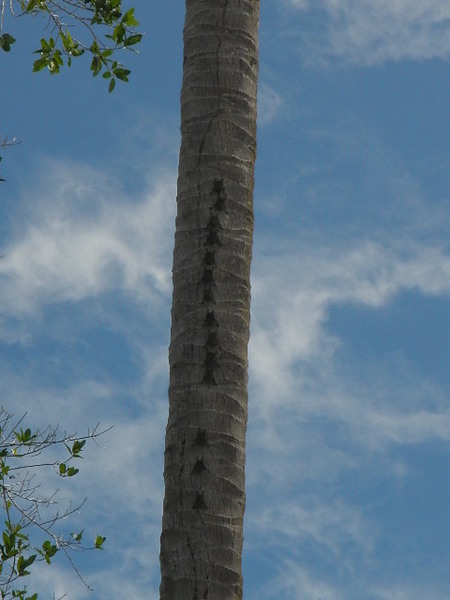 Carefully placed bats-in-a-row!
Monday, we packed our overnight backpacks for our night in the jungle.   The camp provides boots for -walking through the jungles but we were to bring bug spray and flashlights.  With only Ken and I drinking beer, we had them bring only 4 beers.   Mistake, as it was hot and there was plenty of down time which would have been more appreciated with a cold beer!  On the 2 ½ hour  motor to our jungle home, Orlando, our guide, stopped along the way to show us Toucans, parrots, the magic trees with beautiful blossoms, and even a glimpse of the howler monkeys.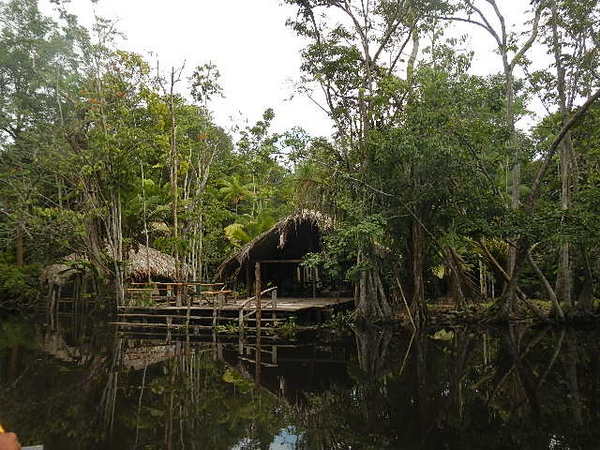 Arriving at our camp, we found 2 covered platforms, one was the base kitchen (the cocina), the other was our hammock and eating area.  There was a raised walkway to our bathrooms which were simply toilets that we took buckets of water in with us for flushing into a hole below the structure.   Worked!
Orlando and his cook America cooked for us over an open fire and it seems all we did was eat there.  Food was great and filling.   After our lunch the first day, Orlando had us put our boots on and led us into the jungle where he shared many Wareo treasures of the jungle.  We had the pleasure of eating Heart of Palm cut by Orlando,  drank from the small coconuts, that before maturing in a pod of many more, have a web like outer fiber that when rubbed, can be pulled off and used as a hat.     There was quite a few mud obstacles that didn't always go in our favor.
Towards evening, well before dark, we set up our hammocks and waited for our dinner that would be served in the dark with exception to 2 oil lamps and our flashlights.  We were served fried meat, mashed potatoes, and a great cabbage salad (slaw).   We found that without light, there was nothing more to do but go to bed after eating.  I fell asleep right away but woke about an hour later listening to how quiet the jungle had become.   We slepted with  mosquito netting over our hammocks and that made it quite nice.  I used a sheet rolled up for a pillow and actually slept quite well.
As soon as the sun started to rise, the jungle came alive with birds and howler monkeys.    Coffee and breakfast came next and as a group, we decided  that we had enough downtime and asked to be brought back to the lodge.  By 11AM, we closed up camp and headed back to The Delta Lodge.  Scott had brought his reader, Dennis a book but Ken and I did not bring anything to ease the boredom of the downtime between meals.  I knew Ken would want to get back to wifi!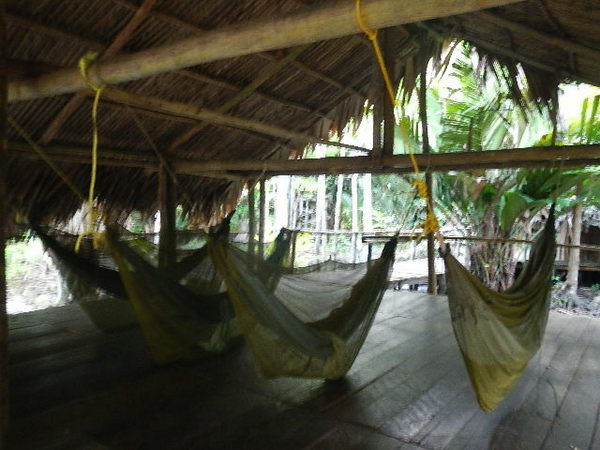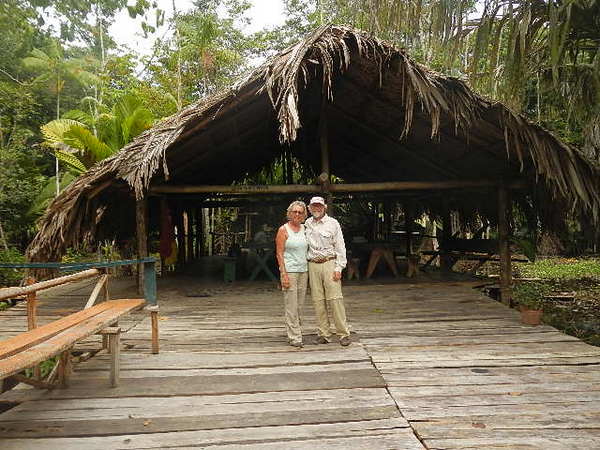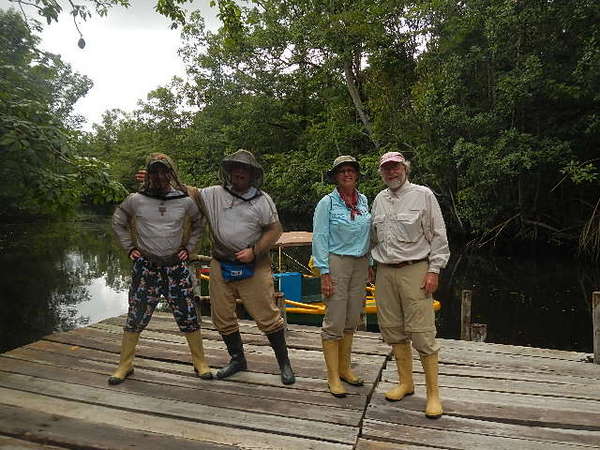 Ready for the jungle walk!  complete with bug deterrent!
 False Cocoa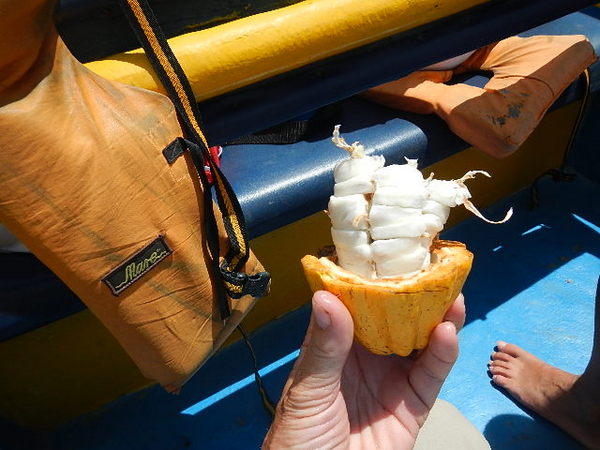 True Cocoa pod
 Ken getting a taste of "straight from the tree" Heart of Palm
Cold beer greeted us on our return and a late lunch was served to us.    The lodge did not have any guests besides us so it was a wonderful quiet afternoon followed by dinner on the dock for the 4 of us.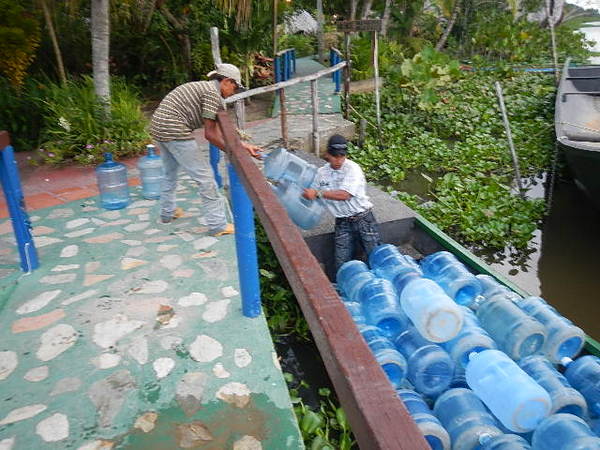 This is how they get their water for the Lodge!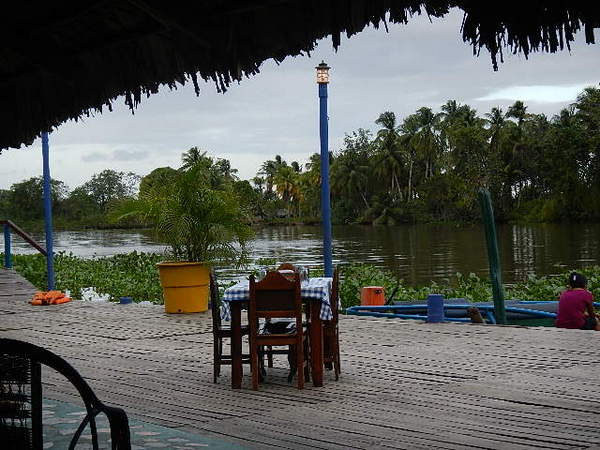 Our lonely table the last night.  We were the only guests for the last 2 days of our visit.
 The men looking over the bill
We will have one more day and then will plan for a early AM departure from the dock.  Anthony has been wonderful and before we left he arranged for his partner Clemente at the first lodge to serve us dinner when we reached the opening of the river at night.     In the morning of departure, Eva, Maria, and Jude were there to say goodbye and give us coffee to go.   Anthony had packed several crates for us to take to Clemetes, some which included motor oil, cooking oil, fruits and vegetables.    It took us about 6 hours to motor to the lodge across from Pedernales.  Clemetes came out in his boat to greet us and we made plans for him to pick us up around 6pm for our second "oil lamp" lit dinner.    He served fresh fish, kasava, slaw and tomato salad.   The fish was outstanding and almost as soon as we were finished, he gave us a ride back to our boat.  It was pleasant to meet Clemetes and we wished him well  getting his lodge up and running and ready for cruisers like us.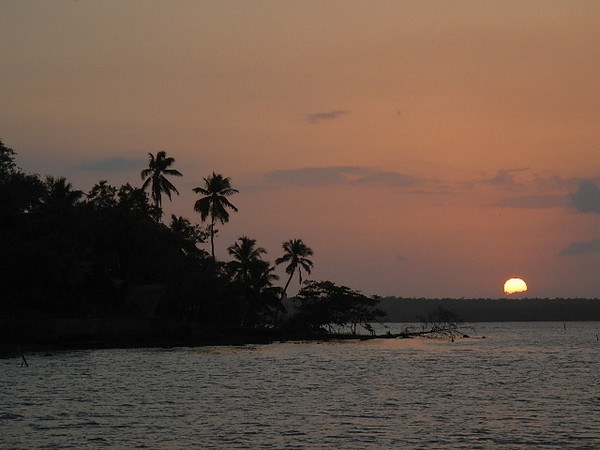 Sunset on the last night anchored at Orinoco Atlantic Lodge.
Thursday, 2AM, we pulled anchor in the rain and started our motoring back to Trinidad.  We arrived in TTSA around 2pm, after being stopped and boarded by the Trinidad Coastguard.   Their boat put a lovely dent in our transom that we will have Junior fix.
Friday, a through scrub of the boat, paint repairs in the works, laundry in process, and internet made us all happy.  We are all so lucky to have had the experience of the Orinoco River Delta!
http://gratefulred.us/wp-content/uploads/GratefulRed_FullRed-web.gif
0
0
Kristine
http://gratefulred.us/wp-content/uploads/GratefulRed_FullRed-web.gif
Kristine
2013-02-19 09:17:07
2013-11-11 10:26:55
Orinoco River Delta Adventure with Denny and Scott