Pontine Islands – Ponzi Harbor May 20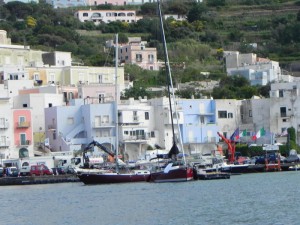 Ponza harbor village is very busy, but very small. We had a great dock, tying up along side the pontoon. Again, electric, but undrinkable water. We washed down the boat, along with dockside showers and laundry and then set off to check out the local provisioning options.
Where this hilltop cemetary, La Rotonda della Madonna, once stood a prominent Roman's villa. Below, where the openings at the water level are, you can still find the swimming pool for the rich man's family where fresh sea water moved in and out.
In the afternoon, Ken, myself and Mike took the local boat tour through the natural and manmade viaducts along the rocky edges outside of the harbor. The rocky cliffs had mix of lava and natural rock. It was quite impressive and the water was sparkling and clear. On one cliff where once a proment villa stood, now housed the town's cemetery. Below, was a grotto that contained a man-made seawater swimming pool for the Villa's wealthy resident. We were not sure how they made their way from the top of the cliff where their Villa once stood, to the waters edge below and into the grotto where the swimming pool was.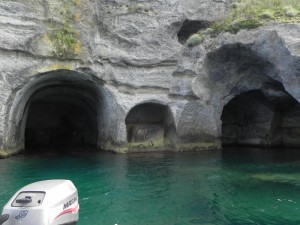 In the evening Page and I decided to go off and have dinner of good Italian Pizza. The guys stayed at the boat and Ken and Mike later went off to dinner somewhere. From what they said, they were "over-fed"! Page and I had a lovely time and continued to catch up and reminisce about our families and the wonderful childhood times we had at our cottages at Devils Lake.
http://gratefulred.us/wp-content/uploads/GratefulRed_FullRed-web.gif
0
0
Kristine
http://gratefulred.us/wp-content/uploads/GratefulRed_FullRed-web.gif
Kristine
2011-06-06 23:18:05
2015-11-18 19:01:49
Pontine Islands – Ponzi Harbor May 20