Provenciales to Crooked Island, Jan 29th-Feb 9th
January 29, 2014, 
After Kens return to USA for work, I flew to boat to get some domestic cleaning and organizing done.  I have been gone from the boat since May 2013.  Felt strange, but very comforting to be back on my floating home.   Ken and Garrett arrived on Saturday, Feb 2nd.  I had rented a car to do some provisioning and all they had was a RED convertible and they enjoyed riding to the boat in style.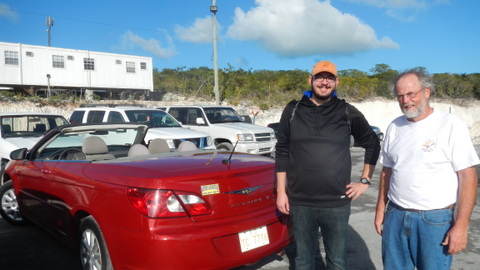 Monday we arranged a boat guide to help us maneuver out of the well-marked, but coral strewn channel.  Once out we had a 3 hour sail (Jib only) to West Caicos a small 6000 acre island.   This helped shorten the length of our Tuesday sail to Mayaguana Island.   
Sailing on Tuesday with beautiful ENE 15-20 knot winds – double reefed and ½ Jib.  Arrived around 2pm and prepared to lower the main.  After the main was secured with sail ties, I turned the wheel to recover our course to our anchorage.  No steering!  Scrambled to get the manual tiller out and get the boat in control…Ken had maneuvered the throttle forward and reverse to keep the boat from drifting closer to shore until we were ready to drop the anchor.   It so happened that we were very close to where our anchorage for the night would be so after setting the anchor, Ken and Garrett prepared to investigate the steering issue.     3-hours later, Ken, greasy and sweaty hand managed to re-attach our steering arm using the same Dutch-fabricated washer that was used when this happened in Cres Croatia!   He had saved it as a memento.  
Wednesday we crossed our fingers that the steering would work and left anchor at around 8:30am.  Sailing to Betsy Bay and NorthWest Point of Mayaguana.   Steering seemed to work, but now the Auto pilot was the new issue.   We already knew there was issues and had ordered a new control, but auto still worked.  Now Ken tried the remote control and with a tap on the dead screen, auto leaped into life again.   Conclusion for the day, loose connection.    For the evening, we found a quiet anchorage, I caught a barracuda, and we had pasta for dinner!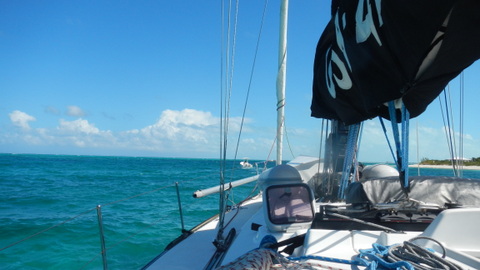 Our "guide" out of the winding channel from Provenciales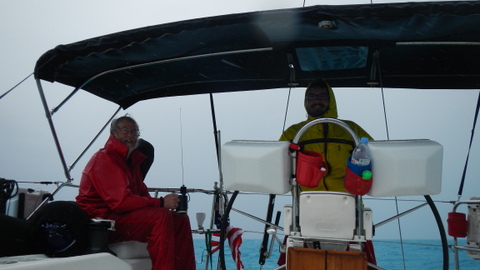 Just a bit of rain…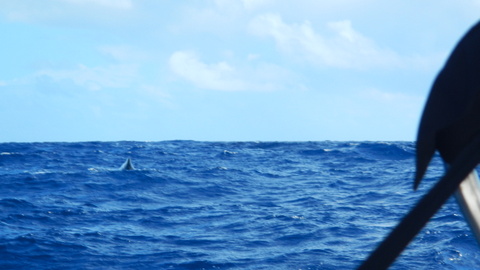 Thursday, we sailed wing-on-wing to Acklins Island.  Garrett and I saw 3 whales.  goggled them and believe they were short-fin Pilot whales!   Awesome.   Arrived at Atwood Harbor around 4:30 to discover our first sighting of other cruisers.   There were 2 Cat's and 3 sailboats all anchored in the harbor.  Nothing there but sandy beach and blue water.   Had a small rainfall around sunset and seas were a bit rolly but we did fine.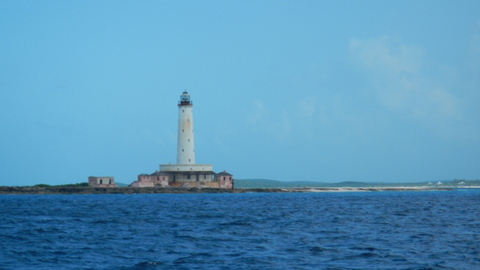 Bird Rock Lighthouse
Friday, Ken got up around 5AM to catch up on some work.  We left anchorage around 8:30 and motored for about 6 hours downwind to Crooked Island.  Made pancakes for traveling breakfast.  Trolling as we went, did not catch anything today.   Past Bird Rock lighthouse (non-working) and just off-shore of Pitts town, anchored in about 10 ft. of water.   Ken and Garrett got the dinghy ready and motored to shore for ice and coke.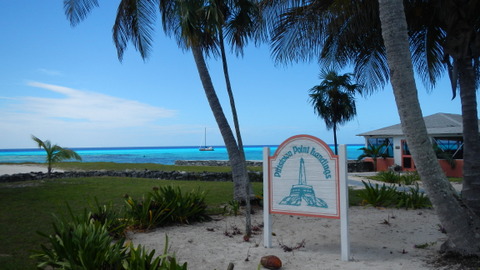 Ken had decided we should stay 2 nights and he and I would get a room for Saturday night at their 12-room resort.   Garrett would stay on the boat.    We all dinghy'd in Friday night and had dinner with their 8 other guests.   Very remote resort that your main way of arrival was flying in. 
Garrett snorkeled Saturday with one of the new guests that had flown in and the larger group went in search of kite-sailing opportunities around the island.   That was their main mission while there.  Ken worked most of Saturday in the Resorts restaurant (again, maybe seating for 25).  Great internet and staff extremely friendly.   Berkley was our night time bartender and he and Garrett played several rounds of dominoes.    He took great care of us at the bar!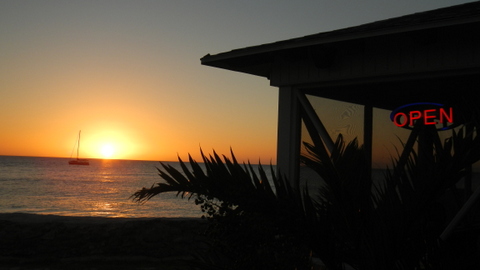 Berkley's Bar at Pittstown Point Resort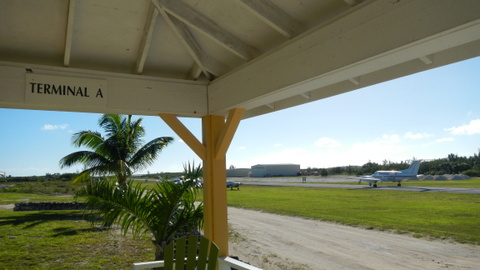 Yes,  Terminal A!
Plane coming in for a landing, said we were in their path….
Sunday night (Feb 9th), we dinghy back to the boat, loaded with coke, rum,  2 gals of water, 6 sandwiches and ice for the next few days.   Refrigerator was also not working so keeping food and beer cold was critical for boat morale.
http://gratefulred.us/wp-content/uploads/GratefulRed_FullRed-web.gif
0
0
Kristine
http://gratefulred.us/wp-content/uploads/GratefulRed_FullRed-web.gif
Kristine
2014-03-05 07:04:57
2014-03-05 07:41:48
Provenciales to Crooked Island, Jan 29th-Feb 9th