Clarencetown to Georgetown with Alec Johnson, Feb 14th-20th
Flying Fish Marina in Clarencetown , Long Island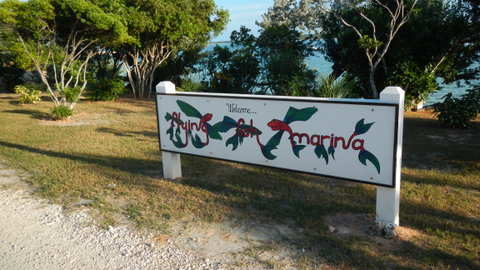 Monday again no wind, so it was a motor day to Clarence Town (Flying Fish Marina) on Long Island from Crooked Island  One of the first of several places on the island we would stay.   It was so hot and still once there, and the bugs were nasty!  At the marina, we were surrounded by several fishing charters and the first day one boat came in loaded with Maui Maui.  I bargained for about 2 lbs after they finished cleaning them.  $10! 
The second night another charter came in loaded with Wahoo!!!  They just gave me a bag of steaks which would later find their way to our grill.  Provisioning there was near impossible, but we did discover the Rowdy Boys Bar on the ocean side complete with Wi-Fi, TV and pool overlooking the water.     Garrett and Ken spent time in the pool to cool off.
Wednesday, Feb 12th, rain fell just as we were ready to leave the dock.  This delayed us for about one hour for our sail to the other side of Long island.  We are heading to Stella Maris to meet up with Alex Johnson who will sail with us for a week.   We sailed north to the Cape and around to a shallow anchorage in Calabash Bay.  Right off-shore to the Santa Maria Resort.   Ken and Garrett dinghy'd in for happy hour and I stayed on the boat and cleaned up.   Sailing is dirty!  They returned with some lemon for our fish and a Styrofoam coffee mug filled with Lobster Bisque.   (Ken was thinking of me…!)
We grilled our Maui Maui for dinner with coleslaw and rice.  Downright awesome!!!
Thursday we followed a light storm to Stella Maris (about a 3 hour sail).   Luckily, it calmed down as we approached the very small marina.  Hailed them and the Stella Maris resort answered.  They gave me a phone number for the marina, just recently under new ownership.   They were waiting for us after my call and our approach into the marina.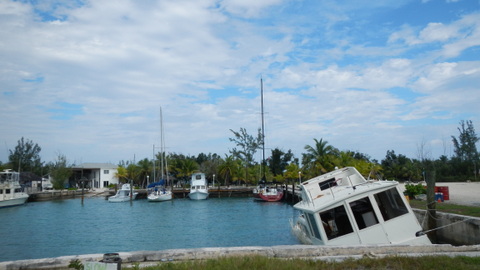 First view was a partially sunk boat!  Oh Boy!!!   (on our second visit to Stella Maris, the boat was gone!)   Had fish taco's for lunch on the boat and went in search of information.  Stella Maris has a very nice little restaurant and I arranged to rent a car for 24 hours to drive to Salt Pond 25 minutes south of Stella Maris To a larger (island style) grocery store called Hillside Market.  We would keep the car to pick up Alec when he arrived Friday after 2pm.   Worked perfect!  I got all the wonderful fresh veggies and provisions I could.    The liquor store was next to the grocery store so we also got a case of beer and some more rum and coke. 
The sand fleas are the worse I have ever seen here at Stella Maris.   We were under full attack and did our best with netting, sprays, candles, but little helped.     After picking Alec up at the airport, we stopped at the Stella Maris Resort for refreshments.   Very beautiful resort for the Island.  I could stay there with little problem!   Back at the boat Alec provided Ken with all the carried-parts he had requested.   Hoping to resolve the refrig with new temperature probe, replace one life-line latch, new bales for anchor roller, etc…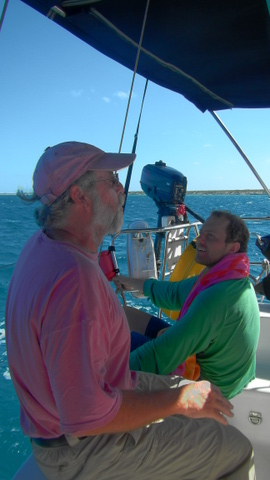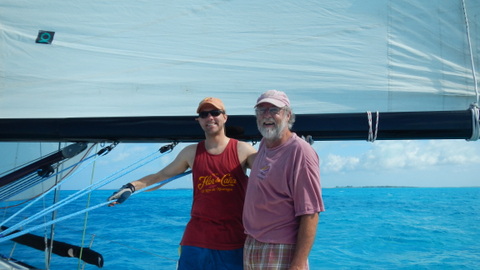 Left Saturday AM heading north on the West side of long Island.   We will head to Rum Cay where there is a small marina.   (Sumner Point Marina).  Once approaching, I hailed and after a second attempt was answered by one of the boaters already in the marina.   Apparently, the marina was shut down, but he said there seemed to be enough space for us to tie-up on one of the docks.   Much of the dockage and buildings experienced damage with Hurricane Sandy.   We ended up heading in, but turned around to wait for a quickly approaching rainstorm to pass which took about 30 minutes.    The entrance was very sandy and had drifting shoals which we hit, redirected and found our way in.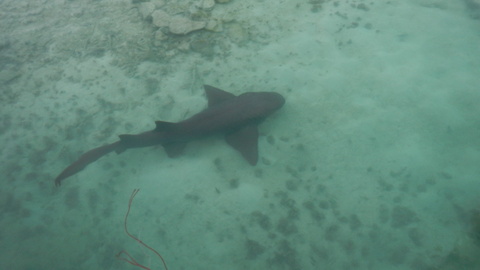 Very sad condition from the hurricane but friendly boaters that were there for the night/week…whatever.     Tied up and got acquainted with a few local boys fishing off the dock and attracting many nurse sharks.   Ken, Alec and Garrett took off to look for Kay's Bar and Restaurant, the one local beach bar mentioned in the cruisers guide.   The sand fleas here were as bad if not worse than Stella Maris and I had all the mosquito netting up available.   Nasty things.   Sunday morning we could hardly wait to get away from the fleas and head out to San Salvador, a "simple 12×6 nautical mile island", famous for having the only archeological evidence of Columbus.  We are heading to Riding Rock Marina and Resort (17 slips, mostly for large motor yachts) on the North East side of the Island, north of Cockburn Town.
Dixon Hill Lighthouse, "one of the last Kerosene lighthouses still in operation"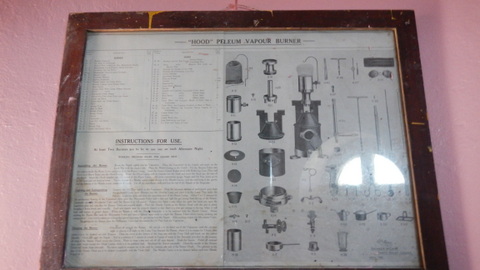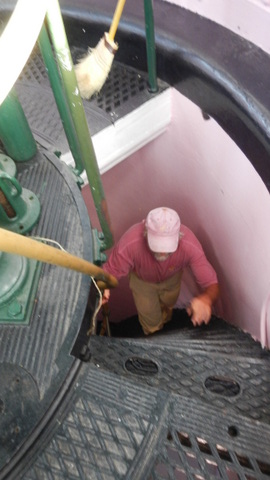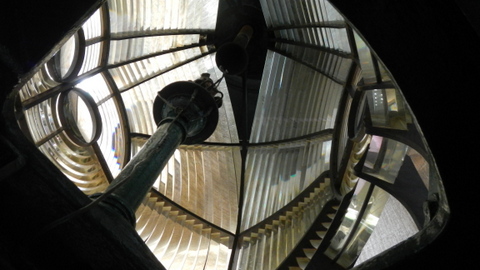 Above are pictures of the lighthouse on San Salvador Island.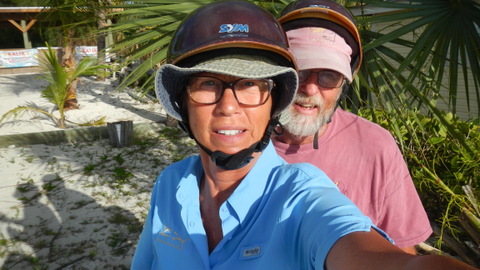 Ken and I rented scooters to check out the lighthouse. (I was the driver!)  This, the Olympic torch and the Monument of Columbus are about the only things on the island to see.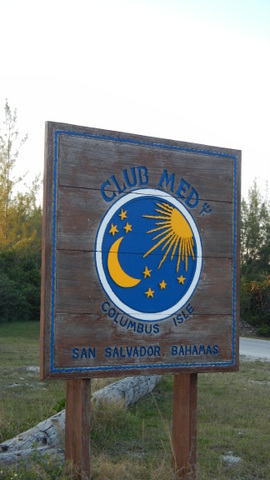 Club Med is located north of the marina and small resort and Alec declared that he wanted to treat us to dinner there.  Club Med is an exclusive Resort, with a large number of French visitors.  The islands landing strip is long enough to receive  a direct flight from Paris several times each week.    Our all-inclusive pass allowed us unlimited dinner (buffet by the pool), drinks and partying.  There was even a evening "show" for the guests entertainment.   We missed the memo to where white, but we were still presentable and behaved! 
Around mid-night, Ken and I decided to try to get a taxi back to the boat (walk was about a mile plus), at at the time did not know where Garrett and Alec were.   At the guards gate, the attendant let us know there were no taxi's  but he could give us a ride in a few minutes, and after sitting a few minutes, he announced, "ok, we can go now".   Not sure if his shift was up or what.   Arriving at the boat, we found Garrett had just arrived from walking the distance, but Alec was still partying.  We would see him in the morning no doubt.  Sure enough, as I came up to the cockpit in the morning, I found Alec on the finger dock apparently just arriving.  He had in truth, got home late after "borrowing" a bike from the Club Med compound and in the early morning had rode the bike back to return it.   When he stopped on the way to return the bike, he stopped at the airport ATM.  After a questioning officer approached him, he explained the situation and this prompted a full- theft investigation.  Apparently, Club Med had recent thefts and so now we ALL were new suspects.   After returning the bike, Alec was given a ride to the boat from the officer, who scolded all of us saying that stealing is stealing and he could go to jail.   After submitting to his lecture, he agreed to let Alec go without charging him.    Seems like it is time to leave again!  But, it was fun, and Alec had good intentions borrowing the bike and returning it.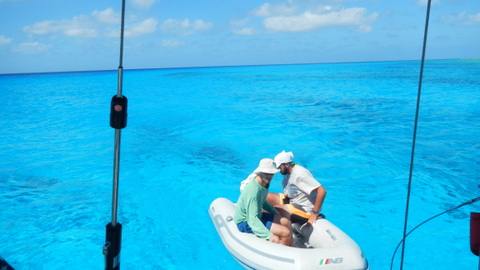 On Tuesday, we left to sail to Conception Island, listed as a National Park.  No real great anchorages, but short-term anchoring so you can dingy into the inner lake to explore.  Ken, Garrett and Alec went (2 and 2) and I remained on the boat for anchorage security.  (Gives me an opportunity to clean and be quiet!).  The inner lakes are shallow, maybe 2-4 ft and filled with turtles and stingrays.  We ended up staying one night there and after the lake exploration, decided to head out to Long Island to shorten our intended sail to George Town. 
Our Long Island stop was back to Cape Santa Maria Resort.  We motored in and had a nice dinner there, then headed back to the boat.   It proved to be a very nice anchorage and would go there again.
Thursday, we sailed to Georgetown with huge following seas.  Used the Main with the downwind preventer and off we went!   When we arrived and carefully motored into Georgetown Harbor and headed to the Georgetown side near Kids Cove.   Found a reasonable anchor just between Exuma Yacht club and Regatta Point where Elvis has his Water Taxi service.
http://gratefulred.us/wp-content/uploads/GratefulRed_FullRed-web.gif
0
0
Kristine
http://gratefulred.us/wp-content/uploads/GratefulRed_FullRed-web.gif
Kristine
2014-03-14 11:04:51
2014-03-14 11:04:51
Clarencetown to Georgetown with Alec Johnson, Feb 14th-20th