Return to Stella Maris for repairs – March 11, 2014
Our Manatee friend at Stella Maris
Ken's returned to Georgetown and the boat on Sunday, March 9th, and on Monday, I got a ride across Georgetown Harbor with Bob from Kevalli house to do some last minute provisions and beer.  We have made arrangements with Ian at Stella Maris Marina on Long Island to have some stainless work done on our anchor roller.  Plans would be to sail on Tuesday there by mid-afternoon, have the work done and then leave on Wednesday for Hawks nest on Cat Island.   All sounded good but when we got to Stella Maris, they were not ready to do our stainless work which was very disappointing.   Difference in opinions of the work order.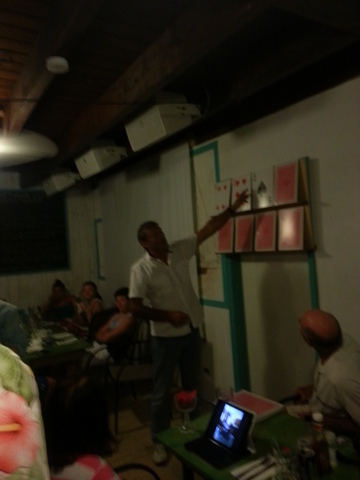 We decided to make the most of our stop and  had a great time there at the Resort Restaurant where they played a silly card game with audience participation.  (you had to pay into the kitty to play, winner got the kitty).  I did not get far in the game.    Also had some evening entertainment with the Rake and Scrape band!
When we got to Hawks nest Resort and Marina on Cat Island, we thought we would try to anchor in their small channel (Hawks nest Creek) leading into some salt flats, but the anchor would not hold so we decided to go into the marina.   This marina proved to be small but with loads of amenities.  I got laundry done, we swam in their pool, many times, they had bikes to borrow, and I got some fish (snapper) from our neighboring fishing Yacht.  The owners were gone and the caretakers gave us a tour of their beautiful vessel fit for a king!  We stayed two nights and while we were there, met Dave (solo sailor) on his Cat (Meow) who offered happy hour ceviche.    Dave eventually left when we did and followed us back to Georgetown.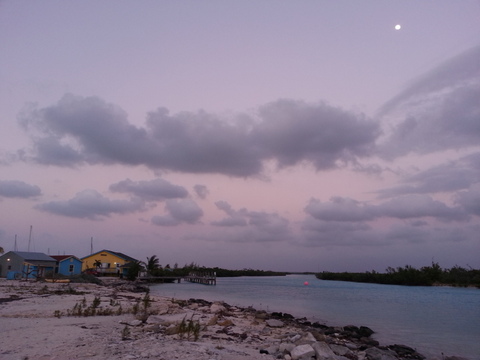 Hawks Nest Creek and Hawks Nest Marina
Saturday, on our entrance to Georgetown Harbor, we lost engine power and had to finish the length of the Harbor with Jib alone, dropping the anchor just off Regatta Point near the Exuma Yacht club. While Ken and Garrett cleaned the fuel filter (totally clogged), I took the dingy into the dingy dock near Exuma Market to get to the liquor store before it closed at 5pm.  Sunday the girls would arrive for their 3 days of sailing and we would need to be fully stocked!
After several hours of trouble shooting and thinking our gas gauge was not working, the guys finally put some clean diesel into the tank and the boat ran just fine.   Must have gotten some dirty diesel somewhere and will require some regular cleaning of the fuel filter.
http://gratefulred.us/wp-content/uploads/GratefulRed_FullRed-web.gif
0
0
Kristine
http://gratefulred.us/wp-content/uploads/GratefulRed_FullRed-web.gif
Kristine
2014-03-15 13:11:44
2014-10-14 13:36:04
Return to Stella Maris for repairs – March 11, 2014