Georgetown Regatta – Alec, Ken, Garrett, Wendell, Jon & Kristine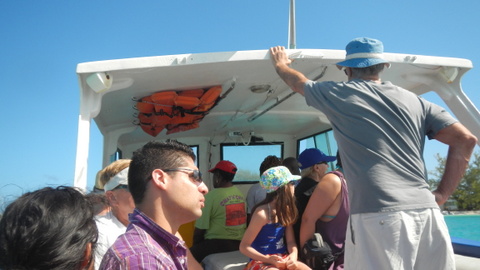 After getting the boat settled, the boys took the dingy to the dingy dock, Alec and Garett took Elvis's water taxi across to Chat n Chill, and Ken went to Peace and Plenty to discuss details of the upcoming party. I stayed on the boat to clean, etc.   Wendell arrived at the boat via the Conch guys boat from the ferry dock.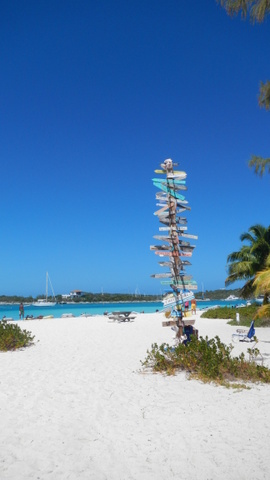 "Road sign" at Chat n Chill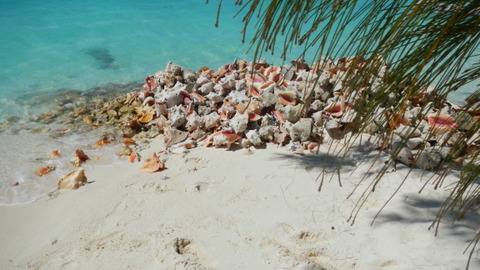 Conch shell remains at the Conch Shack
On Friday, our one major project was to get across to Chat n Chill to attend the skippers meeting.  Ken and Wendell would go for the 2pm meeting at St. Francis Resort.  Prior to the skippers meeting, Regatta Registration started at 10AM there.  I bought a tee-shirt, ate and by 4:30, hopped on one of the water taxi's back to the boat.  The boys would be on their own to get back to Georgetown side.  After about 30 minutes of my being back on the boat, I was hailed on channel 16  by a taxi driver that had picked up John Gray at the airport.   After giving them directions to Elvis's dock, and where the boat was, John arrived boat side with suitcase and a thirst for a beer.   Soon after dark, the remaining boys arrived by water taxi and started their "boy talk" complete with scotch,  rum and cigars!   I made dinner!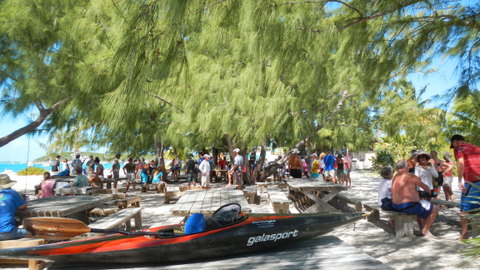 Regatta Registration and skippers meeting
Georgetown Cruisers Regatta Crew – Jon Gray, Ken, Kristine (land crew), Alec Johnson, Garrett Peterson and Wendell Meise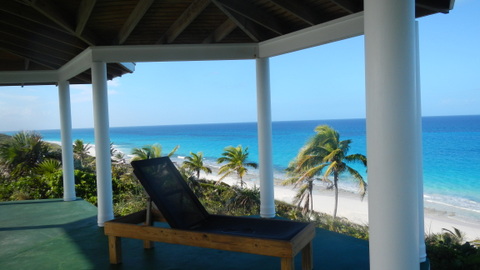 My view from Kevalli House pavilion where I got some great pic's of the "round the Island race"
Saturday, we had time before the first race to move the boat over to Kevalli House to one of Bob's moorings.  I would be land crew and had packed the refrigerator things and clothes we would need at the cottage.   The dingy was left behind with me when the boys took off for the start of the race and after watching most of the race from Kevalli House pavilion on top of the hill, I took the dingy out to get pictures of them finishing up their last leg.  This first day of racing was upwind/downwind legs.  Tomorrow would be their long "around the island" race.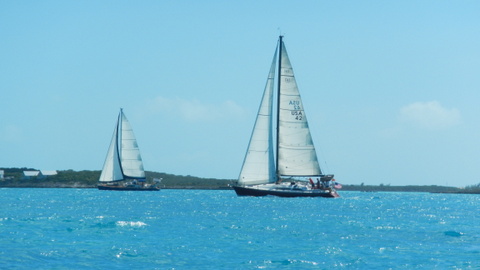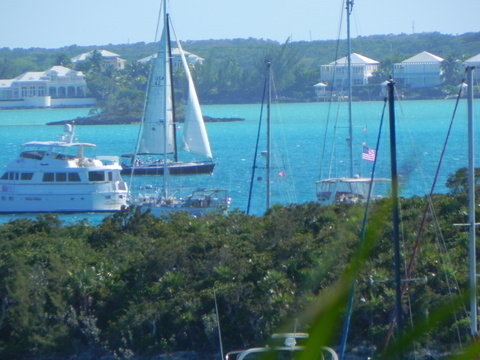 Our new Spinnaker!!!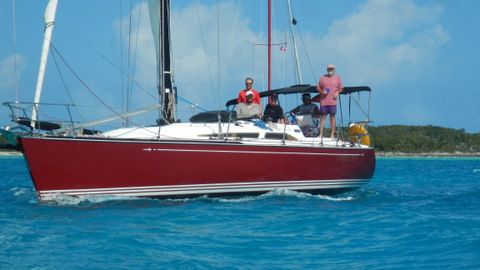 First days results – Grateful Red "Retired" after realizing flying the spin would disqualify them….silly boys!
Sunday, the boat left about noon for the round the island (Stocking) race.    I had to get some things at the market which closed at 11AM and Bob was going and offered a ride.  When we arrived at the dingy dock, I went to step out and a small surge rocked the boat.  I missed the dock entirely with my feet and my right hand took all the brunt of the fall on the dock.  Seriously thought it was broken all day and when I returned to the Kevalli house via Elvis water taxi,   was in serious pain.   It was swollen and bruised and I was anxious to have the boat return so I could get my "pain" medicine I had on board.   When Ken and the boys were back, He brought my kit that included an ace bandage and I was relieved to have left-over dental work medicine!   Writing this days later, I know I did not break anything, but it was the worse sprain or strain I have ever experienced.  And I have bad hands to begin with so this was insult to injury for me.
The boys took over dinner this night and we had a lovely Flank steak with potatoes and broccoli!  They even cleaned up!!!!
Saturday even was filled with friendly (!) pingpong challenges…and a few stinky cigars.  Where did they come from?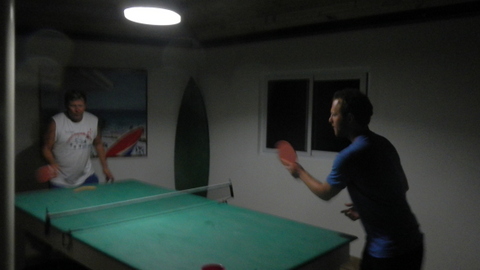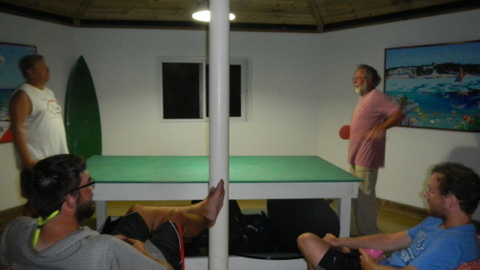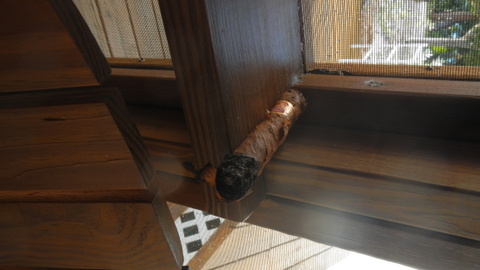 Sunday, Day two – Round the Island Race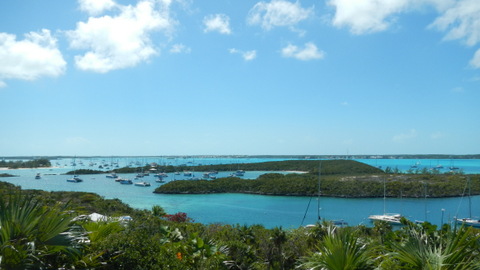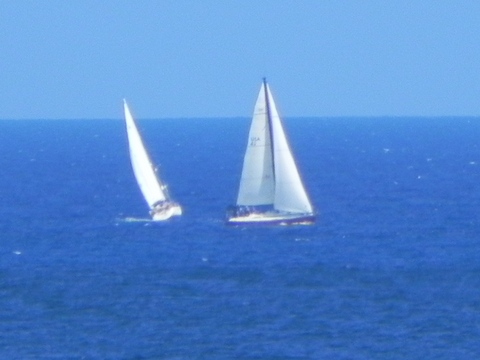 Major zoom on this pic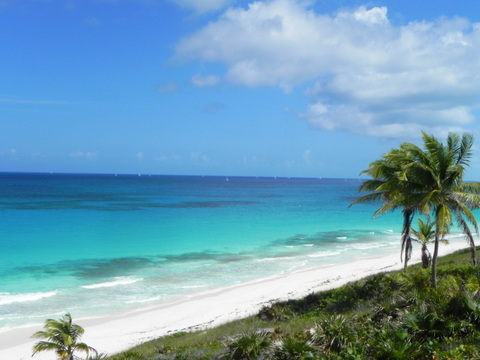 Same shot without zoom!!!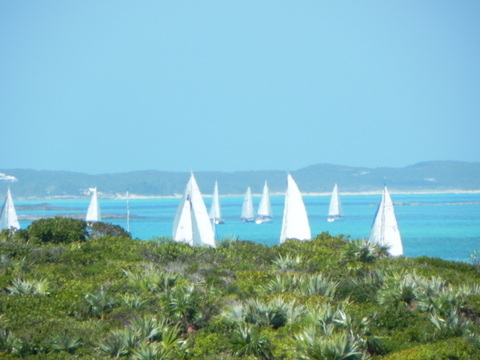 Inside the harbor heading North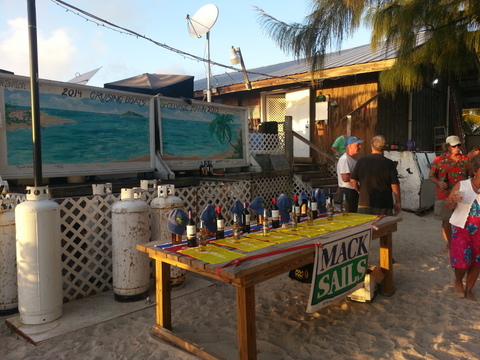 Awards Ceremony – hats and booze
Monday, the race was cancelled for reasons we do not know, but that was fine.  Everyone had a great time and the sailing seemed successful and fun.   Saturdays race, they flew the new spinnaker (which disqualified them) and  after Sundays race, ended up 7th out of 8th in their class.
Alec arranged his ride back to Georgetown for his afternoon flight on Monday and the rest of us relaxed for the day.
Tuesday we motored across from Stocking Island to Exuma Yacht Club, dropped off Wendell and Jon for their flights, got diesel, water and provisions,  dropped off laundry at the Corner Laundry (Garrett was happy to think he would get some clean clothes) , case of beer, box-o-wine, etc, and then motored back to Kevalli house where we stayed for another 3 days.   
Ken left to go home to USA on Saturday leaving us with a list of work projects that would keep us busy most mornings.   In the afternoons, Garrett and I took turns using the dingy or just hung out.   Sunday we went to Chat n Chill for their famous Ribs.  My morning entertainment was the cruisers net which started promptly at 8AM on VHF channel 72.  They do the weather almost immediately and most mornings I would miss it!  To me that was more important than the other things they "chat" about.
Being off-shore on a mooring meant that we would have to run the motor every other day to charge the batteries and run the refrigerator.  Good system, but it is nice to be at a dock, hooked up to electric and unlimited water!!!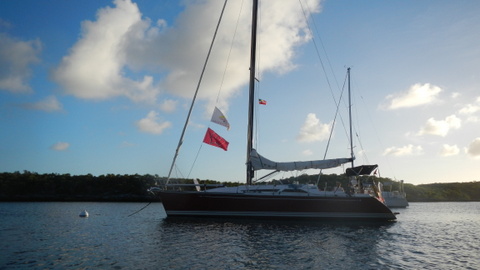 http://gratefulred.us/wp-content/uploads/GratefulRed_FullRed-web.gif
0
0
Kristine
http://gratefulred.us/wp-content/uploads/GratefulRed_FullRed-web.gif
Kristine
2014-03-14 12:10:05
2014-03-14 12:10:05
Georgetown Regatta – Alec, Ken, Garrett, Wendell, Jon & Kristine