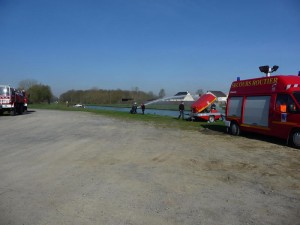 Heading to Chauny, where we will find the best Port du Pliance (a more advanced mooring with showers, laundry, electic, water, etc). We left our cozy mooring at 8am, coffee and 2 locks then pulled over for a good breakfast of bacon-eggs in Jussy, France. The quay mooring was small, but we were entertained by the volunteer fire department practicing their skills with the hose and water rescue.
Back on the canal at 10:30 we arrived at Chauny's Port du Pliance around 1:45. We found a wonderful spot alongside the quay and were greeted by Michel and his friend. They helped us tie up and promptly gave us the low-down of all the great amenities of the port. It was one of the best "marina's I have seen in a long time. It is clear the city wants to attract the pleasure barge community. Chauny is a larger city with a train to Paris! One hour and you are there. (We talked about going….but decided to check out the city).
We walked to City Center and had a beer and sandwich on a sub roll. Some of the best bread ever! Getting low on cooking gas we did a bit of searching but did not find the right kind. We think our cooking gas is purchased in Grocery stores. You have to find the big stores and in the city, you will only find small markets. Glad to have my reserve tank.
http://gratefulred.us/wp-content/uploads/GratefulRed_FullRed-web.gif
0
0
Kristine
http://gratefulred.us/wp-content/uploads/GratefulRed_FullRed-web.gif
Kristine
2010-04-15 22:03:17
2015-11-18 19:01:51
Saturday, April 10th