Over then half way to Amsterdam within hailing distance of the English channel. another wild night. no moon, haze and mist – can't find a horizon , solely depending on instrument in winds of 25 mph and ………. instrument failure. Two unexpected gybes at 25. Blew the traveler blocks in to pieces, parts everywhere. Chaos at midnight – whole crew is on the deck. Rigged the traveler to work but no movement. We were sailing within an hour – still nervous on the instruments. They always work well during the day – lucky for us the nights are getting shorter as we head north. Weather download looks spotty – nice windy low is moving north and high below is falling to pieces. Today a nice Bryce and Matt rig on the traveler – movement has returned. kinda.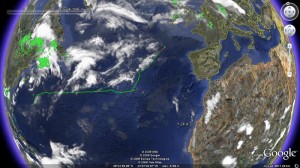 After all the troubles on the Bermuda-Horta leg with power generation, loss of refrigeration and warm beer. We mastered the power system – we have electrons everywhere. Boat oozes with power. Used less then two gallons of diesel and the beer is still icy cold on day six. Life can be good on the seas. As the British navy learned long ago – if the crew has grog and beer morale will be high.
Mix in some terrific seal-a-meals, we are fat and sassy looking forward to the English channel – one of the busiest, if not the busiest shipping channel in the world. Four lanes of boat traffic currents that change with the tides and all commerical traffic has the right to run over low-life pleasure craft that wander inadvertently into their shipping lanes. We are already studying the charts in anticipation.
http://gratefulred.us/wp-content/uploads/GratefulRed_FullRed-web.gif
0
0
Ken
http://gratefulred.us/wp-content/uploads/GratefulRed_FullRed-web.gif
Ken
2009-07-18 20:11:05
2015-11-18 19:01:52
Skipper's Update