Voile de St. Barts – April 1-7th, 2012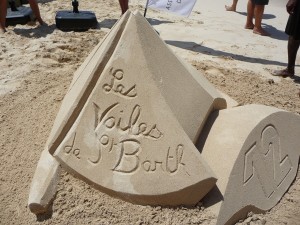 Ken returned March 27th and we prepared for our Voile de Saint Barts Crew to start arriving.
By Friday, Wendell, Matt Mullen and Lillie had arrived.  We spent the next day preparing for our sail
to St. Barts and talked strategies and crew positions.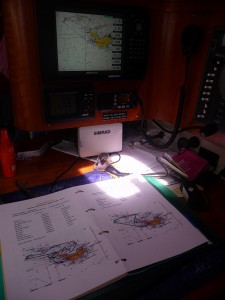 Race courses "loaded"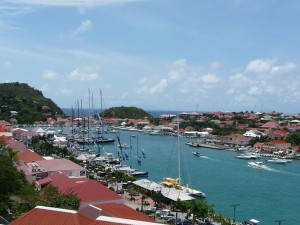 Sunday and Monday prior to the first racing on Tuesday, we practiced and played with a little snorkeling in Columbier Bay.  The water was crystal clear and it was time to team bond.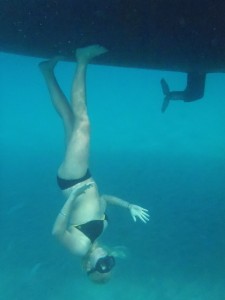 Lillie doing a bit of boat-bottom inspection…
Voiles de Saint Barth Recap from our Captain Ken.
"The Voiles de Saint Barth uses the Voiles de San Tropez script – many different courses using primarily islands, rocks and permanent buoys as marks.  No windward leeward courses – lots of reaches, long legs and like Voiles de San Tropez – race Tuesday/Wednesday, lay day on Thursday with the big party on Wednesday evening – mid regatta not  after the end of the regatta – and races Friday/Saturday.
Crew of Lilly, Matt, Kristine, Wendell and I was a little shorthanded if the winds were heavy but all had raced on the Grateful Red – were blender experienced!  Winds were light to moderate, 56 boats participated in the regatta including a class of 70 foot plus boats – each race the "big dog boats" were the last to start and ripped through all the other classes – take a look at the these photos:
Fun being in the really big boats!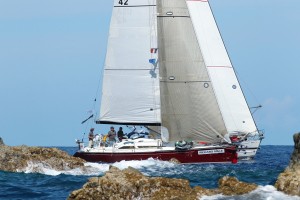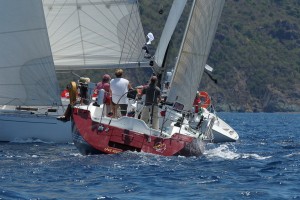 Great driving Matt!
Managed to beat some boats placing 44 out of 56 overall and 16 out of 19 in the spinnakeer class.  of course, we crushed everyone in blender parties having the only boat sponsered party on Friday night.  Matt was the Grateful Red driver and blender leader – very tough combination.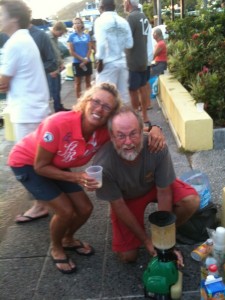 The crew was amazed at Matt's blender abilities yet he was driving at the start line.
Broke out the wigs on the last start – the big boats took one look and gave us plenty of space as soon as the saw our blender king in pink wig heading down the line.
Unfortunately the last race ended as a drifter and shortened but the race committee met each boat with champagne – a consumption advantage for the short handed boats.
Last start, note the purple wig in the center!  That's Lillie!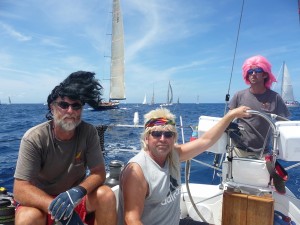 Who ARE these guys?!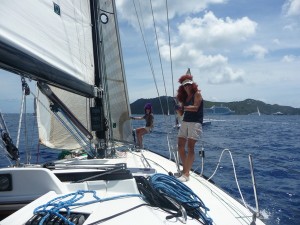 Lillie and Kristine wigged out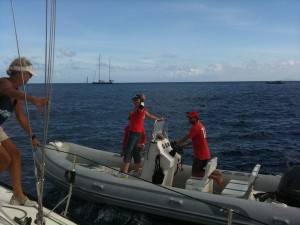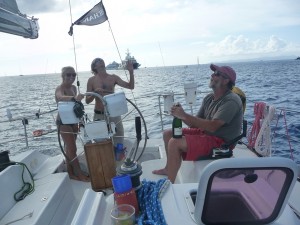 Champagne delivery after our finish!
Next Grateful Red race will be the "Trinidad Carnival Regatta" February 2013 in Trinidad.  Maybe wigs will be standard gear for this"
regatta?"
http://gratefulred.us/wp-content/uploads/GratefulRed_FullRed-web.gif
0
0
Kristine
http://gratefulred.us/wp-content/uploads/GratefulRed_FullRed-web.gif
Kristine
2012-04-08 13:09:26
2013-07-15 10:21:50
Voile de St. Barts – April 1-7th, 2012