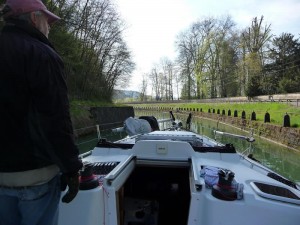 Beautiful and narrow approaching our first lock on Thursday. Second picture is of us in the canal crossing over a river and heading toward the open lift-bridge.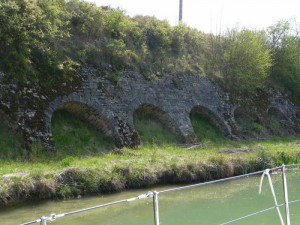 Thursday, we left Joinville at 10am and planned to do 23 km with only 9 locks. Evening destination was Froncle, France. We found the canals becoming narrower and more remote and certainly had less "commercial" traffic. Hate when we would have to "squeeze" to the side of the canal to make room for the barges. You can see the mud kicked up when they would pass. Most of the barges carry some sort of "load", just like the Semi-truckers. The difference with these barges, is the owner usually also lives on the barge. Many times we would see potted plants, laundry hanging out, and the family car on the barge.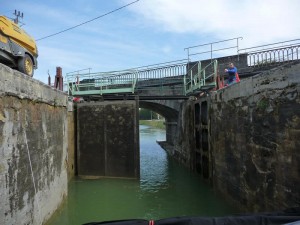 Today about mid-way, we were instructed at one lock to deposit our "remote" that activated the locks into a deposit box. From this point on we had our personal Lockkeeper follow us for a series of locks in a row. Usually 4-5 and they stay on those same locks. These locks became less automated and required hand cranking by the lock keeper. He would have the 2 doors to crank close after we entered the locks, and then 2 doors to crank open when the water filled/or emptied depending on our direction.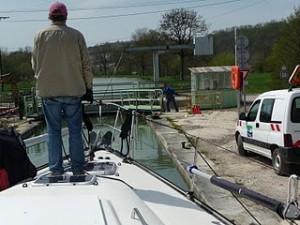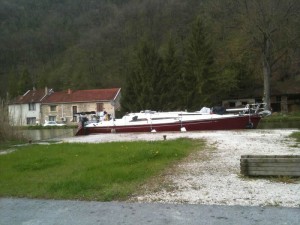 We arrived in Froncle around 3pm and at our last lock the keeper said if the Nautique was full to tie up at the VNF dock. Of course, he knew we would find the Nautique full and so we turned around and went back to the VNF dock. Really just a short walk to the Nautique which we found closed with exception to the bathrooms. (but no TP)
Later in the afternoon, VNF associate stopped by the boat to see what time we planned our morning departure. This is important so they can "schedule" to have a lock keeper available when you reach your first lock. And so the journey continues through the locks. Ken went for a walk to see what might be open and came back saying he had made reservations at Au Chateau. When you first see the restaurant, it looked like someone's private house. After closer inspection, you see an invitation to dine on a small sign at the entrance of the property. It proved to be a personal home where the owner ran the restaurant. Please check out their website. We had a wonderful, quiet meal as we were the only guests. It reminded me of Quiveys Grove House only older and more grand. http://www.restaurant.auchchateau.monsite.wanadoo.fr/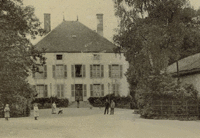 Translation from their website: Veronique and Didier Pougeoise accomodate you in the house of the Master of the Forging mills, built in 1802. Between the Marne and slopes let you surprise by the instinctive kitchen and of season of the Chief Restaurant " In Château"
http://gratefulred.us/wp-content/uploads/GratefulRed_FullRed-web.gif
0
0
Kristine
http://gratefulred.us/wp-content/uploads/GratefulRed_FullRed-web.gif
Kristine
2010-04-30 22:50:30
2015-11-18 19:01:50
Thursday, April 22